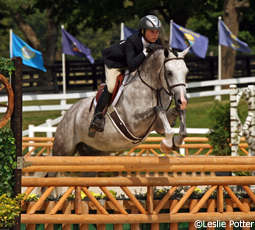 Edited Press Release
Starting Tuesday, Aug. 6th, nearly six hundred of the top ponies in the United States began competition at the 2013 US Pony Finals. The ponies are be ridden by excited youth riders from around the country in hunter, jumper, and equitation classes at the Kentucky Horse Park in Lexington, KY.
Through Saturday, Aug. 10, competition for the US Hunter Pony Championships presented by Sallee Horse Vans will be ongoing. Riders will vie for championships in Small, Medium, and Large Regular Hunter and Green Hunter divisions. The Hunter Pony competitions are held in three phases in which a pony's conformation, movement under saddle, and jumping ability are judged.
A List of Green Hunter qualified ponies is available here.
A list of Regular Hunter qualified ponies is available here.
The US Pony Jumper Championship started on Wednesday and features three classes of individual competition, as well as a team championship on Thursday afternoon. Qualifying information and standings by zone, and nationally, are available at www.usef.org. A list of US Pony Jumper Championship teams is online here.
The culmination of the week, and most coveted of US Pony Finals championships, is the Pony Medal Finals on Sunday in Alltech Arena. During the championship they will be judged head-to-head over a demanding course of fences. U.S. Pony Medal points rankings coming into the US Pony Finals are available online here.
For live scoring, results, a schedule, competitor, and hospitality information go to www.usefconnect.com.
For many, US Pony Finals will be the first major national championship of their equestrian career, and a cherished memory forever. A national pony championship has been held in the United Sates since 1967, and the Pony Medal Final has been a part of the Finals since 1984. The National Pony Jumper Championships were added to the Finals in 2001 and have been an exciting addition.
Video highlights as well as competition recaps will be available at www.usefnetwork.com.
For more information about US Pony Finals go to USEF.org.