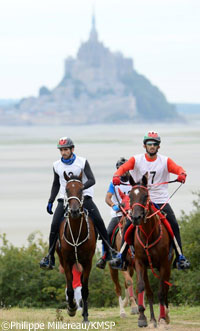 First-place finishers HE Sheikh Hamdan bin Mohammed Al Maktoum (left) riding Nikos, and HE Sheikh Rashid Dalmook Al Maktoum and Yamamah competing at the endurance test event for the 2014 Alltech FEI World Equestrian Games. Photo: Philippe Millereau KMSP
Edited Press Release
The test events for next year's Alltech FEI World Equestrian Games™ opened with endurance in the Basse-Normandie village of Sartilly today, and it was HE Sheikh Hamdan bin Mohammed Al Maktoum and Nikos who took the honours for the United Arab Emirates.
Bahrain's Raed Mahmood, deputising for HH Sheikh Nasser bin Hamad Al Khalifa who was sidelined by injury, was three minutes 28 seconds behind for the runner-up spot with Sandine Phoenix, while Oman's Ahmed Al Hamdani and Raffale de la Fageole were some distance behind the two leaders to claim third, fractionally ahead of Spain's Jaume Punti on Ramses de la Rotja.
A total of 58 horses representing 35 countries set out at 6:30 a.m. on the four-loop, 129.3-kilometer (approximately 80-mile) course designed by Jean-Louis Leclerc of France, who skillfully incorporated the naturally occurring challenges of the Normandy countryside, including hills, forests and beaches. The scenic track wound past iconic landmarks, including the island commune at Mont Saint-Michel and the beautiful Abbaye de la Lucerne.
Sheikh Hamdan, who was a member of the gold medal winning team at the 2010 Alltech FEI World Equestrian Games™ in Kentucky and at last year's world championships in Euston Park in Great Britain, was in the leading pack throughout today's ride. Team mate HE Sheikh Rashid Dalmook Al Maktoum and Yamamah headed the front-runners until the Australian mare was vetted out for lameness at the final vet gate, leaving Sheikh Hamdan out on his own to claim a classy victory with the 12-year-old gelding, Nikos, returning to the land of his birth after training in Dubai for the summer.
"It was a very good course", Sheikh Hamdan said after his win. "It was technically challenging and needed an experienced rider who thinks, and that's what will be needed for next year too."
Bahrain's Raed Mahmood took over the ride on the Australian-bred Sandine Phoenix following the injury to Sheikh Nasser at Argentan (FRA) last month when the eight-year-old gelding fell, leaving his owner with a fractured wrist. But Sheikh Nasser was on hand in Sartilly to see his horse challenge for the lead and eventually claim second.
"It was definitely a technical course", Sheikh Nasser said, "and we knew it wouldn't be a fast track, but that's what endurance is all about."
Ahmed Al Hamdani, a member of the Omani bronze medal team at last year's world championships, was also riding a French-bred gelding, Rafale de la Fageole. The pair led the second group of horses across the finish line for third place, almost 45 minutes behind the winners, but just two seconds divided Al Hamdani and Spain's Jaume Punti Dachs and Ramses de la Rotja in fourth.
The Spanish rider is celebrating after his wife Maria Alvarez Ponton gave birth to the couple's third child last Saturday. The baby girl is called Anna, and her mother is hoping to defend her European title at the championships in Most (CZE) next month if she is fit enough.
Today's endurance competition was the first in a series of test events that will be staged by the organising committee in the build-up to next year's Alltech FEI World Equestrian Games™. Eventing also started today with Dressage, and continues with the Cross Country at Haras du Pin tomorrow, while Driving takes centre stage at the Hippodrome in Caen next week (23-25 August).
"The test events are designed to test both the sport and the logistics and today has given us lots of valuable feedback", said Fabien Grobon, CEO of the Organising Committee. "For endurance it is important to provide a good course that tests the horses and riders, but keeps the welfare of the horse to the fore. We know that there are some things that we will have to change for next year, but we will work closely with the FEI and the National Federations to make sure everything is right for 2014."
Ian Williams. FEI Director of Endurance, was also pleased with the outcome of today's competition. "It was a very good test event and did exactly what a test event should do, which is to highlight some of the very good aspects of what will be in place for the 2014 endurance event, as well as identify aspects that need some work. Overall it has been an extremely good day that was very much appreciated by everyone who has been here."
Results:
HE Sheikh Hamdan bin Mohammed Al Maktoum (UAE), Nikos, 6:14:34;
Raed Mahmood (BRN), Sandine Phoenix, 6:18:02;
Ahmed Al Hamdani (OMA), Rafale de la Fageole, 7:02:28;
Jaume Punti Dachs (ESP), Ramses de la Rotja, 7:02:30;
Brigitte Pinto (POR), Nita Lotoise, 7:09:51;
Mahmood Al Fori (OMA), Osmos, 7:09:54.
Further Reading
500-day countdown to the 2014 Alltech FEI World Equestrian Games
Video of the Week: 2014 WEG preview