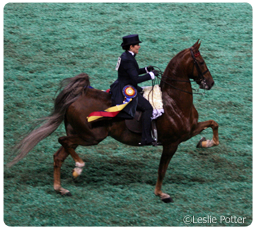 Horse show season is still in full swing for most exhibitors as they work toward fall championships. For American Saddlebred enthusiasts, world and national titles are being awarded this week as the World's Championship Horse Show gets under way in Louisville, Ky.
Although not as widely known as the Thoroughbreds that put Kentucky on the map as a center of horse breeding, American Saddlebreds are an important part of the state's equine history. In fact, the breed was once known as the Kentucky Saddler, and the city of Shelbyville, Ky. identifies itself as the American Saddlebred Capital of the World. The Saddlebred show has been part of the Kentucky State Fair since 1902, becoming the World's Championship in 1917, and it continues to be a popular attraction for horse fans and fair-goers today.
The show kicked off on Sunday evening and continues through the evening of Saturday, Aug. 24. The Saturday evening session is a major event in the tight-knit Saddlebred community, when spectators don dresses and tuxedos to cheer on their favorite horses and riders as they compete for the most important titles of the show season. But Saddlebred fans don't have to dig out their evening gowns to see the horses in action—the show is being broadcast in its entirety live online at USEFNetwork.com.
Watch highlights from the 2009 American Saddlebred World's Championship in the video below.
While most breeds' world shows aim to showcase versatility, offering everything from dressage to reining, the American Saddlebred championship sticks firmly to its roots with a weeklong schedule that features almost entirely saddle seat and driving classes. However, the increasing popularity of western pleasure among Saddlebred exhibitors has enabled it to earn a spot at the Louisville show. In addition, the show includes a full slate of Hackney Pony classes, both in harness and under saddle.
To learn more about the American Saddlebred World's Championship, visit www.kystatefair.org/wchs