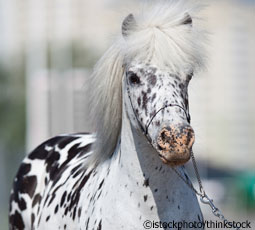 Edited Press Release
The best and brightest small equine competitors from across the U.S. and Canada will compete at the 2013 American Miniature Horse Registry (AMHR) National Championship show at Expo Square in Tulsa September 5-15, 2013.
The AMHR National Championship event is the biggest Miniature Horse show in the world. It will crown national champions in approximately 380 different categories. Competition will range from beautiful halter to thrilling driving to classes that highlight the versatility of Miniatures such as obstacle and hunter in hand.
"Miniature Horses are big fun for adults and children. With 1500 horses competing in Tulsa, this year's championship will be especially exciting," said Zona Schneider, AMHR's Director of Operations.
Admission to the AMHR National Show is free for spectators. Competition is held all day, every day from September 5-15. Spectators can enjoy exciting driving, view majestic teams, thrill at jumping and obstacle competition and be amazed by creative costumes. The complete schedule for the 2013 AMHR National Show is on the AMHR's website at www.shetlandminiature.com.
This is the eleventh year that the AMHR National Championship event has made its home at Expo Square in Tulsa. The show has grown significantly since first coming to Tulsa. Last year, the AMHR Championship was estimated to have brought nearly $2 million of business into the city of Tulsa. For each horse entered in the competition, there are approximately 2.5 people who support the show.
Watch a chariot race from a past edition of the AMHR National Show in the video below.
The city of Tulsa is not the only entity that benefits from this large competition. Each year, exhibitors at the AMHR National Show can win more than $60,000 in sweepstakes, jackpots, Futurity payouts, stake premiums and more.
Throughout the 11-day show, there will be a number of added features and events including a youth weekend, special awards, give-aways and more. Vendors will be set up throughout the competition offering everything from tack and grooming supplies to clothing to horse-related jewelry and gifts and more.
Each year families and horse lovers check out our show and our amazing small equine. For more information about the AMHR National Championship Show visit www.shetlandminiature.com or call 309-263-4044.