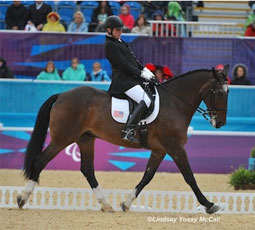 Just one year ago, on September 3, 2012, Jonathan Wentz had his final ride aboard NTEC Richter Scale at the London Paralympics. The United States Equestrian Team including Jonathan Wentz, Rebecca Hart, Donna Ponessa, and Dale Dedrick earned top team accolades among the best in para-dressage. Individually, Wentz was points away from standing on the Paralympic award podium that final day when he earned the Individual 4th place ribbon in Grade Ib Freestyle with horse NTEC Richter Scale.
Tragedy would strike at the end of September when
Jonathan Wentz, 21, passed away
from an uncommon heart condition which occurs in young athletes. Wentz was not only a role-model in the ring but he was an ambassador for the para-dressage sport.
One of Wentz's goals in life was to grow the para-equestrian discipline through encouraging young disabled athletes to participate in the sport he loved. In 2013, the Jonathan Wentz Memorial Scholarship Fund was created so young para-equestrians may continue to fulfill their own dreams in the equestrian sport. Scholarship funds awarded will help offset competition expenses up to $1,000.00 per competition to help cover entry and other fees including stabling and/or shipping (must be greater than 500 miles one way) costs for competition. To apply for the Jonathan Wentz Memorial Scholarship Fund please click here.
The Jonathan Wentz Memorial Trophy was established to honor Jonathan's achievements in his sport and inspire para-equestrians in dressage, driving, reining, vaulting or jumping. The trophy recipient will be a para-equestrian athlete who has competed and excelled in multiple international competitions and received scores that contributed to the individual and/or team ranking on the FEI ranking list during the competition year. This individual has also served as a role model in advancing the sport in the U.S. and educating the public on the discipline. The trophy will be awarded each year at the USEF Annual Convention.
"There could not be a better way to commemorate Jonathan than to establish a scholarship fund in his name," says Tina Wentz. "His desire was to have a para-equestrian Young Rider Program that worked to grow and improve the current U.S. program. Creating a perpetual trophy gives para-equestrian athletes a high goal to aspire to and will serve to honor; as well as keep para-equestrian sport in the public eye.
"Our goal in establishing the trophy and the scholarship is to continue Jonathan's legacy of hard work, dedication and love for his sport," adds Wentz. "It will honor his Paralympic and international athletic achievements to 'ride on' and hopefully inspire others toward achieving their goals of being world class para-equestrian athletes. We are so proud of the athlete, ambassador, young man he was and that he achieved his dream of being a Paralympian."
To make a tax-deductible donation to the USPEA Jonathan Wentz Scholarship Fund or Memorial Trophy, mail donations to:
USPEA
c/o Tina Wentz,
701 N. Waterview Dr.
Richardson, TX 75080
Make checks payable to: USPEA and designate "JW Trophy" in the memo.
Donations are accepted online at www.uspea.org. Click on the "Donate Now" button and designate "JW Trophy" in the message section.
Receive a "JONATHAN RIDES ON" bracelet with a donation of $25 of more.
For more information on the scholarship and other para-equestrian programs, visit USPEA.org.
Watch a video of Jonathan Wentz and NTEC Richter Scale competing at the 2010 Alltech FEI World Equestrian Games here.