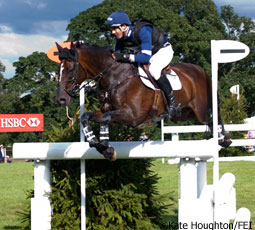 Jonathan Paget riding Clifton Promise on the cross country course at Burghley 2013. Photo: Kate Houghton/FEI
Jock Paget kept an admirably cool head in the pressurised last few minutes of the Land Rover Burghley Horse Trials, final leg of the HSBC FEI Classics, and became the fifth New Zealander to lift the top prize here at this much-respected British CCI4*.
Kiwi riders have won 12 of the last 26 Burghleys, but it's 14 years ago that a rider captured both Badminton and Burghley in the same season on the same horse (Great Britain's Ginny Leng on Master Craftsman).
Paget's dual-winning mount, Frances Stead and Russell Hall's handsome New Zealand Thoroughbred Clifton Promise, an ex-racehorse, seemed to grow in confidence around Richard Jeffery's jumping track. He only hit the last fence, by which time the Land Rover Trophy, and third place in the HSBC FEI Classics™ series, was in the bag.
"I was nervous because I wanted to win, but I knew I had two rails in hand and I had a lot of confidence in how Promise was jumping in the warm-up," explained Paget.
"I have altered a few little things with him this year, since my training with [European Champion] Michael Jung, and now give him a little more room in front of fences.
"It's really only just sinking in that I've won Badminton, let alone Burghley, but I know that it's a very special achievement."
Watch highlights from cross country day at Burghley in the video below.
Clifton Lush, the horse on which Paget was lying second after Cross Country, was unfortunately withdrawn overnight due to a bruised fetlock, but he should be back in action in time for Paget to contest the Rolex Grand Slam of Eventing (winning Badminton, Burghley and Kentucky in succession) next spring.
One of Paget's chief mentors, Andrew Nicholson, was second, third and eighth – another record – in a Kiwi whitewash. "I brought three horses and I still can't beat him," the 52-year-old Nicholson joked about his former protégé.
"When Jock first came to me, in 2009, he may have looked like a monkey up a pole, but I still thought he had a lot of natural talent. What was most important was that he wanted to learn; he was always running around watching the top riders, like William Fox-Pitt and Pippa Funnell, and that's how you become successful yourself, by looking and learning."
No horse has ever won back-to-back Burghleys, but Andrew came very close to achieving that accolade with second place on the 2012 winner, Avebury (he was also first and second with Mr. Smiffy in 2000 and 2001).
"It does feel like a great achievement to have been so consistent," he said. "That's really what staying at the top is all about."
Although nine of the 19 horses jumping in the morning session went clear, there were none from the 24 in the afternoon. Nicholson had a fence down apiece on Avebury and Nereo and, with the latter horse, overtook William Fox-Pitt (GBR) and Parklane Hawk after they hit the second and third elements of the treble at fence 10.
"I think he was still in too much of a forward gear after cross country," said Fox-Pitt, who finished second in the HSBC FEI Classics. "But Jock's achievement is fantastic and I hope he enjoys the moment. This has been a brilliant competition; it was a proper four-star and the cross country and the optimum time had exactly the right influence."
Ingrid Klimke's (GER) FRH Butts Abraxxas does not have the best of jumping records, but he went clear on his last CIC3* run and Klimke said she had decided not to practice in between. The strategy seemed to work well, as they only hit the third fence to rise two places to fifth.
Jonelle Richards, sixth on The Deputy with 12 penalties, and Sir Mark Todd, seventh with four faults on the inexperienced Oloa, a horse the double Olympic gold medallist has mooted as a future championship ride, completed the New Zealand domination.
European team silver medallist Ludwig Svennerstal (SWE) enjoyed his best CCI4* result so far when finishing ninth on King Bob and Kristina Cook (GBR) was 10th on Do Novo News.
This is HSBC's last year of sponsoring the Classics, after six highly successful years when the series has captured riders' imaginations and led to sporting tussles of the highest caliber, most famously between Andrew Nicholson and William Fox-Pitt.
"It's definitely raised the profile of the four-star events," commented Nicholson, who is the only rider ever to have won the HSBC FEI Classics with three 4-star victories (Pau, Kentucky and Luhmühlen). "It has made me travel to Kentucky and spend time working out what horses to take to Pau and Luhmühlen."
Catrin Norinder, Director of Eventing at the FEI, said: "It's been a super series for eventing and a great success and we are so grateful to HSBC for all their interest and generosity."
She confirmed that the both the FEI Classics and the FEI Nations Cup Eventing, which has proved so popular, will continue and that plans are already in hand for reviewing both series and for seeking financial backing.