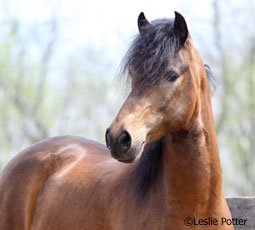 Have you ever experienced a paso largo? Does "bella forma" sound intriguing to you? From now through Saturday, Oct. 5, the world of the Paso Fino horse will be in the spotlight as the breed's Grand National show takes place at the Kentucky Horse Park. To watch the show in its entirety, visit USEFNetwork.com.
The Paso Fino breed was developed in Puerto Rico and Colombia from stock imported by Spanish Conquistadors. Over time, the smooth-gaited horses spread around Latin America and eventually caught the attention of North American horse lovers.
There are plenty of smooth-gaited breeds in the world, but the Paso Fino has a distinctive way of going that is easily recognizable. The gait, which comes naturally to the horse, is described as an evenly-spaced, four-beat lateral gait. When performed correctly, the hoof beats are in a regular, even time, creating a smooth ride. Contrasting with the reaching, ground-covering gait of many other gaited breeds, the Paso Fino has a rapid footfall with relatively little forward motion, giving it a distinct appearance.
In certain classes, Paso Finos are asked to perform their gait across a sounding board, which amplifies the sound of their footfalls. Judges are then able to assess each entry for correct, even footfalls.
Paso Finos are judged at different variations of the gait depending on which division they compete in. According to the Paso Fino Horse Association, these gaits are defined as follows:
Classic Fino: Full collection, with very slow forward speed. The footfall is extremely rapid while the steps and extension are exceedingly short.
Paso Corto: Forward speed is moderate, with full to moderate collection. Steps are ground-covering but unhurried, executed with medium extension and stride.
Paso Largo: The fastest speed of the gait, executed with a longer extension and stride, and moderate to minimal collection. Forward speed varies with the individual horse, since each horse should attain its top speed in harmony with its own natural stride and cadence.
At the Grand National, horses and riders will compete in pleasure, performance, trail, driving, bella forma (in-hand) and equitation. Special events include barrel racing and pole bending, cowboy mounted shooting and obstacle trail challenge. Spectators at the show are invited to ride a Paso Fino on Friday and Saturday. Check in at the PFHA booth at the show for more information.
To see a full schedule, visit PFHA.org. The entire show is being broadcast online at USEFNetwork.com.