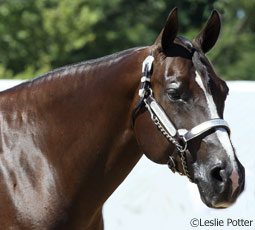 It's October, and that means only one thing for American Quarter Horse enthusiasts. The All-American Quarter Horse Congress (AAQHC) is celebrating its 47th annual event this year, having grown from just a three-day show when it was launched in 1967. This year, the nearly month-long event runs from Oct. 4-27 and draws approximately 6,000 Quarter Horses and thousands of their human fans to the city of Columbus, Ohio.
While western sports and cowboy culture play a big part of the show, with cutting, reining and roping on center stage, Quarter Horses will also be competing in English events including hunters, jumpers, equitation and hunter under saddle. All of the competition will be available for live, online viewing at
iequine.com
.
Watching online is an acceptable alternative for Quarter Horse enthusiasts who can't attend the show in person. But for those who can make the trip to Columbus, there is plenty to stay occupied outside of the show. The Congress trade show draws shoppers looking for equine gifts, tack and barn equipment, western-themed housewares and even trucks and trailers. Several other special events and attractions will take place throughout the show.
The Congress Cutting Event takes place on Thursday, Oct. 10 and includes the Mecuria NCHA World Series of Cutting for open and non-pro riders. After the open finals, the Congress Bridleless Cutting Finals will take place in the main coliseum.
On Friday, Oct. 11, the Pro Bull Riders Tour will stop in at the coliseum at the Ohio State Fairgrounds. The Congress event is one of the final stops before the PRB World Finals in Las Vegas later this month.
On Oct. 12-13, the National Reining Horse Association's popular Ride a Reiner program will give visitors the experience of riding a well-trained reining horse. Four sessions are offered over the two days. For more information, click here.
The Congress Super Sale is an annual part of the AAQHC in which approximately 200 registered horses are sold. The sale preview will be on Oct. 19 with the sale taking place on Sunday, Oct. 20.
The 2013 Congress Lecture Series runs throughout the duration of the show and includes topics such as equine injury rehabilitation, practice courses for hunters, jumpers and equitation; evaluating equine conformation; bits and bitting; and equine dentistry. Demonstrations on the various disciplines represented at Congress will take place throughout the show as well. Click here for the full lecture and demo schedule.
Watch one of the top performances from the 2010 AAQHC Freestyle Reining in the video below.
This year's Congress will again be broadcast live online. To watch for free, visit iequine.com. To find out more about the All-American Quarter Horse Congress, visit www.oqha.com/aaqhc.