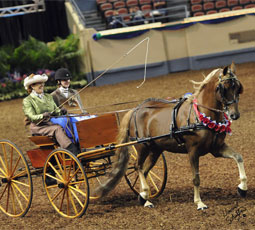 From carriage driving to reining, saddle seat equitation to western dressage, few single-breed horse shows rival the Morgan Grand National and World Championship Horse Show for diversity. The distinctly American breed is valued for its versatility, and that trait is evident in the horses competing at the Oklahoma State Fairgrounds through Saturday, Oct. 19.
Classes at the Morgan Grand National take place in three separate arenas at the fairgrounds. The Sport Horse Arena holds the dressage, hunter/jumper, reining, trail and carriage driving classes. The new discipline of Western Dressage first found a foothold in the
Morgan
breed, and a full slate of classes for that division will be held in the Sport Horse Arena as well.
The Performance Arena and Coliseum both hold a variety of classes, including western, saddle seat and hunter pleasure and equitation classes, park, pleasure driving and in-hand. The show's evening sessions are held in the Coliseum where spectators can enjoy some of the most hotly contested Morgan show classes of the year.
All three arenas are being recorded and broadcast live online by Richfield Video Productions. To watch the show, visit MGNLive.com.
For equestrians and fans who are able to attend the show in person, admission to all sessions in all arenas is free for spectators. Special events for exhibitors and their families include a kids' stick horse contest, the Grand National Dog Show, a lip sync contest, and an ongoing scavenger hunt. Riders age 1 and under will compete for the title of National Youth of the Year, a contest that rewards well-rounded young equestrians by testing their skills and knowledge in a judging contest, a prepared speech, a written test and a ridden or driven horsemanship pattern. Youth of the Year competitors at the Grand National qualify by winning at a state or regional youth contest held at various Morgan shows throughout the year.
Find out more about the show at MorganGrandNational.com and watch live online at MGNLive.com.