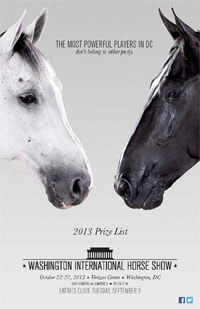 International show jumpers, local barn kids and equestrian fans of all ages are in the nation's capital this week for the Washington International Horse Show (WIHS), one of the annual highlights of the American hunter/jumper circuit.
The show dates back to 1958 and has counted celebrities and politicians among its spectators throughout the years. This year, WIHS will host approximately 500 horses over the course of six days at the Verizon Center in downtown Washington, D.C.
Daytime sessions through Sunday run from 7:00 a.m. through early evening and include most of the hunter and equitation classes. Evening sessions take place every night through Saturday, beginning at 7:00 p.m. The evening sessions include most of the jumper division along with lots of special events. Tickets are required for each sessions, although children age 12 and under can attend daytime sessions for free, and discounts are available for students and members of the military.
For equestrian fans who can't make it to Washington for the show, a live webcast will be available at USEFNetwork.com.
Some of the special events include:
Thursday, Oct. 24 is the popular Barn Night at WIHS. Groups of young riders from barns in the region will compete for awards in contests including largest group, best group spirit, best group banner and best group video. Kids will be able to participate in activities such as the Breyer Stablemates painting party and the WIHS Scavenger Hunt. This year, WIHS is hosting a Shetland Pony Steeplechase for the first time during barn night.
Also on Thursday, the Gambler's Choice class will draw many of the top show jumpers from around the country to compete for $20,000 in prize money. The twist? The riders will be competing in costume.
Friday, Oct. 25 is Military night, sponsored by The Boeing Company. That night will feature the Puissance (high jump) class, a popular spectator event, and the winner will receive the Armed Forces Cup. More than 2,500 free ticket vouchers will be distributed to military families in the Washington D.C. area.
Saturday evening will feature some of the show's top attractions. The Hermès WIHS Equitation Finals will kick off the evening session, and the $125,000 President's Cup Grand Prix will be the grand finale. In between those two hotly contested classes will be the ever-popular terrier races and celebrity barrel racing. Top riders from the Women's Professional Rodeo Association, National Barrel Horse Association and more will compete, but they'll be joined by some of the big names in the sport of show jumping.
Watch Rodrigo Pessoa in the Gambler's Choice costume class at the 2010 WIHS.

Watch the WIHS online at USEFNetwork.com, and find out more about the show at WIHS.org.