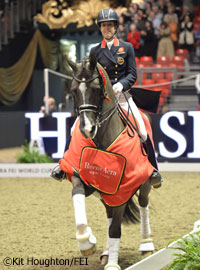 Charlotte Dujardin made waves last summer when she earned Great Britain's first-ever Olympic medals in dressage—a gold ones, to boot—in both individual competition and with her teammates for a team gold. Her career with the Dutch Warmblood gelding, Valegro (barn name Blueberry), has continued to break new ground in the sport ever since.
This week, Dujardin and Valegro earned their latest line in the record books this week at Great Britain's Olympia Horse Show where they earned a 93.975%. The pair topped
the record set by Dutch rider Edward Gal
and the famous Dutch stallion, Moorlands Totilas, at the same show in 2009. Gal's world record score at the time was 92.30%.
Gal and Totilas also held the world records in the grand prix and grand prix special, records which now belong to Dujardin. With Valegro, she set a grand prix record at the 2012 European Championships with an 85.942% and a grand prix special record of 88.022 at a competition in Germany in 2012.
Dujardin got the ride on Valegro when he was a young horse at the stable of her trainer and teammate Carl Hester. Originally, Hester had planned to have Dujardin ride Valegro through the lower levels and then take over if and when the horse reached grand prix. But the young pair proved to be so good together that the partnership remained, with golden results.
There was some question about Valegro's future after the 2012 Olympics when Hester said there was the possibility that he could be sold and paired up with a new rider. Fortunately, Valegro has remained at Hester's stable, and Dujardin told reporters that she would continue to campaign her star horse through 2014 with an eye toward the Alltech FEI World Equestrian Games in France next summer.
Watch a CNN interview with Charlotte Dujardin in the video below.

Dujardin and Valegro are both fairly young for the top levels of dressage—28 and 11, respectively—and fans of the sport are eager to see what this partnership can do next.