While many Americans will be waking up to a cold and possibly snowy first day of 2014, residents of the Southern California city of Pasadena will have sunny skies and temperatures in the mid-70s to look forward to. That mild winter weather and the year-round flowers it brought were the inspiration for the first-ever Pasadena Tournament of Roses in 1890.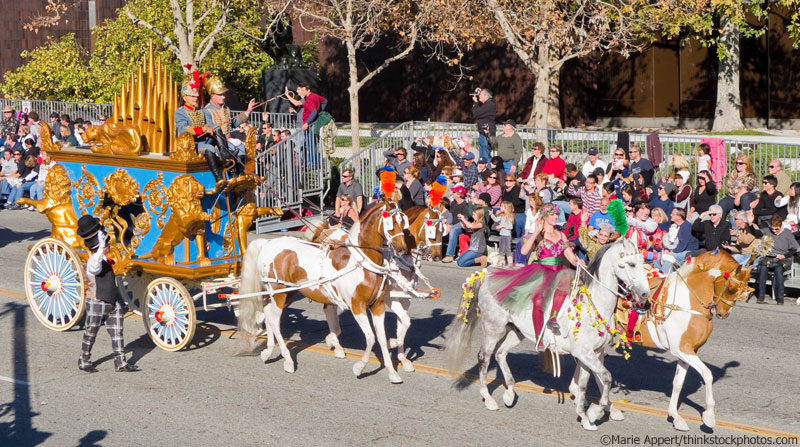 The Scripps Miramar Saddlebreds are a popular annual equestrian entry in the Rose Parade. Photo: Marie Appert/thinkstockphotos.com
The modern Tournament includes the Rose Bowl football game every January 1 along with the popular Rose Parade. While the parade is known for its elaborate floral floats and selected marching bands from around the country, the equestrian elements have been a long-standing and popular inclusion.
Aspiring participants must apply to be considered for the parade each year. Many of the equestrian groups participate as an annual tradition. Parade organizers work to attract the most spectator-friendly parade entries while giving spectators the chance to view a variety of different types of horses.
Among this year's equestrian entries are:
The All-American Cowgirl Chicks
This group of daredevil riders is no stranger to the Rose Parade, having participated every year since 2007. The cowgirls are a drill team hailing from Texas and through their energetic performances, they raise funds for local and national charities. The group is featured on their own TV show on the RFD-TV network.
Spirit of the West Riders
This group has been a part of the Rose Parade since 1991, participating every year except 2010. The riders come from various backgrounds of working in wild west shows, in the film industry and other western entertainment venues. These riders are primarily mounted on Quarter Horses and use authentic tack and attire from the 1800s.
War Horse Foundation
The War Horse Foundation is dedicated to educating the public about history and the contributions of horses to the military. Most of the horses in the group are Arabians, but warmbloods and Quarter Horses are included as well, and several of the horses are rescues. Riders wear authentic cavalry uniforms from various periods in history and ride in European military saddles.
Scripps Miramar Saddlebreds
The popular pinto American Saddlebreds are a longtime fixture in the Rose Parade, having participated consistently since 1999. The Scripps Miramar team presents a different equine theme each year, and this year the horses and riders will be outfitted in Asian-inspired costumes in honor of the 2014 Year of the Horse in the Chinese zodiac.
The parade will be broadcast on several networks locally in the Los Angeles region and nationally on several cable and satellite networks beginning at 8 a.m. Pacific Time. For more information on the broadcast schedule, click here.
Here is the full list of equestrian entries in the 2014 Rose Parade. The order for all parade entries can be viewed here.
All American Cowgirl Chicks
Budweiser Clydesdales
Calizona Appaloosa Horse Club
Hermanos Bañuelos Charro Team
Los Angeles Police Metropolitan Division Mounted Platoon/Los Angeles County Sheriff's Mounted Enforcement Detail
The Martinez Family
Medieval Times Dinner & Tournament
The New Buffalo Soldiers
The Norco Cowgirls Rodeo Drill Team
Norwegian Fjord Horse Registry
Scripps Miramar Saddlebreds
Spirit of the West Riders
United States Marine Corps Mounted Color Guard
Valley Hunt Club
War Horse Foundation
Wells Fargo