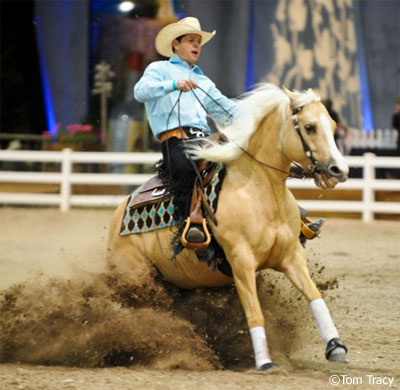 Hunter/jumper trainer Peter Pletcher competed in last year's Who Reins Supreme? and will be back again at this year's event. Photo: Tom Tracy.
Edited Press Release
The Equestrian Aid Foundation will host the fourth annual winter Who Reins Supreme? on Friday, January 31, 2014 at the Jim Brandon Equestrian Center in West Palm Beach. The old west themed event will feature a unique reining competition, cocktail hour, trick riders, awards ceremony, live and silent auctions and more.
The highlight of Who Reins Supreme? will be a reining competition between two teams, each comprised of a compilation of hunters, jumpers, and dressage riders. The competitors will include Ashley Holzer, Nick Dello Joio, Peter Pletcher, and Nicole Shahinian Simpson. World Equestrian Games individual Gold Medalist Tom McCutcheon and Tim McQuay, one of the all time leaders in the sport of reining, will captain each team, coaching the competitors and representing their teams in the competition.
The past two presidents of the Equestrian Aid Foundation, Robert Dover and Mason Phelps, Jr., will be honored along with the current president, R. Scot Evans, for their dedication to the equine community and role in providing care and support for those in need.
"I consider myself extremely fortunate to be in a position that allows me to give back to those who make equestrian sports possible and share my passion for these remarkable animals," said Evans. "I truly believe that the Equestrian Aid Foundation provides an invaluable service, and I am proud to be a part of their great work."
Proceeds from the evening will benefit EAF programs that financially assist equestrians, horsemen and equine-related professionals who are suffering from catastrophic illnesses and injuries. Tickets and tables can be purchased at equestrianaidfoundation.org.