Combined driver Sterling Graburn saw the nutritional benefits of feeding Alltech's LifeForce, a yeast-based supplement, to Ulano as the pair prepared for the 2012 World Single Horse Driving Championships. Photo: Pics of You
Horse owners are always looking for the best possible nutrition plan so their horses will get the most out of their feed. This can include the use of supplements to improve hoof strength, coat shine, weight gain, and many other common concerns.
One intriguing nutritional supplement that has been studied in both humans and animals is yeast. Yeast has been used in baking and brewing alcohol for centuries, and only relatively recently has it been prized for its nutritional benefits. The most common form of yeast used for this purpose is the single-celled organism
Saccharomyces cerevisiae
.
High in protein and B vitamins, research suggests that yeast also increases efficiency of energy production in animals like cattle and horses that ferment fiber via microbial breakdown. Although the exact mechanism remains elusive, one theory is that the yeast feeds the beneficial bacteria that convert fiber into energy in the cow's rumen and the horse's hindgut.
Other Benefits of Yeast
Although all horses can benefit from more efficient energy production, this is of extra importance to senior horses, whose ability to break down fiber eventually decreases, sometimes resulting in declining body condition.
Yeast supplementation also enhances protein and mineral digestibility. This is especially critical for young and growing horses, broodmares, and high-performance horses.
One noteworthy equine yeast supplement is LifeForce, manufactured by Alltech®. Launched in 2009, the original LifeForce Formula™ was designed to improve feed efficiency, mineral absorption, intestinal health, fiber digestion, body condition, and fertility of breeding horses.
LifeForce contains Alltech's Yea-Sacc® yeast culture that has been manufactured for over 30 years, in addition to Alltech's Bio-Mos® yeast mannan. Found in the outer cell walls of yeast, mannan oligosaccharides (MOS) are prized for their ability to bind to pathogenic bacteria found in the intestinal tract, such as Salmonella and E. coli. This prevents these pathogens from grabbing hold of the gut wall and colonizing.
Alltech's Sel-Plex® organic selenium yeast is another yeast-based ingredient found in LifeForce. Although selenium is toxic in large doses, it's an essential micronutrient found in antioxidant enzymes that help the body fight immune challenges. Selenium has many additional benefits to breeding horses, including stallion sperm quality and faster placental expulsion in broodmares. Mare colostrum is high in selenium, helping foals to fight off infection more easily. Finding a delivery system that allows selenium to be stored in the body was formerly a challenge, but Sel-Plex® has been able to accomplish this.
LifeForce also contains several other all-natural ingredients created by Alltech for animal feeds. Bioplex® is a source of chelated organic trace minerals, meaning the minerals are bound to amino acids and peptides in order to greatly improve absorption. Excessive excretion of unabsorbed minerals by livestock has been a concern in recent years due to the potential for pollution of land and water.
Mycosorb®, another Alltech ingredient included in LifeForce, binds mycotoxins within the body so they will not harm the animal. Mycotoxins are metabolites produced by molds that colonize on crops, including those used to produce animal feeds. One more commonly known example is fumonisin, produced by Fusarium mold in wheat and corn kernels. Fumonisin can have negative effects on the nervous system of horses. Mycotoxins in pasture, hay and grain have also been linked to higher colic rates.
New Formulas
After the positive response to the original LifeForce formula, Alltech recently added two additional products to the lineup. LifeForce Focus™ is designed for senior or less active horses with more grazing time. Focus helps create a balanced digestive environment, allowing beneficial bacteria to work effectively in the gut. It helps prevent digestive upset, aids in maintaining good body condition, and provides organic trace minerals.
LifeForce Elite™ is targeted to horses in high activity or those that compete regularly. Elite contains twice the selenium of the original formula plus omega fatty acids to help increase antioxidants, support a healthy immune system, stimulate anti-inflammatory response, maintain hydration and enhance muscle condition.
LifeForce formulas are based on peer-reviewed research in horses and contain no naturally occurring prohibited substances (NOPS). Quality control is of the highest priority at Alltech, and products are guaranteed for quality, safety and performance. Everything is tested multiple times for contaminants.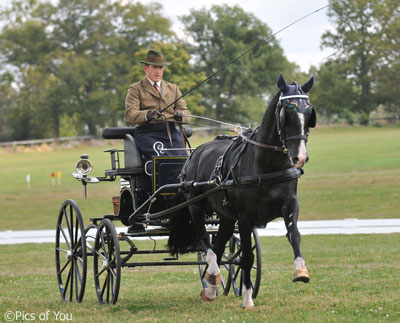 Sterling Graburn with his current top competition horse, Wesley. Photo: Pics of You
From the Horse's Mouth
You can read about the science, but there's nothing better than hearing from someone with firsthand experience feeding LifeForce and seeing the results. Sterling Graburn, who competes internationally for the U.S. in combined driving, feeds LifeForce Elite™ to his competition horses.
Graburn discovered LifeForce during its initial product launch prior to the Alltech FEI World Equestrian Games™ 2010 in Lexington, Ky. "I was contacted about doing a promo for the Games, and met Steve Elliot from Alltech, designer of LifeForce." Graburn decided to give the product a try and was impressed with what he saw.
"I've fed LifeForce to a dozen or so horses, and I have noticed improved coat, weight and performance," says Graburn. "I had two ponies that dropped weight dramatically shortly after I purchased them. As soon as I started them on LifeForce, their weight and coats improved."
He saw a difference in their performance, as well. "Ulano, the horse I drove in 2012, was on LifeForce the entire time I had him," says Graburn. "In less than one year together, we won the USEF National Singles Championships. We followed that up with a top-10 finish at Beekbergen in the Netherlands, and were the highest placed U.S. pair at the World Single Horse Driving Championships in Portugal. I am now feeding LifeForce Elite to my current competition horse, Wesley."
Keep an eye on the Alltech FEI World Equestrian Games™ 2014 in Normandy, France, to see what LifeForce horses accomplish next.
For more on Alltech® LifeForce, go to www.LifeForcehorse.com.
For more information on Sterling Graburn, visit www.teamsterlingdriving.com.
---
Holly Werner Caccamise is the managing editor of Horse Illustrated magazine. She holds an M.S. in Animal Science with a specialization in equine nutrition.
Alltech® LifeForce information derived from the 2013 Alltech 29th Annual International Symposium, particularly "The Equine Athlete: Where nutrition, health and performance meet" sessions.