This spring will be an exciting time for the top equestrian competitors as they work to earn a spot at the Alltech FEI World Equestrian GamesTM 2014 in Normandy, France. The Games will take place from Aug. 23-Sept. 7 and feature the world's best riders and drivers in eight different disciplines. Reaching this level of competition takes more than just practice. These competitors have to manage their horses' nutrition, conditioning and overall well-being in order to be ready for the challenge ahead.
Heather Reynolds and her husband, Jeremy, train endurance horses at Reynolds Racing in Dunnellon, Fla. Between the two of them, the Reynolds have four Tevis Cup wins, multiple national championship wins and best condition awards and team and individual golds from the North American Endurance Championships. Heather was the first American rider to cross the finish line at the
Alltech FEI World Equestrian Games 2010 in Lexington, Ky
. Currently, they have six horses—all purebred Arabians—that they are bringing along as prospective competitors for Normandy.
Miles of Training
Endurance horses at the Games compete in a 100-mile race, and the winning teams will finish in approximately seven hours. That kind of sustained effort requires careful conditioning, but Reynolds explains that they don't log as many training hours as people might think.
"Our horses work six days a week," she says. "We ride them three days and the other three they're on the EuroXciser [a type of hot walker]. When they're in top training, they're probably doing a total of 70 miles a week between the EuroXciser and riding."
It takes a lot of conditioning miles to get a horse ready for a 100-mile ride, and trainers must strike a balance between preparing a horse for long distances and avoiding too much wear and tear on their bodies.
"Our horses might go 11 miles twice a week, and then do 20 on a Saturday or Sunday," Reynolds says. "The longest training ride we'll do is about 23 miles, but we'll do shorter races as part of the training." These training races can be up to 75 miles and help to prepare the horses for the main event.
"The best way to train for a race is to be super flexible," says Reynolds. "The horse dictates the workouts. You might have 23 miles planned, but if you get six miles into it and realize your horse isn't feeling great, you just have to change your plans."
While many of the endurance horses at the Games are veterans of the 100-mile distance, that's not always the case. At the 2010 Games, Reynolds rode a horse named Ssamiam to a finish that was just five minutes shy of the winning time. It was only the horse's second 100-mile race.
Feeding the Endurance Horse
It takes a lot of energy to churn out all the miles that top endurance horses do, but when not at a competition, their daily feeding regimen isn't that much different than that of average pleasure horses.
"Our guys just get grain once a day," says Reynolds. "We go for quality over quantity when it comes to grain. They also have free-choice orchard/alfalfa hay in front of them all day." The Reynolds' horses also get supplements, including selenium, MSM, a mineral supplement to prevent ulcers and a magnesium-based supplement for muscle recovery.

On race days, endurance horses burn a tremendous amount of calories and are fed accordingly. "Basically, we set up a buffet [at the vet stops during the race] and the horses can eat whatever they want," says Reynolds. "We give them everything they get at home, plus whatever sweet feed I can buy locally—that's like their temptation, their potato chips. The day of the race, all bets are off. They can eat whatever they want."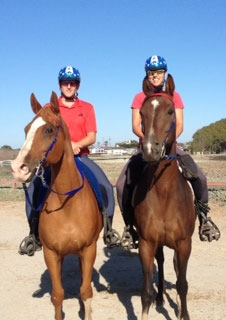 Reynolds explains that while this race-day feeding routine would be risky for a horse with metabolic issues, such as insulin resistance or Cushing's syndrome, the horses that contest the big races are highly conditioned and healthy athletes, and with the amount of energy they need, the risks of overfeeding are minimal.
"If a horse was just eating bucket after bucket of sweet feed, I would take it away," says Reynolds. "But they usually take a little of this and a little of that. They really self-regulate."
Prepare for Liftoff
The one time an endurance horse's diet can be problematic is prior to a long journey, like the one that the horses headed for Normandy will be taking this summer.
"We'll cut way back on grain [leading up to the trip], and then take the horses off grain entirely the week before they travel just to reduce the risk of tying up," says Reynolds. "They're so fit, and then they get cooped up to travel. If you keep them on their regular ration, they will tie up. That's the biggest concern in general for endurance horses when they travel."
Although the team won't be announced for a few more months, Reynolds is looking forward to the prospect of competing on Normandy's endurance course. The route incorporates a variety of terrain around the Norman countryside, over hills, through forests and even down the beach. The riders will pass in front of the iconic Mont Saint-Michel, a historic Benedictine abbey on an island just off the coast.
"This course has only been ridden once in its entirety," she says. "No one can study past statistics on it, so you're going with your own talent and knowledge based on what's in front of you while you're riding. It's kind of nice. It takes more skill.
"Another cool thing is that we'll get to ride on Normandy beach," adds Reynolds. "That's what I love about endurance. You get to go 100 miles and see places you'd never see otherwise."
Find out more about Heather and Jeremy's program at reynoldsracing.us.
Learn more about the Alltech FEI World Equestrian Games 2014 in Normandy at Normandy2014.com.