It's Valentine's Day, and whether you get swept up in the spirit, avoid it like the plague, or just wait around for discounted chocolate on Feb. 15, one thing is certain. We all love our horses. And what better day to focus on that fact than this day devoted to love?
We asked members of our Horse Illustrated Facebook community to tell us why they love their horses. Here are some of their responses.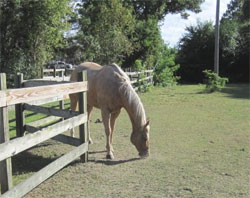 My palomino Quarter Horse, Tank, will always be my Valentine. He is loving and true, always happy, even when I'm down. He has the soul of an angel and I am blessed to have him.
— Penny Jean K.
My beautiful Oscar is a genuine good soul. I always say he's simply a good person and a perfect gentleman. He is always calm and gentle with everyone—people, dogs and other horses. There is no better place to be when I'm upset than at the stables with his muzzle on my shoulder. He'll stand like that for hours.
— Janine V.
Both of my horses, Joe and Louie, are rescues. Joe was starved of both food and attention, and Louie was abused and starved. However, after being rescued they are both the most lovable and most trusting horses I have ever met.
— Tiffaney K.
I love that my horse is silly and sweet with a little bit of sass. We've been together for over 18 years now and I have never had a bad day at the barn with him! He's my best friend and wouldn't trade him for anything!
— Ginny W.
My old horse with endless patience and a huge heart came into my life at a dark time, and she taught me how to live and laugh again. She is 40 years old now and lives the good life. She's still my therapist!
— Michele C.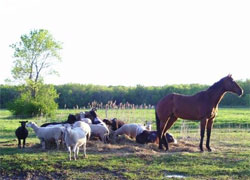 I love my horse's little soft high pitched "purr-nicker" at feeding time.
— Teresa C.
I love Beauty's capacity to love. In her retirement, she has adopted a flock of sheep and loves them all like they're her own. She watches over them and their babies day and night and calls to them when we go out around the farm.
— Juliet O.
My horse gives ME a job to do. Retirement wasn't for me and I purchased a beautiful Paint. He and I learned together. He gave me purpose. Love my big boy. We might not win or place a lot, but we sure have fun.
— Darlene J.
My favorite thing about Cinnamon, my very first horse, is her ability to overcome her past and trust me more each year. She may have a lot of sass but she has learned to love more than I thought possible!
— Kim H.
I love all my horses. They are all my best friends especially when in need. They are what get me up in the morning. They make me want to live my life to the fullest. No matter how many mistakes I make, they forgive me and help me move on and learn. To me that is so very important. Love them all to pieces!
— Nikki G.
My horse, Mystic, was a rescue horse who had severe trust issues. The day I met her I knew I couldn't leave her. She and I bonded immediately and even though I have owned her for just over a year, she has become a huge part of my life. She has shown me that love and trust are not just shared between humans but also between humans and animals. She has overcome her fears with a lot of patience and love that I have provided for her. She is my therapy and I am hers.
— Shelly G.
He's a great mountain horse. He'll go over anything. He also makes me laugh. Mickey is such a clown. If anything is amiss in the pasture, I know he did it.
— Sara L.
My horse can read my mind and my heart. We have both been through our share of illnesses and hospitalization over the past few years and each time we have been there for each other during some long recovery time. I recently had to make the hard decision to retire both him and me from active riding. We are beginning a new chapter in our lives and I feel no sadness or regret. My horse has taken me to places I only could dream about as a child and our journey has included some very special people I would not have met without my beloved Bold. I look forward to the future with joy because he is my best friend.
— Melissa G.
Share what you love most about the horse in your life in the comments below, or join the conversation at Facebook.com/HorseIllustrated.
Further Reading
Be My (Horse Loving) Valentine
Horse e-Cards