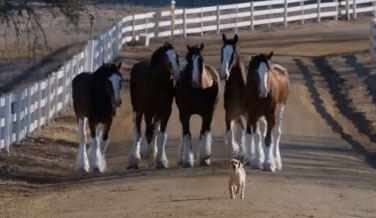 For 26 years, USA TODAY's Ad Meter has tabulated the Super Bowl viewers' reactions to the notoriously expensive and often entertaining commercials aired during the game. The popular Budweiser Clydesdales often hit the top of the ranking, and this year is no different.
This year's ad features a 10-week-old puppy who befriends one of the Clydesdales. In spite of his human caretaker's attempts to keep the puppy contained, he returns to his equine friend at neighboring Warm Springs Ranch. And when he's adopted and taken away from his home, the whole Clydesdale team takes action.
The heartwarming ad carried elements from last year's Ad-Meter-topping "Brotherhood," featuring the same actor playing the Clydesdales' trainer. If you haven't seen this year's spot yet, watch it below (and if you have, why not watch it again?)
Anheuser-Busch also scored points with their "Hero's Welcome" spot, in which a U.S. soldier returning from Afghanistan is treated to a surprise parade in his hometown. The Clydesdales played a supporting role in that commercial as well. It ranked third on the Ad Meter list.
Dogs were a popular element in this year's ads. The second spot on the Ad Meter ranking was a Doritos ad in which a boy practices his riding and roping skills with help from the family's very large pet dog.
View the full ranking list at admeter.usatoday.com.
Watch more Budweiser Clydesdale ads here.