If a rider competing in eventing falls and suffers a head injury, EMTs on the scene will know right away if that rider has had any other recent head injuries, if she has any allergies or if she is on any medications. If the rider is unconscious, they don't have to wait until someone can find the rider's emergency contact person to get that information. This is because of a rule that requires all eventers to wear an armband with their medical information during the cross-country and stadium jumping phases.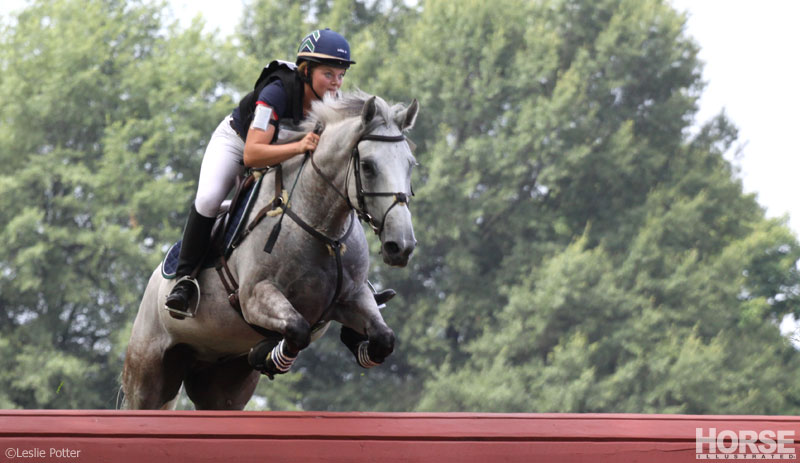 A new United States Equestrian Federation (USEF) rule will allow eventers to replace their armbands with bracelets that list vital medical information. The bracelets will include a URL for a website where medical personnel can access additional information about the patient.
These bracelets offer some benefits over the traditional armbands. Many riders find the armbands to be uncomfortable on hot days, and they're easy to forget in the tack trunk before heading off to ride. The bracelets are less obtrusive and are designed to be worn all the time, and for that reason, they can be effective for riders of all disciplines.
Two of the most prominent manufacturers of ID bracelets are Road ID and RideSafe. Road ID was launched by Edward Wimmer, a recreational runner, and his father, Mike. After a close encounter with a pickup truck during a weekend run, Edward found himself in a ditch on the side of the road. He was uninjured, but the experience made him think about what could have happened if he'd been knocked unconscious. He would have been brought to the hospital as an unknown patient with no way for the doctors to access his medical history or contact his family.
Unfortunately, many riders are familiar with this type of close call. If an accident occurs on the trail and a rider is dazed or unconscious, having essential medical information and a phone number for a family member readily available can make a big difference in emergency responders' ability to treat the injured rider.
RideSafe was launched by two equine veterinarians who saw the need for an identification system for riders. Dr. Stephanie Davis is a lifelong eventer who saw the need for an improvement over the medical armbands she'd always used in competition. Her husband, Dr. Chad Davis, was familiar with ID bracelets from his time in the cycling community, and the two adapted that idea for equestrian sports.
RideSafe bracelets have five lines of text, including the URL, teamridesafe.com. In case of an accident, medical personnel will visit that website and enter the unique ID number located on the bracelet to access the rider's full records. Essential information, such as emergency contact information, is located right on the bracelet, but the records online can be much more extensive and include medications, allergies, blood type, and any important medical history.
Road ID bracelets are available in original and interactive. The interactive version is a similar system to RideSafe's, with the URL www.myroadid.com on the nameplate and a unique PIN on the back that gives medical responders access to full information. The original version offers up to six lines of text, including the wearer's name and city, emergency contact info, and extra lines for other essential information. Road ID recommends listing crucial information, such as a known medicine allergy or medical condition, in those extra lines. The original version may be a more practical option for riders who live and ride in remote areas where a data connection isn't always available.
Both RideSafe and the interactive version of Road ID will be legal for eventers when the rule change takes place in April 2014, but any of these bracelets are an effective safety tool for riders of all disciplines. Both brands are available in a variety of colors and are as discrete as a regular wristwatch. This means they can be worn with show clothes of any discipline without disrupting the traditional show-ring look.
Any ID bracelet with an online medical information service is acceptable under the new USEF rule. Other brands include SportsTagID, American Medical ID and MedicAlert.
Further Reading
Does Reflective Gear Provide Safety Benefits?
Three-Day Eventing Community Shares Ideas for Safety