The country's best combined drivers, internationally renowned show jumpers and the beloved Budweiser Clydesdales are all on the schedule for the Live Oak International, which is currently under way in Ocala, Fla. And while many equestrian fans may be stuck at home with early spring snowstorms, an Internet connection is all you need to take a virtual vacation to the Sunshine State. Highlights of the competition will be broadcast live online at USEFNetwork.com.
Get a driver's-eye view of the marathon course in the video below.

The Live Oak International Combined Driving Event (CDE) has been the sport's most prominent competition in the U.S. for more than 20 years. The CDE includes divisions for single, pairs and four-in-hand teams for ponies and horses. This year it also includes the USEF National Four-in-Hand Championship. Ten-time champion Chester Weber will be there to compete for an 11th title. He'll have competition from Misdee Wrigley-Miller, 2013 national champion in the pairs division, and Casey Zubek, a competitor for the U.S. at the 2010 Alltech FEI World Equestrian Games.
Combined Driving is based on the three-day eventing model. The first phase is a driven dressage test. The second is the marathon, a cross-country drive that includes hazards, similar to cross-country jumps in eventing. The final test is an obstacle course made up of cones in the arena.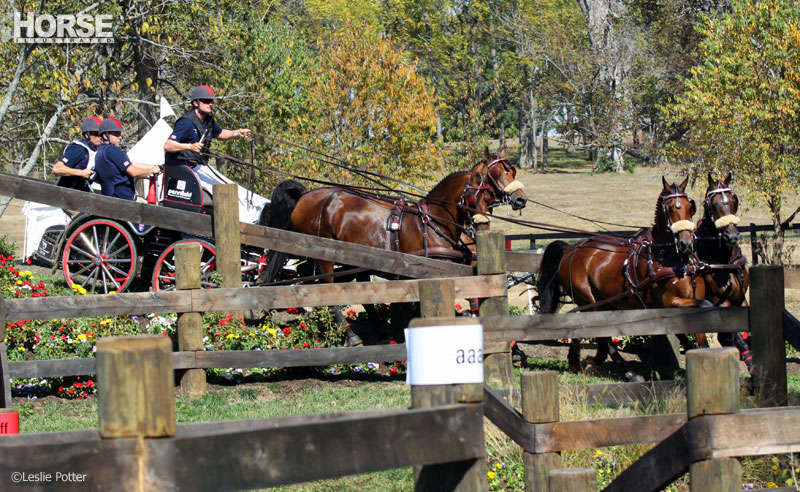 Chester Weber competes in the marathon phase at the 2010 Alltech FEI World Equestrian Games.
The marathon phase will be broadcast on USEFNetwork.com on Saturday, March 22 beginning at 9:00 a.m. EDT and the cones phase will begin at 8:00 a.m. on Sunday, March 23.
In addition to the CDE, Live Oak is now home to the $50,000 Live Oak Grand Prix, a World Cup Show Jumping qualifier, which will be broadcast online on Saturday at 2:00 p.m. The show jumping was a new addition in 2012 and has become a popular attraction. In addition to the Grand Prix, Friday night features jumper competition with the $5,000 1.30m Joan Pletcher Realtor Power & Speed Class and the $10,000 Waldrom Wealth Management Welcome Stake.
This year, spectators at Live Oak will also enjoy presentations by the world famous Budweiser Clydesdales. On Saturday, the hitch will be out on the grounds of Live Oak providing unique photo ops along with the ever-popular Budweiser beer tasting.
To find out more about Live Oak, visit LiveOakInternational.com.
Watch highlights from Live Oak at USEFNetwork.com.