For the next few months, HorseChannel.com will be giving readers a behind-the-scenes look at the Maker's Mark Secretariat Center (MMSC) in Lexington, Kentucky. Following three horses throughout their time at the center, readers will find out how Thoroughbreds end up there, some of the retraining techniques they undergo while learning skill sets necessary for a second career and more.
In the first piece in this series, meet the horses whose journeys will be chronicled and initial predictions for each one's second career.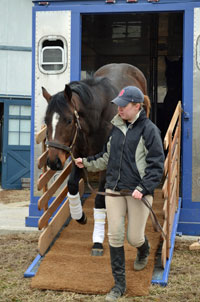 Sully arrives at the MMSC
Sullenberger, also known as Sully is smart and sensitive but also immature and easily distracted. Sully could be compared to a trust fund baby: He is handsome and seems to know it as he exudes a sense of entitlement. Susanna Thomas, Director of the Maker's Mark Secretariat Center, first saw Sully in November 2013 and was intrigued by his well-balanced body and conformation that immediately suggested a hunter type.
Sully comes from Darley Stud at the historic Jonabell Farm in Kentucky. He went into training as a two-year-old in March 2012. By September, he was showing signs of bleeding during his gallops. He didn't show much speed and had upper respiratory problems. All of this was fairly normal, but since he lacked speed, he was gelded at the end of December 2013. He arrived at MMSC on February 25, 2014 to begin his retraining and prepare him for adoption.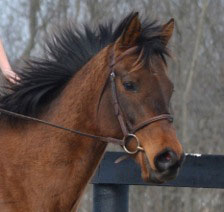 Noah
The second horse is Nowhere to Hide, also known as Noah. Bred in Kentucky by a Seattle Slew stallion out of a Seeking the Gold mare, his first race was August 2008. He was two years old. Throughout his racing career, Noah had 34 starts and total earnings of $217,137. He competed in the race of all races, the Kentucky Derby, in 2009 Kentucky Derby and finished 17th.
Unfortunately, he fractured his tibia during a race in 2010. His racing days were not completely over, however. He was claimed in races in February and March of 2012 and finally by the Riggio family in July 2013. In claiming races, each horse entered is subject to sale, or claim, at the value stated in the conditions of the race and can be purchased up until the start of the race. All purse money earned belongs to the person who owned the horse at the time of entry. According to the Thoroughbred Owners and Breeders Association, they constitute the majority of Thoroughbred races.
Susanna was introduced to Noah by the Riggios at Ashview Farm in February 2014. He was underweight and with skin disease, a long and shaggy mane, and a poor coat condition. But when Susanna lifted up his forelock and saw his face, she melted. Noah has a smart brain, great temperament and warm heart. Currently his mind and spirit are a little dulled, and his body is stiff, but once he gets more fit he will be a very pretty mover and could be a wonderful fox hunter. He is all try, all heart and all class.
The final horse whose journey will be documented here is Kincora Bay, also known as Moshi, a name which he shares with his mother. Born in 2008, Moshi stayed with breeder Diana Shoop until he was two years old when he was shipped to North Carolina to be started as a racehorse.
Moshi and Susanna
During the summer of that year he was gelded. He returned to Kentucky in the fall of 2010 and resumed training at the Thoroughbred Center in Lexington. Eventually Moshi's owner ran out of money and abandoned him, which is when Diana Shoop took him back. Susanna saw him in the fall of 2013 and admired his build and size. The look in his eye seemed very sane, interested and balanced. He was rarely ridden in the last two years, which translates to Moshi not having much education in terms of general handling. He enjoys having fun and likes turning his training into a game. A gorgeous mover with great flexibility, Moshi is a little wild child, very kind and sweet. He has no confidence and is hesitant to trust, but he is a quick learner and will be able to go anywhere and do anything with time.
Sully, Noah and Moshi come from very different backgrounds and have led very different lives, exhibiting the wide variety of horses that come to the Maker's Mark Secretariat Center. Susanna Thomas and her staff will work with each of them to find their strengths and weaknesses and prepare them for the next stage of their lives—adoption and, hopefully, a healthy, happy life.
Though bred to be racehorses, Sully, Noah and Moshi have full lives ahead of them in other disciplines. Follow along as HorseChannel.com shows you the retraining methods they undergo and the continuation of their stories.
Read the rest of the Secretariat Center series:
Further Reading
Off-the-Track Thoroughbred Resources