For the next few months, HorseChannel.com will be giving readers a behind-the-scenes look at the Maker's Mark Secretariat Center (MMSC) in Lexington, Ky. Following three horses throughout their time at the center, readers will find out how Thoroughbreds end up there, some of the retraining techniques they undergo while learning skill sets necessary for a second career and more. Read the rest of the series here:
After settling in, Sully, Noah and Moshi have begun preparing for their lives after the racetrack. The first step for each horse is a thorough grooming and appointments with vets and dentists to ensure that he looks and feels great. Then the training sessions begin, tailored to each horse's abilities and personality.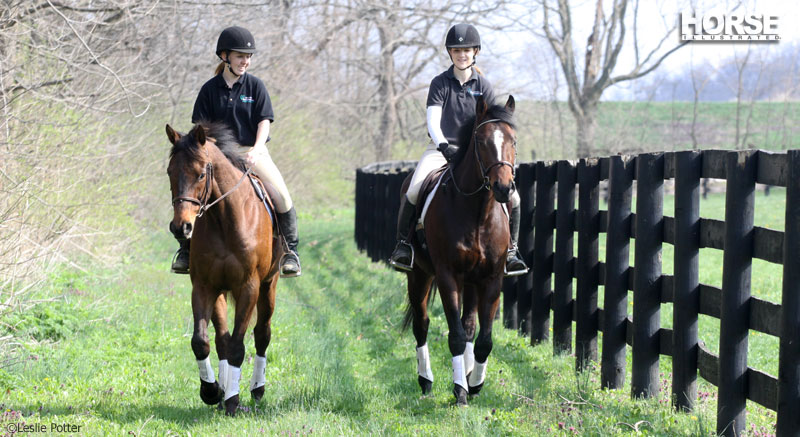 Noah (left) and Sully (right) take a relaxing walk around the Maker's Mark Secretariat Center property.
Sully, the "trust fund baby," has had wonderful success so far. He is interactive and interested when playing games and picks up new skills quickly and efficiently. When he was first introduced to voice commands, steering and leg aids, he was reluctant and not keen to comply. However, he has had a personality overhaul and now has lovely manners. He has nice, smooth gaits but is not balanced enough to hold the canter through turns, so there is plenty of work to do.
Training sessions with Noah have been a slow but steady process. He was initially very stiff and was often confused by steering, canter cues and longing. No matter how confused he gets, he is eager to please and works extremely hard to decipher what is expected of him. He traverses obstacles willingly and has a wonderful nature: playful, curious and at ease. As his stress melts away, his personality is beginning to shine through.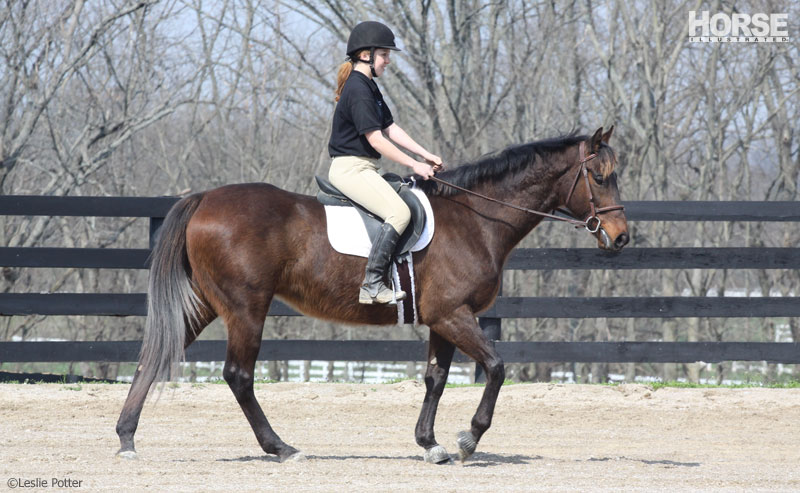 Moshi has his first ride at the Maker's Mark Secretariat Center.
Moshi has been a little bit scared and hesitant at first, but once he is comfortable, he is playful and trains well. He can sometimes be wary of stepping on a tarp or being near an open umbrella, but he likes playing on the teeter totter and bridges and is very responsive to directions. He looks at everything hard, analyzes it, and then gives it a go. After his initial tentativeness he is all about exploring and absolutely loves puzzles. He seems to be a horse that has to work at something consistently to build a solid foundation of trust and engrained knowledge, but he is very smart and will learn fast.
The reschooling process is just beginning, and already the horses have had tremendous success. Yet there is a lot more to do and share!
Liked this article? Here's more on off-track Thoroughbreds.

Off-Track Thoroughbred Resources
Slideshow: A Day at the Maker's Mark Secretariat Center