Michale Pollard and Mensa G
The dressage phase got off to a quiet start on Thursday at the 2014 Rolex Kentucky Three-Day event. It seemed the judges were scoring especially tough, with only two horses breaking 50 to score in the high 40s.
Leading the way at the end of the day was Michael Pollard aboard Mensa G, a 16-year-old American Thoroughbred gelding. "You can't win [the event] but you can lose it," Pollard said of the dressage phase. "I'm happy [with how dressage went], but not necessarily surprised; I knew he could do a very good test. [Even so,] we left some points on the table with the [lead] changes." Pollard spoke highly of his horse's cross-country skills, and is hoping for a good run on Saturday.
An experienced pair together, Will Faudree and the 15-year-old Irish Thoroughbred gelding Pawlow finished the day in second place with the only other score to break 50.
Will Faudree and Pawlow
"I was happy with the trot work but threw points away in the first counter-canter loop," said Faudree. Asked about his ride time for Saturday, he added that "going cross-country early before it gets hot is good for him. But for dressage, it sucks to go Thursday morning, especially with a horse that the atmosphere helps–with this horse, the more atmosphere there is, the less I have to kick and I can show him off more."
Doug Payne is a relative newcomer to Rolex, having having had his first trip here two years ago with Running Order. This year, he put on a very flashy test with the 11-year-old Holsteiner/Thoroughbred gelding Crown Talisman. However, Payne will be withdrawing after dressage.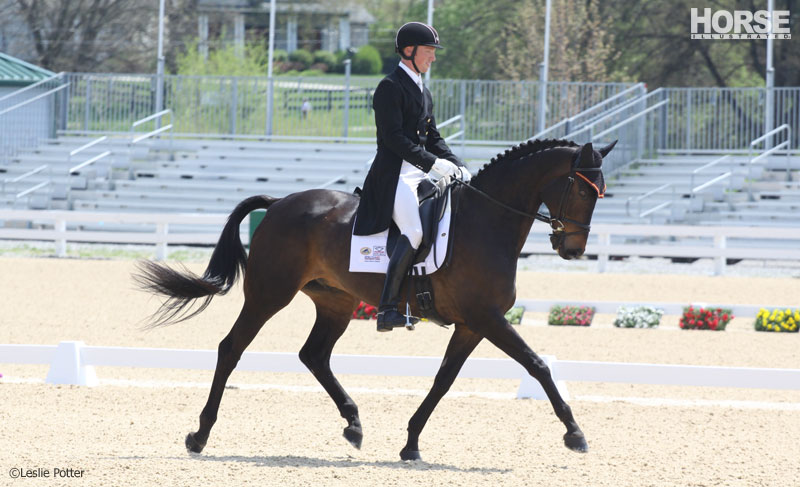 Doug Payne and Crown Talisman
"I was lucky enough to get a Land Rover competition grant," Payne explained. The grant will pay the expenses of a few select U.S. riders to compete at the Saumur CCI three-star event in France this May. "There is no better place [than Rolex] to compete and see where we measure up [in the dressage]," said Payne. "I put as much pressure on myself as I normally would." He plans to re-route to the Jersey Fresh three-star event before making the trip to France.
Stay tuned for another full day of dressage tomorrow before the competition moves on to the all-important cross-country phase on Saturday!
Visit www.rk3de.org for full schedule and results.
To watch replays of any of the rides or for live streaming, visit www.usefnetwork.com.
Keep up with all the 2014 Rolex Kentucky Three-Day Event and Kentucky Reining Cup news at HorseChannel.com/Rolex2014
TOP 10 AFTER FIRST DAY OF DRESSAGE:
Michael Pollard (USA)/ Mensa G–49.5
Will Faudree (USA)/ Pawlow–49.8
Doug Payne (USA)/ Crown Talisman–51.2
Marilyn Little (USA)/ RF Demeter–51.3
William Fox-Pitt (GBR)/ Seacookie TSF–51.5
Sinead Halpin (USA)/ Manoir de Carneville–51.7
Emily Beshear (USA)/ Here's to You–52.2
Phillip Dutton (USA)/ Trading Aces–52.5
Sarah Bullimore (GBR)/ Reve du Rouet–52.7
Bruce (Buck) Davidson Jr. (USA)/ Petite Flower–54.2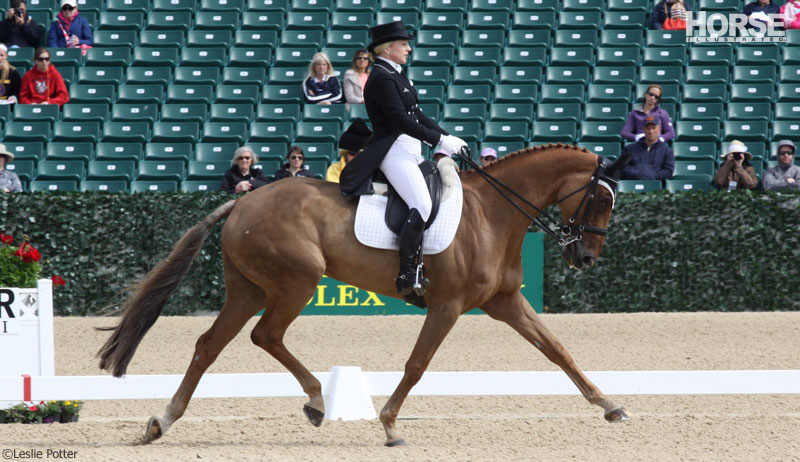 Marilyn Little and RF Demeter
William Fox-Pitt and Seacookie TSF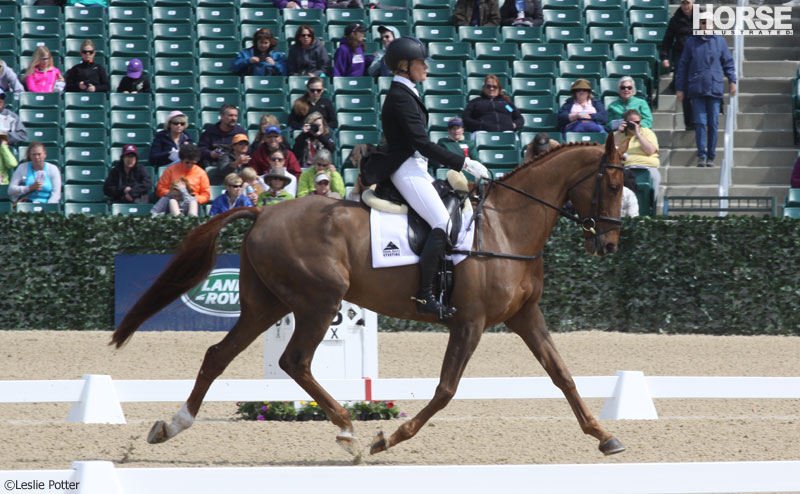 Sinead Halpin and Manoir de Carneville