The Kentucky Reining cup is happening April 25-27 at the Kentucky Horse Park in Lexington, KY, in conjunction with the Rolex Kentucky Three-Day Event. A total of 35 horses were accepted for FEI Open competition after being presented for inspection and jogged for soundness in front of the ground jury and veterinary representatives.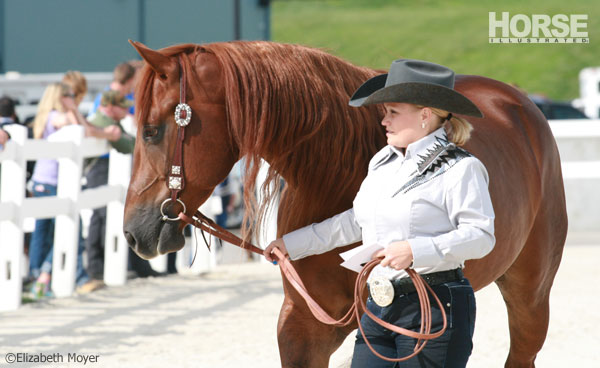 Mandy McCutcheon with Spin N Wimp.
In its fourth consecutive year, the Kentucky Reining Cup features the Adequan/USEF Open Reining National Championship and Selection Trial for the 2014 World Reining Championships at the Alltech FEI World Equestrian Games in Normandy, France. Also featured is the popular world championship freestyle reining competition, plus the Kentucky Reining Cup Team Challenge, FEI Junior and Young Rider classes, and a new addition, the Nutrena Para-Reining event. Total prize money for the three-day event is $120,000.
Entries for the event include some of reining's biggest names. Shawn Flarida, Tom McCutcheon and Craig Schmersal, teammates on the U.S.'s Gold Medal World Championship team at the 2010 Alltech FEI World Equestrian Games, headline the star-studded entry list.
"Reining's biggest names will be participating at the Kentucky Reining Cup, and the show is going to be spectacular!" said Brad Ettleman, president of HorsePower, Inc., producer of the Kentucky Reining Cup. "The competition will be fierce as the stakes are high for a spot on the US team, plus the crowning of a new world champion in the exciting freestyle. It doesn't get any more exciting than that for the spectators!"
Further information on the Kentucky Reining Cup is available at www.KentuckyReining.com and the competition will be broadcast online at USEFNetwork.com.
Keep up with all of our exclusive coverage of the 2014 Kentucky Reining Cup and Rolex Kentucky Three-Day Event at HorseChannel.com/Rolex2014.
| | |
| --- | --- |
| Dana Klapper Cohen and Magnum Refund were the first entry to jog at the horse inspection for FEI Open riders at the 2014 Kentucky Reining Cup. | Shane Brown's mount Hollywood Golden Gun brings color to the event. |
| Houston Shine and Shane Brown are back to compete in Kentucky again. Brown is the defending Kentucky Reining Cup World Champion Freestyle Reiner. | Custom Cash Advance is one of the horses Andrea Fappiani will be riding this weekend. |
| Kentucky is lucky for Shawn Flarida, three-time winner of the Kentucky Cup. Spooks Gotta Whiz will be his mount this year. | Pete Kyle presented top reining mare A Ruf Gal, who was named the 2013 USA Reining Horse of the Year. She has also been recognized by the United States Equestrian Federation as an International Horse of Honor. |
| Jordan Larson shows off the flashy HF Mobster. | Dun Got My Rest is ready to go with Tom McCutcheon. |
| Mandy McCutcheon presented Yellow Jersey. | Craig Schmersal and What A Wave play it cool. |
| Lisa Coulter shares a moment with Western Whiz. | Matt Mills and Mia Little Whiz. |
| Shining through the dust is Mega Watt Shine. | |