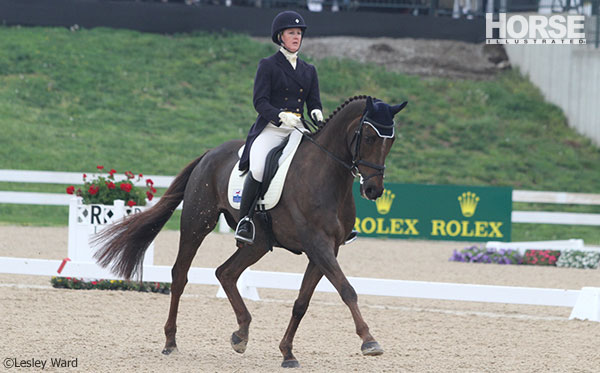 Allison Springer and Arthur
On a cold, windy, and sometimes-rainy day that spooked many of the horses, fan favorites Allison Springer and Arthur jumped into the lead following the dressage phase at the 2014 Rolex Kentucky Three-Day Event. Though he is widely known for his spooky antics, the 15-year-old Irish Sport Horse gelding kept a lid on it today and showed the type of spectacular, accurate test Springer knows he is capable of. They took a nearly five-point lead over the rest with a score of 39.5.
"We know each other really well; as a competitor, he's given me most of my milage," said Springer. "I'm more relaxed, even though he was wild at lunchtime. You have to ride the horse you have and try to do the best job you can. I think he remembered Kentucky!" The pair also led Rolex after the dressage in 2012, eventually finishing second to William Fox-Pitt of Great Britain.
William Fox-Pitt and Bay My Hero
Speaking of Fox-Pitt, he put in a brilliant ride this afternoon on the 11-year-old Irish Sport Horse gelding Bay My Hero, taking the provisional lead with a 44.0 shortly before Springer's ride. No stranger to Rolex, Fox-Pitt won the event in both 2010 and 2012.
"He couldn't have gone much better," he said of Bay My Hero. "This was big atmosphere for him–he likes to look at everything. Today he held it together well. He's very fun to ride; he's a bit like a big pony. All he wants to do is eat! He enjoys every minute of his life."
On Friday morning, Lauren Kieffer (USA) somewhat surprisingly took the provisional lead, eventually coming out in third at the end of the day aboard the 12-year-old Dutch Warmblood mare Veronica. Previously competed by Kieffer's longtime mentor Karen O'Connor (an injury currently has O'Connor sidelined from eventing), the mare seems to have transitioned well between riders.
"My first Rolex was in 2010 with my Young Riders horse Snooze Alarm," said Kieffer. "I've been riding Veronica for a year now. I'm happy with how it went today, but there's still lots to do tomorrow–it's not a dressage show!"
Looking forward to Saturday's cross-country test, the riders seem to be having nightmares about one particular combination. "The angled hedges are the most severe angle I will have ever jumped," said Springer. "But I trust Derek [di Grazia] as a course designer, and have faith in Arthur. I just have to keep my head together and ride the best I can and hopefully it will work out well."
Fox-Pitt agreed. "The angled beams look horrible. Really we've all been developing squints imagining they look better," he said in his typical British deadpan delivery.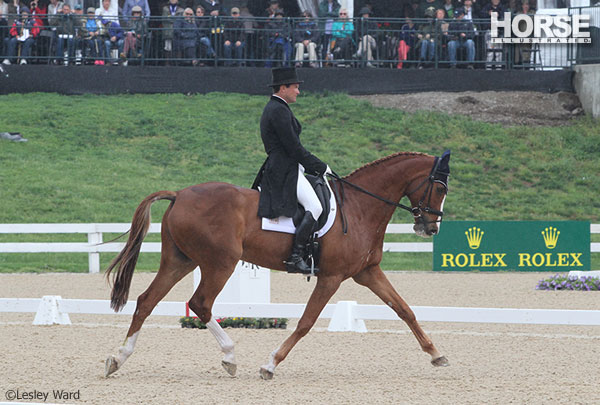 Phillip Dutton and Mr. Medicott
It looks like the ground will be perfect for Saturday's cross-country jumping after a fair bit of rain on Friday morning. If you're not lucky enough to be watching live in Kentucky this year, tune in to cheer for your favorites or catch replays at www.usefnetwork.com.
Visit www.rk3de.org for ride times and full results.
Keep up with all the 2014 Rolex Kentucky Three-Day Event and Kentucky Reining Cup news at HorseChannel.com/Rolex2014.
TOP 10 AFTER DRESSAGE:
1. Allison Springer (USA)/ Arthur–39.5
2. William Fox-Pitt (GBR)/ Bay My Hero–44.0
3. Lauren Kieffer (USA)/ Veronica–46.7
=4. Jan Byyny (USA)/ Inmidair–49.5
=4. Phillip Dutton (USA)/ Mr. Medicott–49.5
=4. Michael Pollard (USA)/ Mensa G–49.5
7. Will Faudree (USA)/ Pawlow–49.8
8. Doug Payne (USA)/ Crown Talisman–51.2
9. Marilyn Little (USA)/ RF Demeter–51.3
10. William Fox-Pitt (GBR)/ Seacookie TSF–51.5