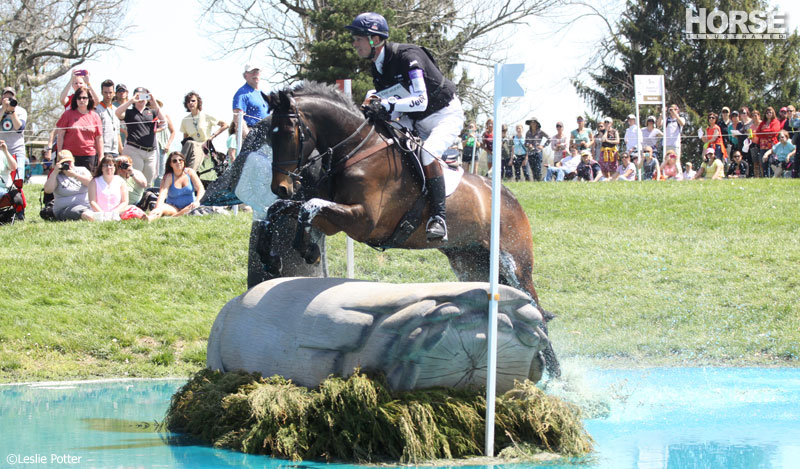 William Fox-Pitt and Bay My Hero.
Thanks to a good rain storm on Friday morning, the ground was absolutely perfect for running cross-country on Saturday at the 2014 Rolex Kentucky Three-Day Event.
Unfortunately yesterday's leaders, crowd favorites Allison Springer (USA) and Arthur, had a runout at the Normandy Bank. This very costly mistake added 20 penalties to their score, dropping them out of contention for the win.
Yesterday's second- and third-place riders, William Fox-Pitt (GBR) and Lauren Kieffer (USA) aboard Bay My Hero and Veronica, respectively, both jumped clear and inside the time.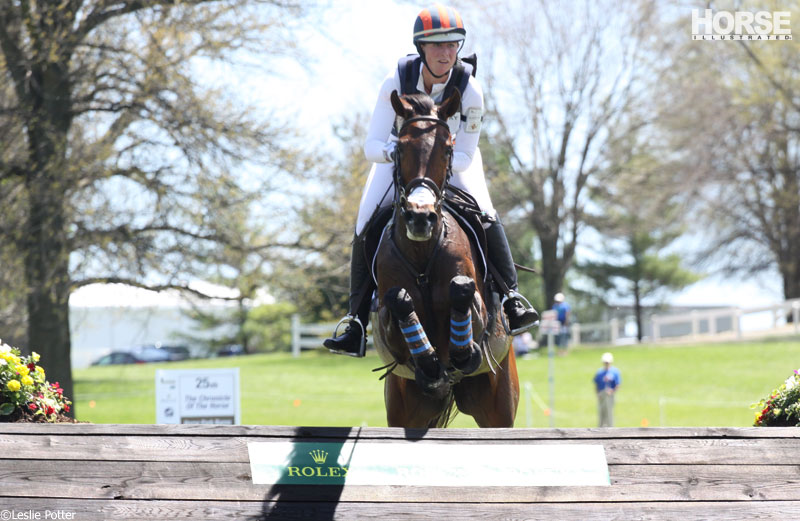 Lauren Kieffer and Veronica.
In fact, they were among 19 pairs to go double-clear, a very unusual feat at the four-star level. Twenty-six horses encountered trouble on course, either finishing with jumping penalties, getting eliminated or opting to retire. Ten horses jumped clear but with time penalties.
Fox-Pitt was very complimentary of Derek di Grazia's course design. "It really encouraged forward riding. Bay My Hero is much less experienced, but I know when he can see where to go, he's going to go. He's clever as a cat and as genuine as they come. He carried his tubby little body around!"
Lauren Kieffer also put in a terrific ride aboard Veronica, a mare she just took over the ride on a year ago. "I was thrilled with her–she really fought for it. There were lots of big questions, especially after the being held [due to the rider in front of her falling] going to the Head of the Lake. It rode the way I expected it to, but I knew I would have to be accurate."
| | |
| --- | --- |
| Phillip Dutton and Mr. Medicott | Meredith Little and RF Demeter |
Moving into third with a double-clear ride was Rolex veteran Phillip Dutton (USA), who won the event in 2008. This year he had his hands full riding three horses, and Mr. Medicott is his highest-placed mount going into show jumping on Sunday. The horse came from the German Olympic team to Karen O'Connor before moving on to Dutton after O'Connor was injured.
"Mr. Medicott goes like a hot Thoroughbred," said Dutton. "I learned most of my trade on those types, so it's like coming home to ride a horse like this. I have to give in a little to how he wants to go, and he's starting to get a little more respectful of what I want, so we're forming a partnership that way. He's been around so many courses, I was just hanging on and letting him do it. It was a pretty easy trip for him."
Stay tuned on Sunday for the final phase of show jumping. In eventing, it's not over until it's over!
For a live feed of show jumping or individual cross-country replays, go to www.usefnetwork.com.
Visit www.rk3de.org for ride times and full results. Keep up with all the 2014 Rolex Kentucky Three-Day Event and Kentucky Reining Cup news at HorseChannel.com/Rolex2014.
TOP 10 AFTER CROSS-COUNTRY
William Fox-Pitt (GBR)/ Bay My Hero–44.0
Lauren Kieffer (USA)/ Veronica–46.7
Phillip Dutton (USA)/ Mr. Medicott–49.5
Marilyn Little (USA)/ RF Demeter–51.3
Michael Pollard (USA)/ Mensa G–51.5
Bruce (Buck) Davidson Jr. (USA)/ Ballynoe Castle RM–51.7
Andrew Nicholson (NZL)/ Avebury–51.7
Sinead Halpin (USA)/ Manoir de Carneville–51.7
Phillip Dutton (USA)/ Trading Aces–52.5
Marilyn Little (USA)/ RF Smoke on the Water–52.5
(Ties are broken by closest to optimum time on cross-country.)

Michael Pollard and Mensa G.

Buck Davidson and Ballynoe Castle RM.