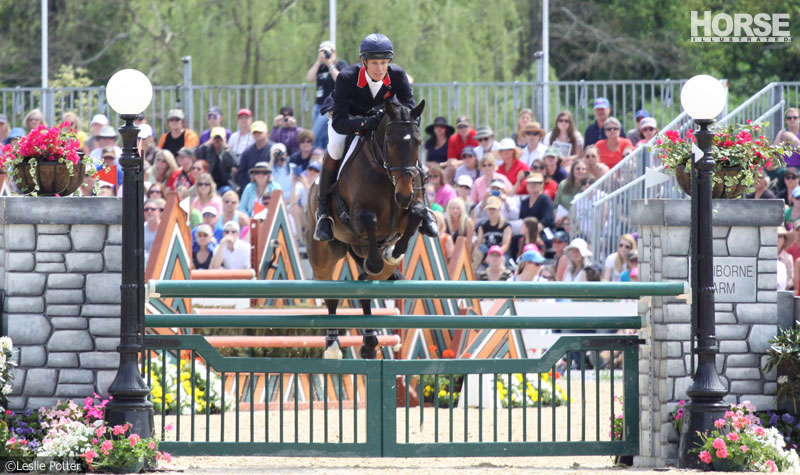 William Fox-Pitt and Bay My Hero
In what has become almost an expected ending at the Rolex Kentucky Three-Day Event, Great Britain's William Fox-Pitt show jumped a clear round to clinch the win. He also won the event in 2010 and 2012, and is now tied with Kim Severson (USA) for a record three wins each in North America's only four-star event, the highest level in the sport of eventing.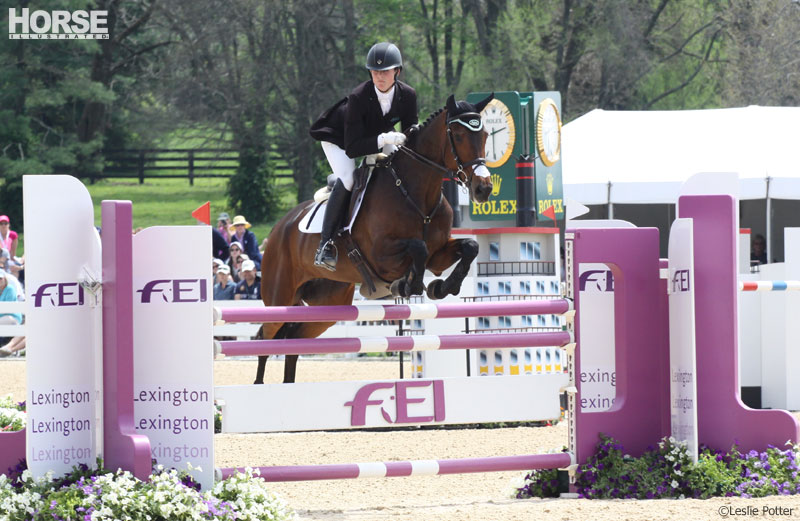 Lauren Kieffer and Veronica
It looked like Lauren Kieffer (USA) was in with a good chance to win after jumping a perfect, clear round under tremendous pressure aboard her relatively new ride Veronica. But when Fox-Pitt failed to pull a rail it guaranteed him the win (and another new Rolex watch!).
Yesterday's third-placed rider, Phillip Dutton (USA) aboard Mr. Medicott, withdrew the horse before Sunday's final horse inspection, so unfortunately he did not get to finish out the show. This opened the way for many other horses and riders in close contention, however.
In the end, a clear round by Buck Davidson (USA) aboard Ballynoe Castle RM, who finished fourth here as a pair last year, leapfrogged up the leaderboard over several combinations that had rails down to come in third.
| | |
| --- | --- |
| Buck Davidson and Ballynoe Castle RM | Fourth-place finishers Sinead Halpin and Manoir de Carneville |
Regardless of how easy winning seems for him, Fox-Pitt insists that isn't the case. "Each win is very special for its own merits; you still can't believe when it happens. The odds are so stacked against you in our sport."
At 11 years old, the Irish Sport Horse gelding Bay My Hero is one of Fox-Pitt's youngest and least experienced horses. However, he had no problem proving himself worthy of a four-star win. "I've had Bay My Hero since he was 5; he's part of the team and family. We have a great bond, and he's a real character. We all love him at home and he knows he's the best!"
Fifth-place finishers Marilyn Little and RF Smoke on the Water
Kieffer, who rode at Rolex once before on her Anglo-Arabian Snooze Alarm in 2010, really stepped up to the plate this year with an ultra professional ride in all three phases. "It took a lot of mental focus to try and stay cool," she said of being in second place during her show jumping round. "I tried to ride like it was any other show."
Her mount, the 12-year-old Dutch Warmblood mare Veronica, is one she's known for a long time. "She was imported when she was 5, and they brought her to me to sell, but I broke my arm. So Karen [O'Connor] rode her for me and liked her so much she bought her!" After O'Connor's recent riding accident sidelined her indefinitely from eventing, Kieffer took over the ride once again.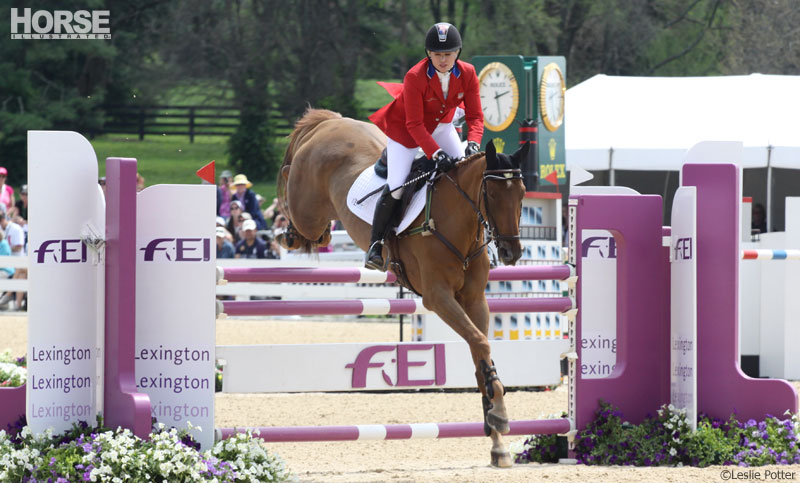 Sixth-place finishers Marilyn Little and RF Demeter
Asked about the mare's personality, Kieffer said, "We call her 'Piranica' sometimes. She's not a cuddler! But I'll take her like that any day."
Ballynoe Castle RM had something of a comeback story this year. Last year, the 14-year-old Irish Thoroughbred gelding had his first injury in all his years of eventing, a bone bruise, and started back to work in November. "I started early with him to give us some extra time just in case, and then he got pneumonia a few months ago," said Davidson. Thankfully he recovered exceptionally well from the medical double-whammy and finished the best of Buck's three mounts at this year's event.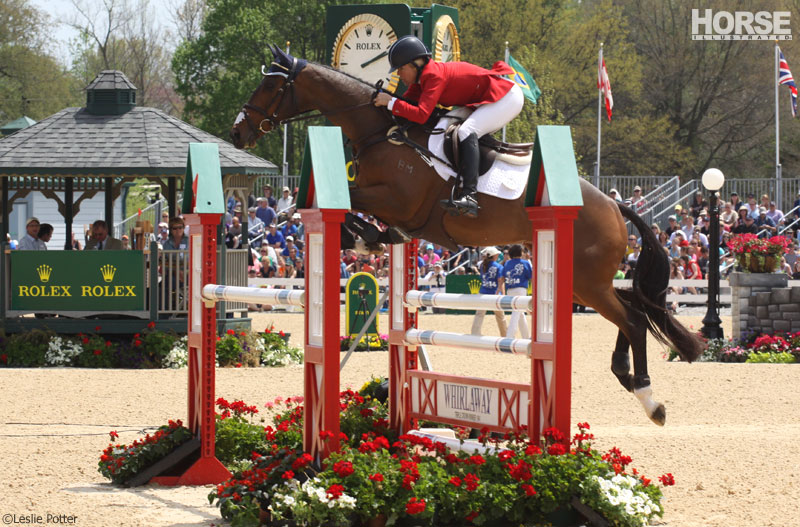 Seventh-place finishers Jan Byyny and Inmidair
Another fantastic year of the Rolex Kentucky Three-Day Event is in the books … until next year!
For individual ride replays, go to www.usefnetwork.com.
Visit www.rk3de.org for full results. Read all the 2014 Rolex Kentucky Three-Day Event and Kentucky Reining Cup news at HorseChannel.com/Rolex2014.
2014 ROLEX KENTUCKY THREE-DAY EVENT: FINAL TOP 10
William Fox-Pitt (GBR)/ Bay My Hero–44.0
Lauren Kieffer (USA)/ Veronica–46.7
Bruce (Buck) Davidson Jr. (USA)/ Ballynoe Castle RM–51.7
Sinead Halpin (USA)/ Manoir de Carneville–51.7
Marilyn Little (USA)/ RF Smoke on the Water–52.5
Marilyn Little (USA)/ RF Demeter–55.3
Jan Byyny (USA)/ Inmidair–56.7
Phillip Dutton (USA)/ Trading Aces–57.5
William Fox-Pitt (GBR)/ Seacookie TSF–59.1
Selena O'Hanlon (CAN)/ Foxwood High–59.4