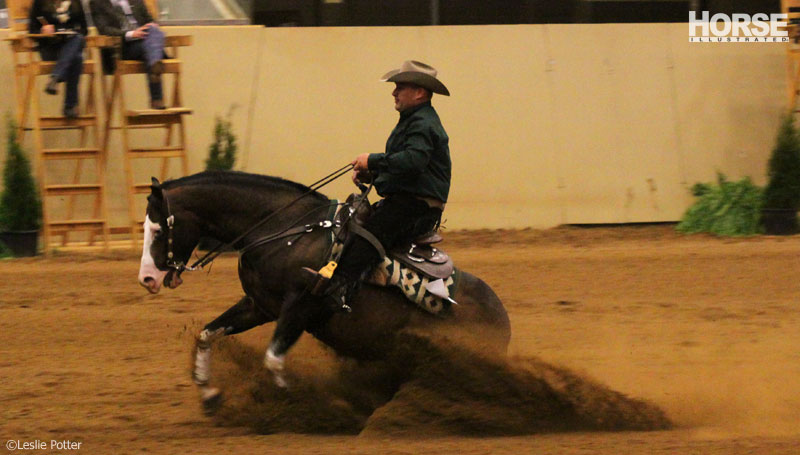 Shawn Flarida and Spooks Gotta Whiz
The 2014 Kentucky Reining Cup (KRC) concluded on Sunday with the naming of the six horse-and-rider teams that will represent the U.S. at the 2014 Alltech FEI World Equestrian Games in Normandy, France this summer.
The KRC, which is held at the Kentucky Horse Park alongside the Rolex Kentucky Three-Day Event, has been a stellar venue for Shawn Flarida. The Ohio-based trainer has won the top spot every year since the competition was introduced in 2011. This year, he rode Spooks Gotta Whiz, a double registered American Quarter Horse/American Paint Stallion, to the top of the podium.
"He's just a nice horse," said Flarida. "He showed good both times. He just gives his heart every time. He's fun to show."
Flarida has been a member of several World Equestrian Games teams, and is looking forward to the opportunity to compete on the world stage again this year.
"It's neat to go over there and see the other horseman that make the teams from their countries, and get to be friends with them," he said. "I really look forward to that part. And of course I have the greatest teammates that any person could ever have."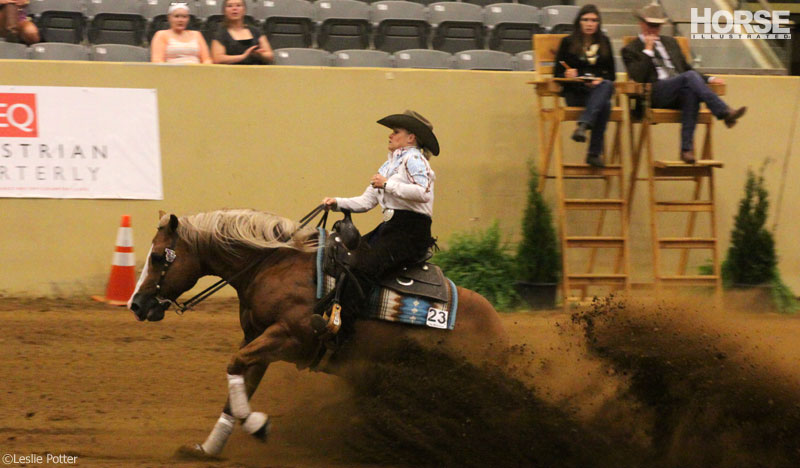 Mandy McCutcheon and Yellow Jersey
Reserve champion honors went to Mandy McCutcheon, who also earned the distinction of becoming an NRHA two-million dollar rider during the weekend's competition. McCutcheon rode the talented palomino stallion Yellow Jersey.
"I was probably a little more nervous than usual for the first run, but having a horse like [Yellow Jersey] makes all the difference in the world," said McCutcheon. "You know no matter what, he's going to do whatever you ask him to do. Today I didn't hit my first stop quite as well as I wanted to. I took a deep breath and said, 'Okay, from here on out.we've gotta clean this up a little bit,' and he stayed right with me."
This year's Games will be McCutcheon's first outing as a World Equestrian Games rider, but McCutcheon is no stranger to top level international competition. She has accompanied her husband, Tom, and her father, Tim McQuay, when they competed on past WEG teams.
"For me it's really fun to be on a team with my husband and on a horse that my parents provided for me," she said. "That part of it, for me, is really special."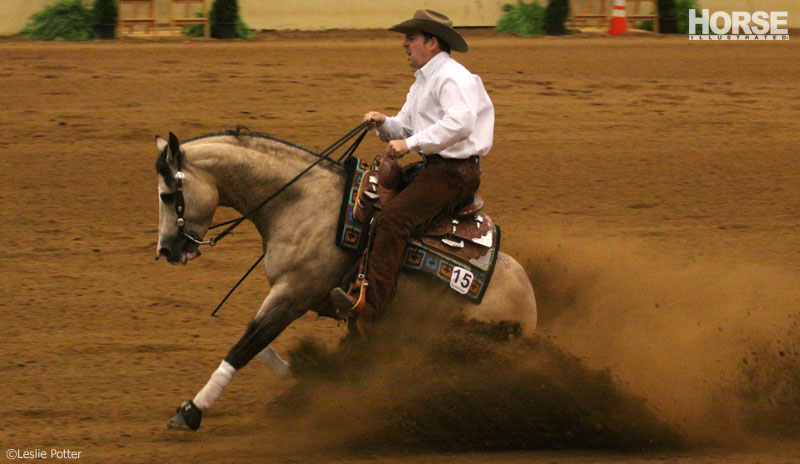 Jordan Larson and HF Mobster
Taking the final spot on the podium went to Jordan Larson who rode the flashy buckskin HF Mobster.
"I can't say enough about my horse," said Larson. "We had a rough week. He got a little dehydrated on the trailer on the way up here and I didn't get to ride him much. But he went in there and took care of me. He's a great horse with a great owner, and I'm looking forward to going to France!"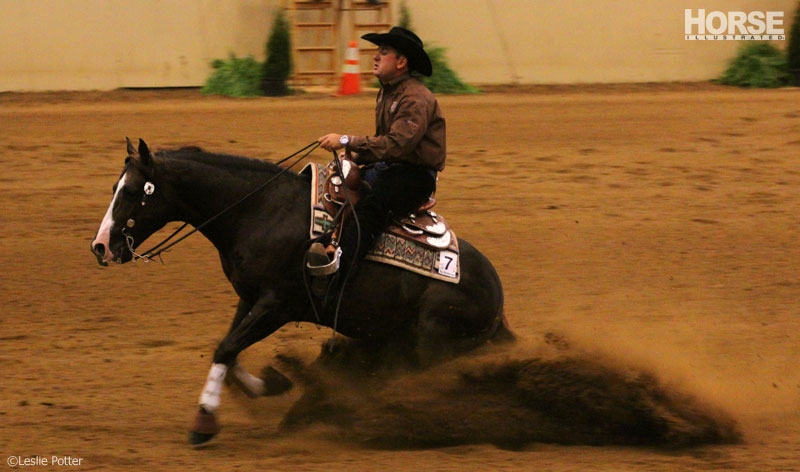 Andrea Fappani and Custom Cash Advance
Andrea Fappani had a busy weekend in Kentucky, with three horses in the competition. Two of those horses, Smoking Whiz and Custom Cash Advance, finished fourth and fifth, respectively. While his placings didn't get him a medal at the KRC, he has secured a spot on the squad for Normandy. It'll be Italian-born Fappani's first opportunity to represent the U.S. as he recently gained American citizenship.
"I moved here when I was 18 and I've experienced a lot of the top shows here in the states, but I haven't done much internationally," said Fappani. "I've had a lot of accomplishments that I've been able to achieve, but this was something that I wanted to get one day, and I sure appreciate it."
Troy Heikes and Lil Gun Dunit finished sixth at the KRC and won a place on the squad. Because Fappani can only compete with one horse at the Games, the final spot on the squad went to Tom McCutcheon and Dun Git A Nicadual. McCutcheon was the 2010 Alltech FEI World Equestrian Games individual and team gold medalist.
Watch video on demand from the Kentucky Reining Cup at USEFNetwork.com and learn more about the event at KentuckyReining.com.
Catch up on all the Kentucky Reining Cup and Rolex Kentucky Three-Day Event news at HorseChannel.com/Rolex2014.