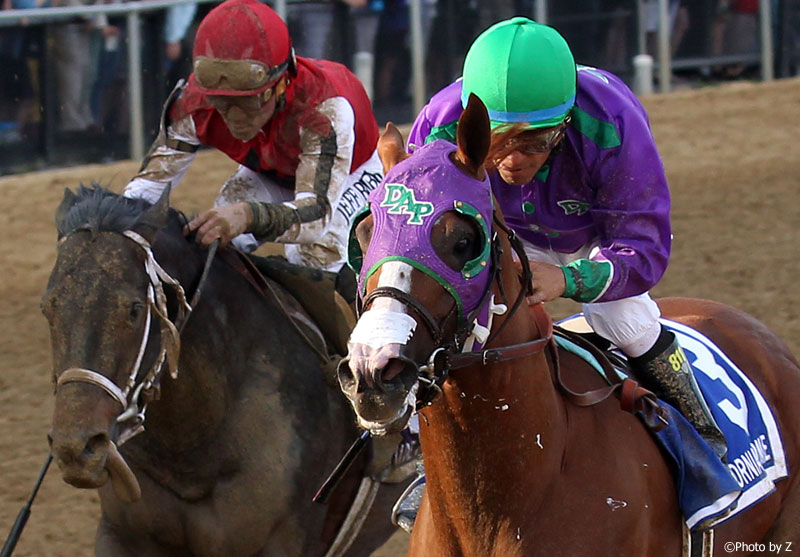 California Chrome has worn a FLAIR Strip during every race of his undefeated career. Photo by Z.

(
What kind of bit is he wearing?
)
Fans of Thoroughbred racing are eager to see if California Chrome, the flashy chestnut who won this year's Kentucky Derby and Preakness Stakes, can become the first horse since 1978 to win the Triple Crown at the Belmont Stakes on June 7. One factor that has made of headlines is the nasal strip that Chrome wears when he races. These breathing aids had been banned at New York Thoroughbred races.
Essentially, these adhesive strips work the same way that anti-snoring strips work on humans. They are worn over the soft tissue above the horse's nostrils to prevent constriction of the nasal passages during exercise, which reduces air intake and could negatively impact performance. Unlike humans or dogs that pant during intense exercise, horses only breathe through their noses. The added intake capacity has the potential to reduce the risk of injury to the lungs, especially during prolonged exercise.
Of all the controversial aspects of modern horse racing, nasal strips seem relatively innocuous. Compared with medication or surgical solutions, the strips are non-invasive and have no side effects. Nevertheless, New York's State Gaming Commission had a rule that stated that equipment used during a race must be specifically approved by the stewards. New York is the only state with a rule that affects the use of nasal strips.
Chrome's trainer, Art Sherman, requested special permission to use nasal strips during the Belmont Stakes. On Monday, May 19, 2014, the New York State Gaming Commision and New York Racing Association announced that the stewards had agreed to allow the use of nasal strips for all horses.
In 2012, Triple Crown hopeful I'll Have Another won the first two races wearing nasal strips and was told that he would not be able to wear them in the Belmont. He was ultimately scratched from the race and retired to stud due to a tendon injury.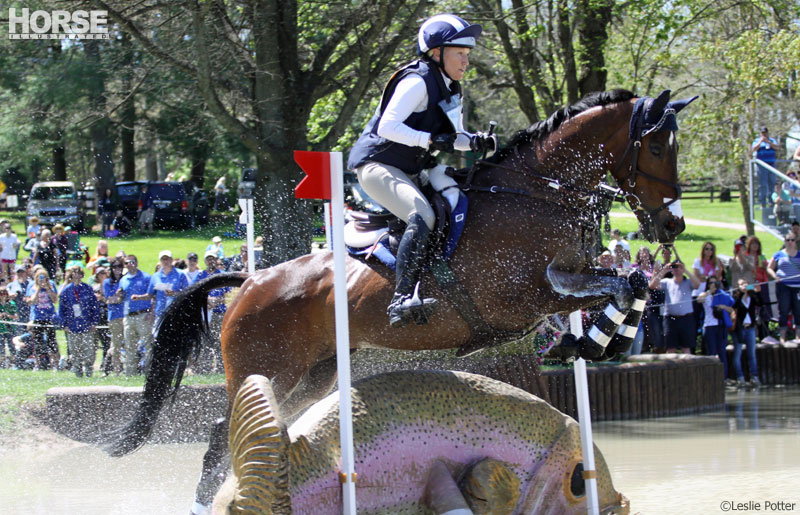 Nasal strips are a common sight in the cross-country phase of three-day evenitng. Here, Hawley Bennett-Awad rides Gin and Juice at the
2014 Rolex Kentucky Three-Day Event
. Photo: Leslie Potter
FLAIR Strips, the most common equine brand, were introduced to the market at the turn of the 21st century, first at the 1999 Breeder's Cup races and then at the 2000 Olympics. They are often used for eventers during the cross-country phase, polo ponies, and sometimes western performance horses in speed events.
Nasal strips are approved for use by most major equine associations, including the United States Equestrian Federation, the Fédération Equestre Internationale, the American Quarter Horse Association and the National Barrel Horse Association.