UPDATE Wednesday, May 21: John Madden Sales, Inc., posted the following update on Facebook:
"We are happy to report that Beezie is out of surgery and doing well! Surgery went excellently and the doctors were very happy with everything. Thank you so much for all the comments and messages to Beezie, she is feeling very encouraged reading them all."
ORIGINAL STORY:

Beezie Madden and Breitling LS compete in a jumper class in February 2014.
Show jumping legend Beezie Madden is on the road to recovery today after having surgery for a broken collarbone. The New York-based rider sustained the injury when she and her horse, Breitling LS, fell at the water jump during the Empire State Grand Prix at Old Salem Farm on Sunday, May 18.
An announcement released on the Facebook page of John Madden Sales, Inc, the equestrian operation Beezie runs with her husband, explained that Breitling was uninjured and Beezie is optimistic for a full recovery.
Madden is one of the world's most accomplished show jumpers, having competed for the U.S. team in three Olympics, including winning team gold in 2004 and 2008 and individual bronze in 2008. She earned the highest honor in show jumping when she won the FEI World Cup in 2013, and has been named USEF Equestrian of the Year three times.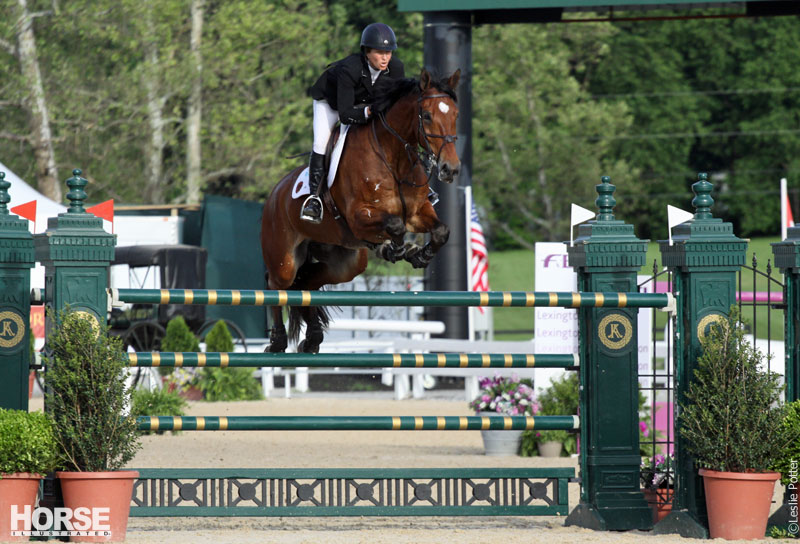 Beezie Madden rides Simon in a competition at the Kentucky Horse Park in 2012. Photo: Leslie Potter
Madden is known for her classic style in the saddle and is often pointed to as an example of how good equitation is functional over the biggest fences. Although there is no word yet on how long her recovery period will be, Madden hopes to be riding again soon.
"It's unfortunate, but these things happen in this sport," Madden told reporters. "I have a great string of horses with a hugely supportive team of owners, sponsors and co-workers behind me and have no doubt I will be back in the saddle soon."