On Saturday, California Chrome will run the Belmont Stakes, the third leg of the Triple Crown of American Thoroughbred racing. His fans are hoping to see him become the first Triple Crown winner since Affirmed in 1978.
Followers of the racing world have had plenty of reasons to hope for an end to the Triple Crown drought over the past 36 years. Here are a few of the horses that ran to victory in the Kentucky Derby and the Preakness Stakes, but couldn't quite seal the deal at the Belmont.
2012: I'll Have Another. Known for his close bond with his pony horse, retired racer Lava Man, and ridden by an up-and-coming young jockey named Mario Gutierrez, I'll Have Another had plenty of fan support heading into the Belmont. Unfortunately, a tendon injury forced his trainer, Doug O'Neill, to scratch him from the race. He was retired to stud and currently stands in Japan.

Big Brown's disappointing Belmont in 2008.
2008: Big Brown. Big Brown's victory in the Derby was overshadowed by the tragic death of second-place finisher, the filly Eight Belles. Nevertheless, he went into the Preakness as the favorite and secured an easy win, but came out of it with a quarter crack. He ran the Belmont with a patched up hoof, but Jockey Kent Desormeaux pulled the colt up on the homestretch, sensing that something was wrong. He did race a few more times after failing to finish the Belmont, but ultimately was retired to stud.
2004: Smarty Jones. This chestnut colt had an undefeated record when he entered the Belmont. His fan appeal led to increased attendance at races and a bump in television ratings. He was even a cover star for Sports Illustrated magazine in May of 2004. But the Belmont was an upset that year, with a longshot named Birdstone edging Smarty Jones into a second-place finish.
Funny Cide currently resides at the Kentucky Horse Park's Hall of Champions. Photo: Leslie Potter
2003: Funny Cide. This New York-bred gelding finished ahead of a competitive Kentucky Derby field and earned a decisive victory in the Preakness. New Yorkers had high hopes for Funny Cide on home turf at the Belmont. But a rainy day led to a sloppy track, and he came in third behind Empire Maker and Ten Most Wanted, two horses that had skipped the Preakness and were arguably fresher for the race than the Triple Crown contender was.
2002: War Emblem. This sleek brown colt won his victories under trainer Bob Baffert. But when the gates opened at the start of the Belmont, he tripped and left the gate last. He sprinted to get ahead of the field, but couldn't keep up the pace for the Belmont's long distance and finished eighth. He was retired to stud, but the notoriously cantankerous War Emblem has been a fickle performer in the breeding shed, known for refusing to breed most of the mares brought to him.

Veterinarian Dr. Larry Bramlage and jockey Chris Antley discuss Charismatic's injury at the 1999 Belmont.
1999: Charismatic. The Chestnut colt was a longshot in the Derby and in spite of his victory there, was still not the favorite when he went on to win the Preakness. Fans had high hopes for his finish in the Belmont, but he slowed in the homestretch. After crossing the finish line, jockey Chris Antley jumped off and lifted his horse's left front leg; it was later revealed that the leg was broken in two places. Although his racing career was over, he underwent surgery and recovered from the break. He is still standing at stud in Japan today.
1998: Real Quiet. This colt's narrow defeat in the Belmont was a heartbreaker for fans hoping to see a Triple Crown win. He finished second when Victory Gallop won by a nose in the final stride. Real Quiet continued to race as a four-year-old and had several years as a stud until he suffered a fatal pasture accident in 2010.
1997: Silver Charm. The gray colt was another close call for the Triple Crown history books, finishing second in the Belmont after winning the first two legs. His racing career didn't end there, however, and he went on to win the Dubai World Cup in 1998. He's had a successful career at stud and currently stands in Japan. Silver Charm's sale to Japanese breeders reportedly included a buy back clause, meaning he will be returned to his U.S. owners once his stud career is over.
1989: Sunday Silence. This black stallion narrowly defeated his rival, Easy Goer, in the first two legs of the Triple Crown. But Easy Goer came back with a vengeance in the Belmont, putting Sunday Silence into second place by more than eight lengths. Sunday Silence raced lightly after that and ultimately retired to a successful career at stud. He died in 2002 due to complications related to laminitis treatment.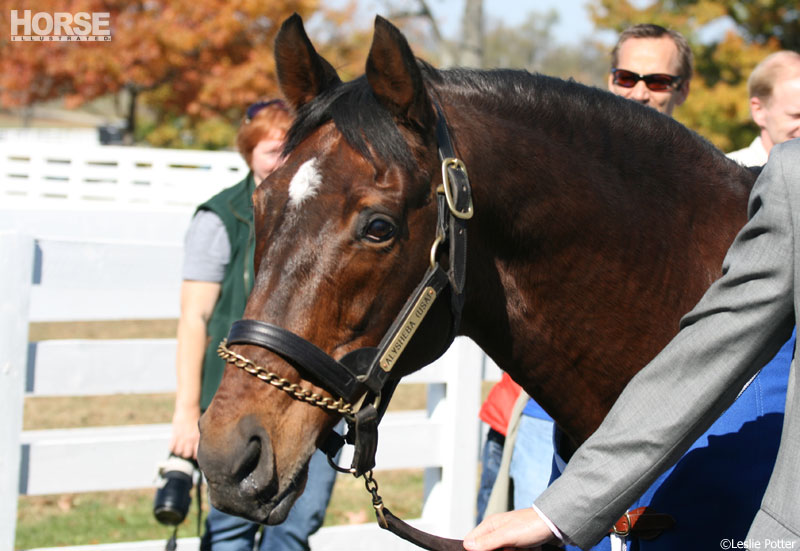 Alysheba arrives in Kentucky for his retirement in 2008. Photo: Leslie Potter.
1988: Alysheba. This striking bay won the first two legs of the Triple Crown with jockey Chris McCarron, but his Belmont race was lackluster by comparison and he finished in fourth place. He went on to a successful four-year-old year, including a win at the Breeder's Cup, which concluded his racing career. His breeding career took him from Kentucky to Saudi Arabia, and in 2008 he returned to Kentucky, this time to live out his retirement at the Kentucky Horse Park's Hall of Champions. Alysheba suffered from a chronic spinal condition which led to injury and ultimately euthanasia at age 25. He is buried at the Hall of Champions.
1981: Pleasant Colony. This big bay stallion handily won the Kentucky Derby and Preakness Stakes in 1981, but finished third at the Belmont. He raced a few more times after that and was retired to stud at the end of this three-year-old year. He was a successful stud until his retirement in 2000. After his death in 2002, he was buried at Buckland Farm, the Virginia farm where he had spent most of his breeding career.
1979: Spectacular Bid. In 1977, Seattle Slew won the Triple Crown. In 1978, Affirmed did the same. In 1979, it looked like the racing world might see the third consecutive Triple Crown Champion in Spectacular Bid. But an aggressive ride early in the long Belmont by young jockey Ronnie Franklin backfired, and the colt couldn't keep his lead ahead of the other horses. Spectacular Bid did have a successful career with jockey Bill Shoemaker through his four-year-old year. He stood at stud in Kentucky and then in New York where he remained until his death at age 27.
Winning the Kentucky Derby and Preakness Stakes are incredible feats on their own, but those victories are often overshadowed by disappointment when a horse doesn't complete the Triple Crown. Will California Chrome join this list of great equine athletes that fell just short of a spot in the history books, or will he be the one to break the drought? We'll find out on June 7. The race begins around 6:30 p.m. EDT. NBC will begin airing coverage at 4:30 p.m.
Like this article? Here's more on the Triple Crown.
Nasal Strips for Horses
Kentucky Derby Trivia
Slideshow: Alysheba Returns to America
---
Leslie Potter is the Senior Associate Web Editor for HorseChannel.com. Follow her on Twitter: @LeslieInLex