Modern-day horse movies—think Seabiscuit, Secretariat, and Dreamer—may be the films that come to mind when you're in the mood for an equine-inspired flick, but don't forget some of the classic films that have enchanted audiences for decades. Let's step back into the past and revisit horse movies from the 1940s-1960s that still portray timeless messages and provide inspiration for contemporary horse enthusiasts.
My Friend Flicka
The heartwarming story of the bond between a boy and his horse, My Friend Flicka 1943 film (not to be confused with the 2006 version Flicka with Tim McGraw) features a talented ensemble of cast members including Roddy McDowall as young Ken McLaughlin and Preston Foster as Ken's stern and intimidating father. When Ken chooses a yearling chestnut filly as his first horse, he's warned that she may be "loco," but Ken learns important lessons in responsibility and dedication (and Ken's father learns lessons in mercy and love!) courtesy of the enchanting Flicka.
National Velvet
Based on the book of the same name by Enid Bagnold, National Velvet is the inspiring story of a young girl who wins a raffle horse and rides him to victory in the Grand National steeplechase, despite the fact that girls aren't allowed to ride in the race. The film features Hollywood stars Elizabeth Taylor and Mickey Rooney and has been a beloved favorite since it debuted in theaters in 1944. Loyal readers of the National Velvet book should be forewarned: the horse "Pie" in the movie is not a piebald.
Misty
Based on Marguerite Henry's beloved classic, Misty of Chincoteague; this 1961 film stars David Ladd and Pam Smith as Paul and Maureen Beebe. The film is undeniably endearing in all of its early 60s charm, and the supporting actors—a mix of veteran stars and local residents of Chincoteague and Assateague Islands—provide an element of realism upon which the storyline is set. With enjoyable dialogue (Paul asks his grandmother if she would pay an extra $10 for a colt that is "mannerly"), lovely scenery, and the adorable Misty, this movie is well worth your time.
The Miracle of the White Stallions
Chronicling the story of the famous Spanish Riding School Lipizzaner horses during World War II, The Miracle of the White Stallions stars Robert Taylor as the school's director, Col. Alois Podhajsky, and Lilli Palmer as Podhajsky's wife. The 1963 Disney film features a pleasing balance of historical drama and talented horses while providing a vivid reminder of the reasons that the Lipizzaner stallions have captivated the hearts and imaginations of horse enthusiasts for decades. The presence of Eddie Albert lends a bit of Green Acres-ish charm to the film.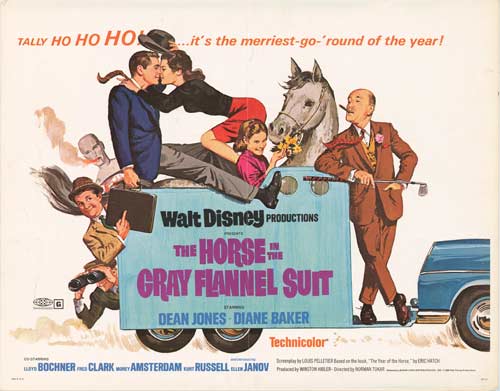 The Horse in the Gray Flannel Suit
By 1967, actor Dean Jones had already logged an impressive resume of Disney animal-related films, including That Darn Cat! The Ugly Dachshund, and Monkeys, Go Home!, so it's no surprise that he was cast in the leading role of this 1968 Disney horse film. Centered on an advertising campaign and its unlikely equestrian connection, the movie also features a lovable gray gelding named Aspercel, an equine-crazy teenager, lots of horse show scenes, and a pre-Dreamer-era Kurt Russell. It's a delightful film that deserves a place in your horsey movie collection.
Which classic horse movies bring back special memories for you?
Liked this article? Here are more that you'll love.
Rider Insider: The Best Horse Movies
Friesians in Film
Training Horses for the Silver Screen
Forgotten Favorites: Horse Books of the Past
---
Samantha Johnson is a freelance writer and the author of several books, including The Field Guide to Horses, (Voyageur Press, 2009). She raises Welsh Mountain Ponies in northern Wisconsin and is a certified horse show judge. Follow her on Twitter: @miraclewelsh