For the next few months, HorseChannel.com will be giving readers a behind-the-scenes look at the Maker's Mark Secretariat Center (MMSC) in Lexington, Ky. Following three horses throughout their time at the center, readers will find out how Thoroughbreds end up there, some of the retraining techniques they undergo while learning skill sets necessary for a second career and more. This article is the fourth installment in the series. Read the rest of the series here: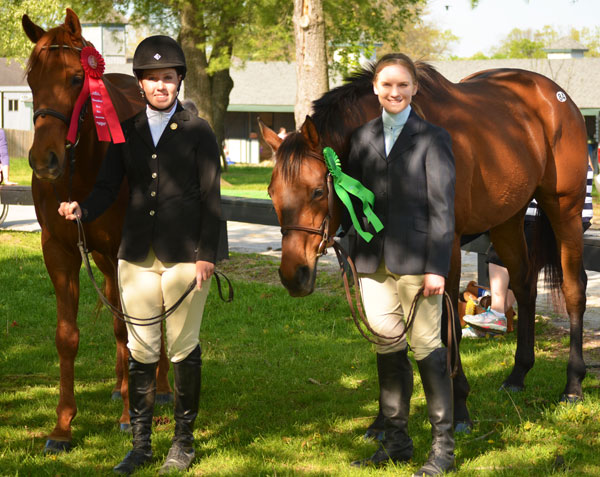 MMSC horses Bawana Jake with Carolyn Drover (left) and Nowhere to Hide with Catherine Flowers.
Part of our reschooling process at the Maker's Mark Secretariat Center includes, when possible, taking our off-track Thoroughbreds (OTTBs) to horse shows. We are very fortunate to be located at the Kentucky Horse Park which stages as many as 200 special events and horse shows each year. We can take advantage of this location in two ways: 1. By leading and riding horses down to the show area and letting them take in all the sights, sounds and action. This lets them become acclimated to the environment and helps the MMSC staff determine when they are ready to compete. 2. By entering them in shows when and if we deem it appropriate.
As horses progress through our Horse Centered Reschooling Program®, we learn to understand them both physically and mentally. Ideally, once we have built trust and respect both in the round pen and by bomb proofing and instilled knowledge, technique and confidence, our horses are ready to transition to horse shows and/or cross-country schooling days.
Showing the horses while they are in our care allows us to learn more about their personalities and possible disciplines for them in the future. Because some horses perform differently in a show ring than they do at home, we can gauge whether and when they might be competitive in the future. We are able to see how the horse handles itself in a charged environment and the strength of our bond of trust and leadership ability. It also provides an opportunity for us to see what unknown behaviors, or "racetrack recall" quirks emerge so that we can make a plan to work on them in training at home.
When I decide that a horse is ready to show, I base the classes that the horse will enter on what he has done at the MMSC. I keep things as easy and simple as possible, starting a level or two lower than at which we are currently schooling. For example, I will sometimes enter a horse in a walk/trot class instead of a walk/trot/canter class or do baby cross rails rather than higher jumps even if the horse is jumping higher at home. This helps to reduce any stress or anxiety the horse may feel in a new environment at a show and provides optimal chance for success.
MMSC graduate Steel My Heart (Noble Causeway x Mizlala) with Elle Bischel.
No matter how much planning happens and how ready we believe a horse to be, that does not always happen. If a horse's nerves are too much for it to handle, then we scratch, go for a walk, praise the horse and leave it at that. I am also a big believer in the herbal calmant Rescue Remedy for helping a horse relax. My main goal when bringing a horse to a show is to set up a situation that guarantees a positive experience, whatever that takes. Ribbons or scratching a class are not important to me. A happy horse that has a good time, and can learn to relax in this charged environment is the outcome I seek!
Show exposure increases value for our horses. Having a show record—no matter how small—allows them to move up a level on the market, which exposes them to a broader range of potential adopters. Our presence at shows is also free advertising for what we do, and how we do it. When people at the show see our turquoise and black colors and view our horses, it boosts the MMSC brand and reputation.
Bringing horses currently being reschooled to shows can be tricky and sometimes draining emotionally and physically for our horses and for us! When all details align, however, it's a boon. Seeing our horses transition, progress, and be recognized are true joys. Everything we do at the Maker's Mark Secretariat Center is to help OTTBs and give them the best chance for successful second careers. Taking them to shows is one part of a larger process that allows us to best serve our horses.
Liked this article? Here's more on off-track Thoroughbreds.
Off-Track Thoroughbred Resources
Slideshow: A Day at the Maker's Mark Secretariat Center