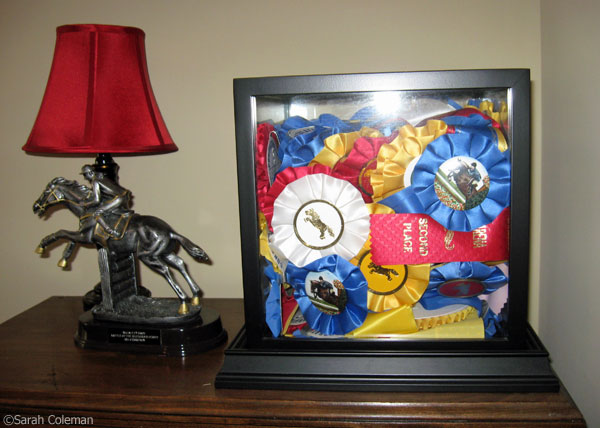 If you've ever shown horses, it's a good bet that you have some ribbons packed away in an old box or tucked in the back of a drawer. If you've consistently shown horses over the years, the number of ribbons you've won could reach well into the hundreds. Instead of stashing your prizes in storage, try out these unique, fun ways to display your ribbons.
Place multiple ribbons in clear vessels of varying size and shape. This combination is striking when ribbons are not all the same color, but grouping them by place is also an option.
Purchase a lamp with a clear base that can be filled with items of your choosing – ribbons of course!
Have your ribbons made into a ribbon quilt or pillow. Even if you are unfamiliar with sewing, there are kits available to try your hand at creating a one-of-a-kind home decoration. Another variation of this theme would be making your ribbons into a custom tackbox cover, displaying your accomplishments! Ribbon Rehab (www.ribbonrehab.com) provides patterns for many of these projects.
Use a basketball display stand like those found at craft stores to show off your ribbons. They don't need to be arranged in any sort of order; the randomness is half the fun!
Screw a piece of lattice onto a tack room or closet door and place ribbons tightly to create a solid wall of color.
A shadow box, which is a picture frame with a deeper back, can be neatly filled with ribbons, displaying the rosettes in a more linear fashion if order is more your style.
Create a wreath by removing the tail of the ribbons and affixing the rosettes to a metal or foam wreath form. You can even create holiday-themed wreaths, such as using red, white and blue ribbons for a Fourth of July or Memorial Day decoration.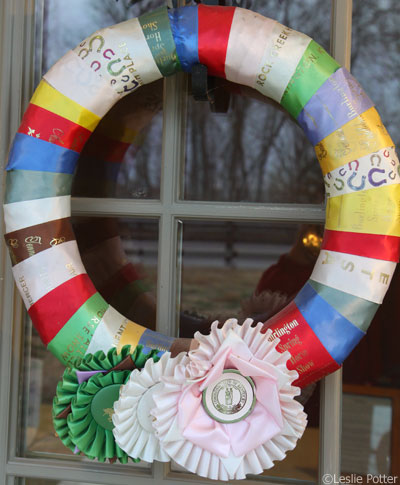 A belt can be made from horse show ribbons if you're even semi-handy with a sewing machine. All you really need is a bit of patience and enough ribbons that you can do some trial-and-error! Click here to see step-by-step instructions on how to make a ribbon belt.
A smaller version using the same idea would be to create a key chain from a favorite ribbon.
Cover a purse or a checkbook with the streamers on your ribbons. Laying everything out beforehand will help you imagine how the finished product will appear. If you don't want to go through that much effort, what about gluing the rosette of an especially meaningful ribbon onto a small clutch purse you might already own?
Picture this: a frame wrapped with ribbons that have been separated from their rosettes, or a frame without backing or glass enclosing a grouping of ribbons on your wall – this might be the easiest way to display them.
To add to seasonal décor, consider covering your Christmas tree with ribbons for a festive holiday feel that incorporates your four-legged loves. It looks striking when lit from behind with white lights.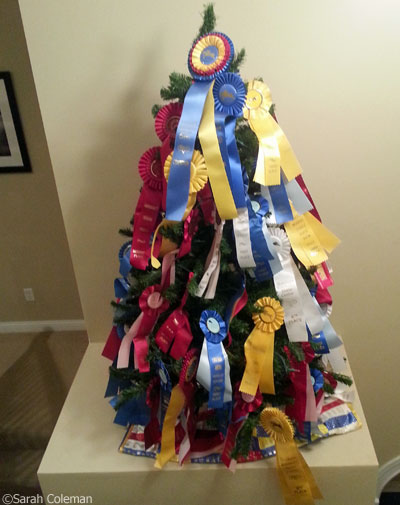 No matter how you choose to display your ribbons, you'll be filled with pride each time you catch a glimpse of them scattered throughout your house or barn.
Liked this article? Here are more equestrian decorating ideas:
Repurposing Ribbons: Holiday Edition
Horsey Finds on Etsy