Everybody loves talented equestrians on beautiful horses. How about adding to the mix athletic feats like handstands and leaps? Then kick it up a notch with unique costumes and multiple horse/vaulter combinations performing simultaneously. The icing on the cake: a country-western singer. What could possibly be so cool? Meet the Gymnastics on Horseback Association (GOHA), a Utah-based a vaulting performance group.
Billing themselves as 'a team of athletes that specialize in equestrian acrobatic entertainment,' GOHA takes the best of several worlds and seamlessly melds them to create crowd-pleasing performances.
Vaulting, often described as dance and gymnastics on horseback, features a vaulter gracefully executing difficult moves on the back of a moving horse controlled on a longe line by a longeur in the center or a circle.
Expanding on this sport, the GOHA troupe enlists a variety of experts to raise their art to a new level. Think ballroom and jazz dance instructors, cheerleading and gymnastics coaches, and horse trainers. The group's surprise ace-in-the-hole: non-experts who watch their routines, providing general public-style insight on what wows and what doesn't
Vaulting is in her blood, explains GOHA co-founder and coach, Gold-level vaulter, and coach of Oak Hills Vaulters, KyLynn James, who grew up with horses and vaulting as a part and parcel of everyday life. At Oak Hills Stables in Salem, Utah, James' grandmother integrated vaulting into her riding dressage and jumping program in the early days of the sport, before the American Vaulting Association (AVA) was even founded.
"I grew up thinking this was a normal thing, that everybody did it," says James. That would change, however, as she began to realize no one had ever heard of the sport; this would later form the seed for GOHA, created together with co-founder and fellow vaulter, Camille Swan
As the Oak Hills Vaulters developed and grew, they became a competitive team, taking part in competition at all levels, including multiple National Champion titles. Throughout this time, the group began to offer many free demonstrations, including launching a 'Vault Utah' campaign in an effort to raise awareness of the sport.
"We got better and better, and started to ask why we weren't getting paid to do this and have it be more than a backyard sport. We started putting together ideas of having it be a professional performance team," tells James. "Now our goal is to travel around the country and be able to perform." Vaulters with the Oak Hills team start out at the recreational level, later having the opportunity to try out for the competitive and GOHA teams.
Today the team enjoys a busy schedule, jumping into the season with weekly Renaissance festival performances throughout May, followed by summertime rodeos entertainment acts. While the Renaissance fair shows feature elegant costumes and talks about the history and roots of vaulting, the rodeo crowd enjoys high-energy choreography and live music, with a grand finale of tossing the group's country singer, Jentry Cole, over horse's croup.
With three horses and three vaulters doing simultaneous routines, the GOHA vaulters have a special technique in which one vaulter sits in front of the surcingle on the neck and 'rides' the horse at canter while two others do moves. A fireworks round follows with the horse cantering on the longe line while each vaulter mounts, doing her most eye-catching, fun moves individually. Next up comes doubles rounds, which are often presented as a duel with vaulting pairs vying for the audience's applause. Capping things off is triples, with three girls working in harmony together on the horse, including moves stacked three high. Wrapping things up, the crowd has a chance to meet horses, talk with girls.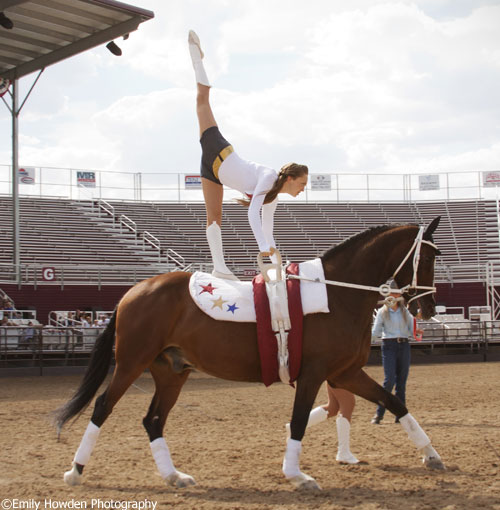 Vaulting itself is what keeps James' fire burning. "I love building a new team every year, seeing how well the girls and horses work together," remarks James. "It's tough to keep training in the winter with Utah weather and vaulters in school, but being together with the girls and horses, seeing amazement of crowd is so rewarding for all involved. We want people to know about what the sport is- and the more visibility we get is really cool."
See the GOHA girls really shine — with a Western flair — in Cowgirls Doing Stunts on Horseback (above), the brainchild of Swan, who created the clip together with producer Tyler Stevens. After exposure to filmmaking at Utah Valley University where Swan is a student, she realized there were simply no vaulting videos out there with high-caliber cinematography.
"The overall vibe in the video was exactly what we were going for!" enthuses Swan. "I would love to create more fun vaulting videos like that in the future; I think it will really help to expose the sport and get people interested in vaulting."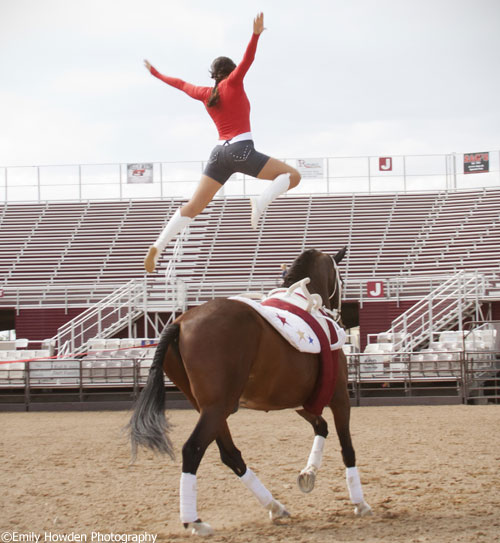 There's no doubt about it: a performance like this is pretty jaw-dropping. James, however, wants people to know that vaulting isn't really so out-there. "We added elements like taking off the cowgirl boot and putting on the vaulting shoes to show that we are just regular girls that decided to try something fun," she adds.
"Creating GOHA is a dream of mine. I spend a lot of my free time thinking of ways to grow GOHA or do something with the team that's different and unique," notes Swan. "I've always wanted to be a professional performer and vaulter, and nothing makes me feel more joy than showing people how much fun vaulting can be. GOHA is such a great opportunity for our students to work towards as they begin vaulting lessons, because it's not the traditional path found in vaulting, and vaulting itself is not a traditional sport. So all in all it's such a unique and awesome path to be on!"
Learn more about GOHA at gymnasticsonhorseback.com and the AVA at americanvaulting.org.
Liked this article? Here's more on vaulting:
Video: Adventures in Vaulting
2010 Alltech FEI World Equestrian Games Vaulting News
---
Natalie DeFee Mendik is an award-winning journalist specializing in equine media. Find her online at www.mendikmedia.com.