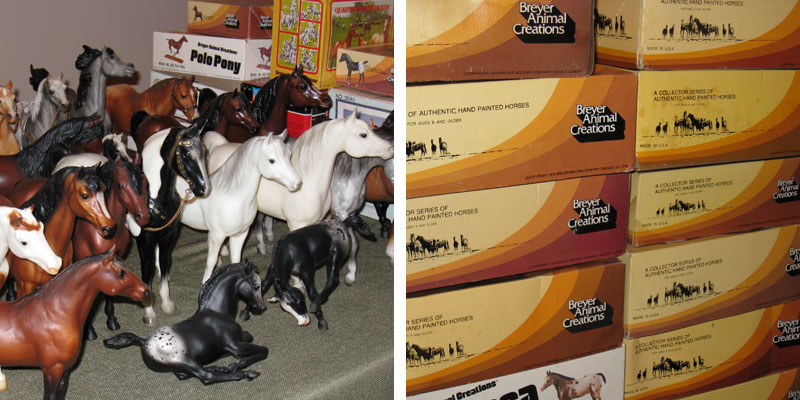 From my parents' basement came a flood of plastic ponies. Three giant boxes of Breyer model horses from my childhood landed on the doorstep of my tiny house due to a storage ultimatum at the family homestead. Unfortunately, my cute little cottage also lacks the room to accommodate the sheer numbers, even if I wanted to devote my living space to a full-time Breyer museum.
My boyfriend was shocked and more than a little overwhelmed. I have a modest few models on display, but he had no idea about my past with the plastic. The influx has dominated the living room and the dining room table, and we've been eating at the coffee table for a week. Something was going to have to give, and I had to face the fact that it was time to thin the herd down to the few, the proud (Arabian, anyone?).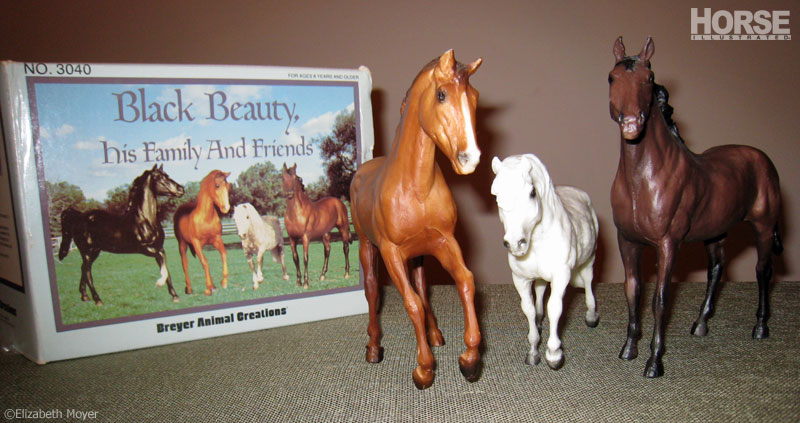 Who's missing from this picture? Guess we won't be having a Black Beauty Family & Friends reunion special anytime soon.
Fortunately, I live in Lexington KY, home to BreyerFest. It's the ultimate gathering of Breyer aficionados, and the perfect place to market my models. So, I snagged a spot at the swap meet and rolled up my sleeves to begin culling.
That's where the hard work comes in. There are so many memories molded within that pile of cellulose acetate. I have a soft spot for Halla and Lady Phase. John Henry is definitely staying. And I do love my Lipizzans. Could I part with a few Arabians and Appaloosas? Maybe a stock horse or three? Surely a Clydesdale has some collectible charisma.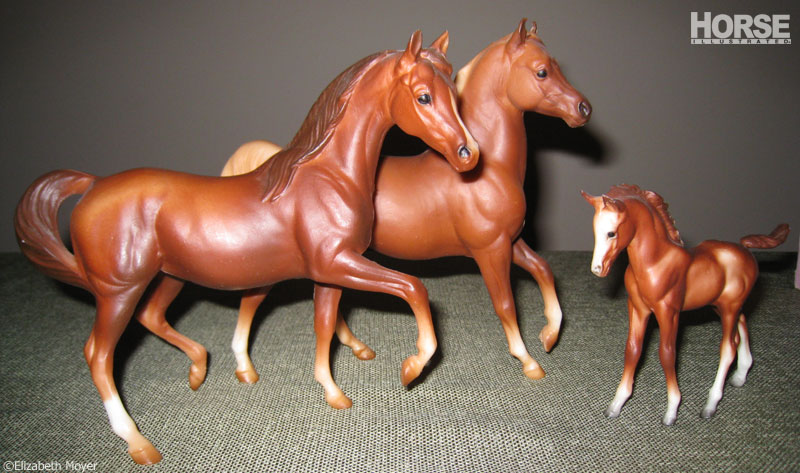 We are family! The classic Arabian Family set stayed together.
Since becoming an adult and leaving home, I've been able to spend most of my spare time with real horses. My devotion to plastic ponies gradually fell by the wayside. But opening those boxes reminded me of the horseless hours that Breyer models once filled for this horse-crazy girl and my dedication to caring for the herd. I made bandages to wrap those fragile legs, dressed them in felt blankets and exercised them with yarn halters and bits fashioned from paperclips. (My vintage Breyers lacked the advantages of today's accoutrements, including trailers, tack trunks and snazzy stadium jumps.)
I used to think I could never part with any of my Breyers. But even if I had the room to warehouse my entire collection, there's no point in keeping them locked in dark boxes in a basement—if I had a basement. Which I don't. So it's time to "rehome" them where they can see the light of day and be enjoyed, displayed and loved by someone else. My collection is pretty ordinary, so I'm not expecting to make a fortune—although a little extra cash never hurt the horse-poor.
In olden times, Stablemates had to live in a cardboard barn.
Collectors today seem more fanatical than ever about special run models and vintage rarities. But everything that glitters isn't a gold charm decorator model. The models I cherish most are like the velveteen rabbit. Nothing special from a collectible standpoint, but because they have been well-loved, they sparkle and come alive to me.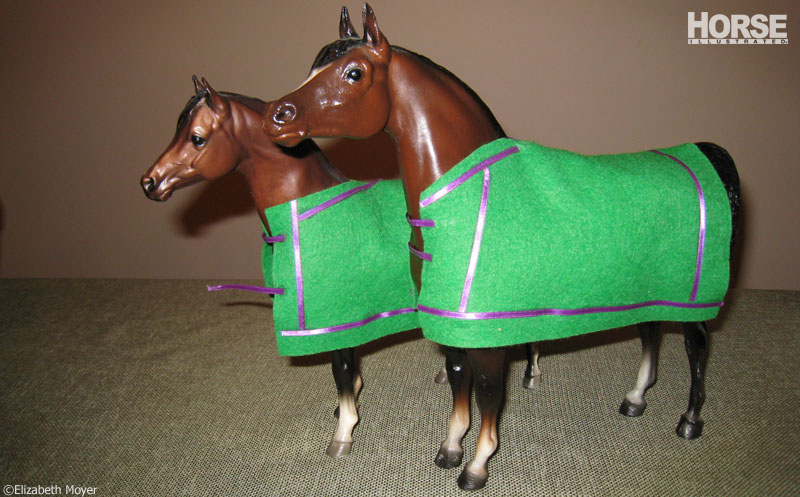 Awww. His 'n hers blankets for this pair of Proud Arabians. Proudly handcrafted "back in the day" by yours truly.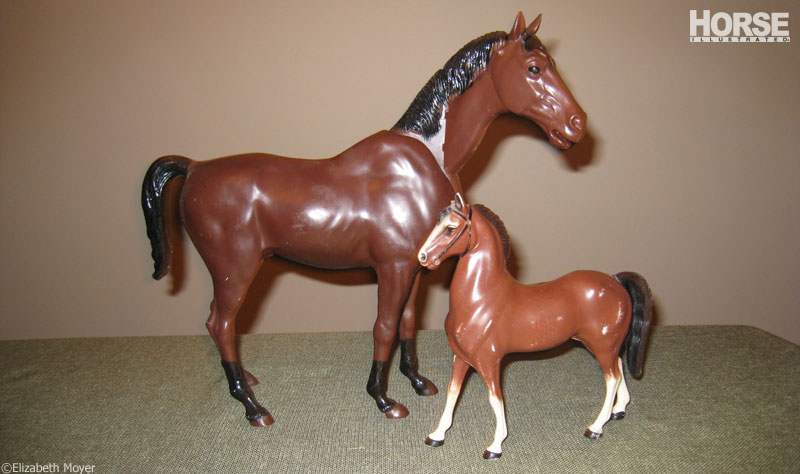 Who invited these guys? A few non-Breyers crash the party: I found a Marx Best of the West horse and a Hartland model in the mix.
I thought this model resembled my favorite lesson horse, so in tribute I added a forelock of his actual hair. (Creepy or cute? Discuss…) I have good taste in horses—that's Olympic dressage superstar Keen from the USET Gift Set.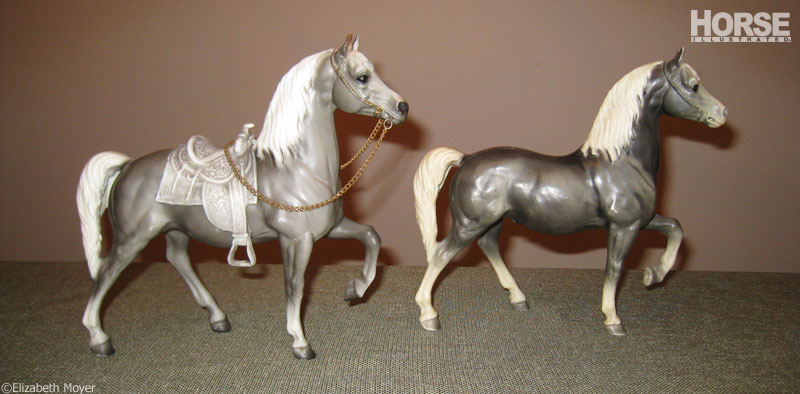 A tale of two Western Prancers: Condition is everything to collectors. I'm not sure where the specimen on the right came from, but my guess is that I took pity and rescued it from a garage sale.
And we have a Breyer down! Black Beauty was always a bit of a wobbler, but during his time in the basement he has gone completely recumbent and can no longer stand on his own. Sadness.