Imported European sport horses and fancy warmbloods draw admiration at major equestrian events. But for unparalleled athleticism in an accessible horse, no breed beats the Thoroughbred.
On April 25, 2014, more than 600 Thoroughbred fans congregated at West Wind Farm in Lexington, Kentucky for the third annual Thoroughbreds for All event sponsored by New Vocations Racehorse Adoption Program and the Retired Racehorse Project. This evening is held in conjunction with the Rolex Kentucky Three-Day Event when sport horse enthusiasts from around the country come to Lexington to see the best of the best compete.
Included in the evening was a recognition of Rolex riders who were competing with off-track Thoroughbreds (OTTB), including Katie Frei (Houdini), Libby Head (Sir Rockstar), Dana Wildstrand (Relentless Pursuit), Colleen Rutledge (Shiraz), Laine Ashker (Anothony Patch), and Kate Chadderton (Collection Pass). Each of these riders was presented with a leather halter from the Jockey Club's Thoroughbred Incentive Program.
Evaluating an OTTB
The evening began with an evaluation of several adoptable Thoroughbreds by eventer Boyd Martin and dressage judge and coach Linda Zang. Martin launched his career eventing Thoroughbreds in his native Australia before relocating the U.S. His 2010 Rolex and Alltech FEI World Equestrian Games mount, Neville Bardos, is an Australian-bred ex-racehorse. Zang is one of the most widely respected dressage judges and coaches in the U.S. She has worked with OTTBs as a dressage trainer and also through her involvement with racing through her late husband, Thoroughbred trainer Jim Lewis.
Dressage judge and coach Linda Zang and eventer Boyd Martin evaluate an off-track-Thoroughbred. Photo: Leslie Potter
While evaluating the horses, Martin focused on finding a horse with the temperament for the job the horse will be expected to do in his post-racing life. He emphasized that even if a horse didn't appear to be a four-star prospect, he could still be the ideal horse for an amateur.
"The thing that I do like about him is he's really quiet and friendly and an easy-going," Martin said of a seven-year-old named Rein King. "This is very important when picking out a Thoroughbred. You've got to try and stay away from the wackos, but this guy looks really chill."
In evaluating a horse named Pulpit Spirit, Martin pointed out that he was a bit small and lacked the presence and attitude that he looks for in an upper-level prospect. But he again focused on finding the right job for the horse.
"Always look at a horse and think, what do I need?" said Martin. "The number one thing you need is, I think, temperament. And this guy looks like he's got a wonderful temperament. He looks friendly and willing to work. That's got to be one of the most important things that you're evaluating."
Martin also emphasized that small blemishes and old injuries from the racetrack don't necessarily preclude a horse from a successful second career, even at the upper levels. In assessing a gelding named Dave in Dixie, a horse Martin said he loved at first sight, he explained that the horse's past bowed tendons wouldn't stop him from buying him.
"As an event rider, I wouldn't worry too much about a bowed tendon in a racehorse," Martin said. "I have had a few horses in the past that have had [bowed tendons] as racehorses. As long as they heal up, it never seems to haunt them. The first year or two as an event horse is very much less trauma to their lower legs as what they would experience as a racehorse."
In reference to a freshly off-the-track mare named Joanie's Kitten, Martin said that white marks on her cannons, a likely indication of previous injury, wouldn't necessarily put him off a horse he liked otherwise.
"If [the pin firing]is just to do with shin soreness, that would never put me off at all," said Martin. "That's a remedy used on the race track that gets them going again. I'd get my vet to check it out, but I like this horse a lot."
Zang agreed with Martin's assessment. In reference to Dave in Dixie, Zang agreed that old injuries aren't always a problem. "The [bowed tendon] doesn't bother me. If you develop him right and take care of him, the bow won't make any difference. You just have to stay aware."
She further emphasized that many horses freshly off the track don't display their full potential until it is revealed through training.
"A lot of time when you're talking about Thoroughbreds, people say, 'they don't trot enough to be a top dressage horse,'" said Zang. "But this is very wrong. It's the development of the horse and the training that encourages the horse to develop so he will get moving freely."
Rein King offered an example of Zang's philosophy.
"Right now as we see him just coming off [the track] he is a long and he looks a little weak in his back," Zang said of Rein King. "But in dressage, we feel that you can fix this and make this much better by just taking time to work low and long and to encourage him to use his topline so his whole structure gets strong and starts to lift him up and move him."
Thoroughbreds in Action
After seeing the recently retired racehorses evaluated, spectators were treated to exhibitions by Thoroughbreds that had advanced well into their second careers.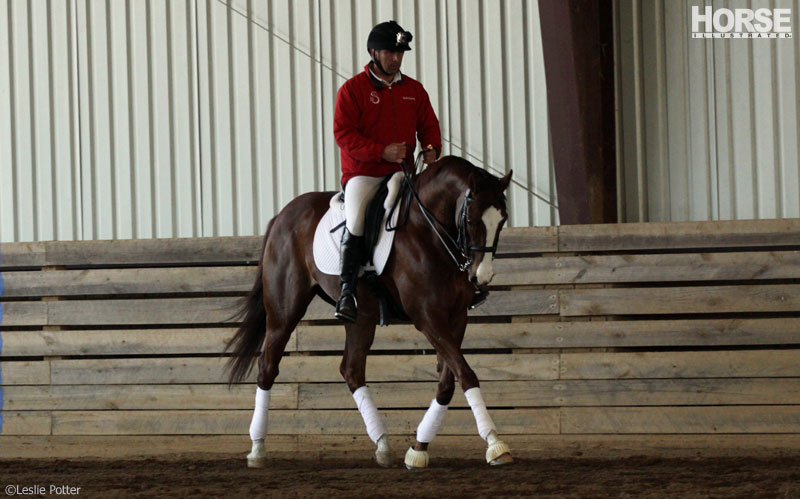 Racing-trainer-turned-dressage-rider Nuno Santos rode the off-track Thoroughbred Ken's Kitten. Photo: Leslie Potter
Trainer Nuno Santos worked in the racing industry as an assistant trainer and exercise rider before switching his focus to retraining ex-racehorses for dressage and eventing. Santos demonstrated the Thoroughbred's talent for dressage with the flashy chestnut Ken's Kitten. He even received an impromptu clinic with Linda Zang, who helped him develop a more rhythmic gait with the horse.
Local eventing trainer Cathy Wieschoff has competed through the top levels of the sport and trains and competes with OTTBs. She demonstrated the breed's jumping ability with Action Now. Fellow eventer Lynn Symanksy was on hand with her Rolex veteran Donner to demonstrate some flatwork. Although the pair were not competing at this year's Rolex, they are at the top of their game and working toward a spot on the team for the Alltech FEI World Equestrian Games in Normandy at the time of this writing.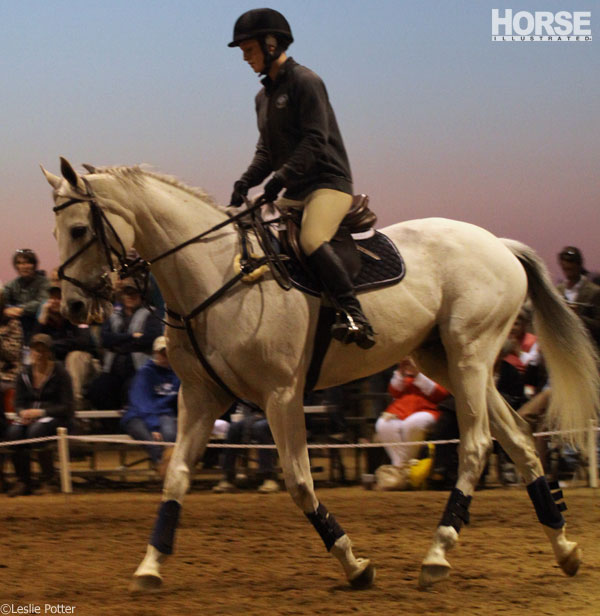 Jockey Rosie Napravnik rode her own personal OTTB, Sugar. Photo: Leslie Potter
Jockey Rosie Napravnik, the first female jockey to win the Kentucky Oaks, closed out the evening with a demonstration ride on her own personal horse, Sugar. Sugar was a track pony after his racing career ended, and now lives at Napravnik's family's farm where she enjoys riding and jumping him for fun when she isn't on the road riding active race horses. (Just a week after Thoroughbreds for All, Napravnik won her second Oaks with Untapable.)
This year's Thoroughbreds for All raised more than $10,000 for New Vocations and the Retired Racehorse Project.
For more information on New Vocations, visit horseadoption.com.
Liked this article? Here's more on Thoroughbreds:
Off-Track Thoroughbred Resources
Behind the Scenes at the Maker's Mark Secretariat Center
---
Leslie Potter is the Senior Associate Web Editor for HorseChannel.com. Follow her on Twitter: @LeslieInLex