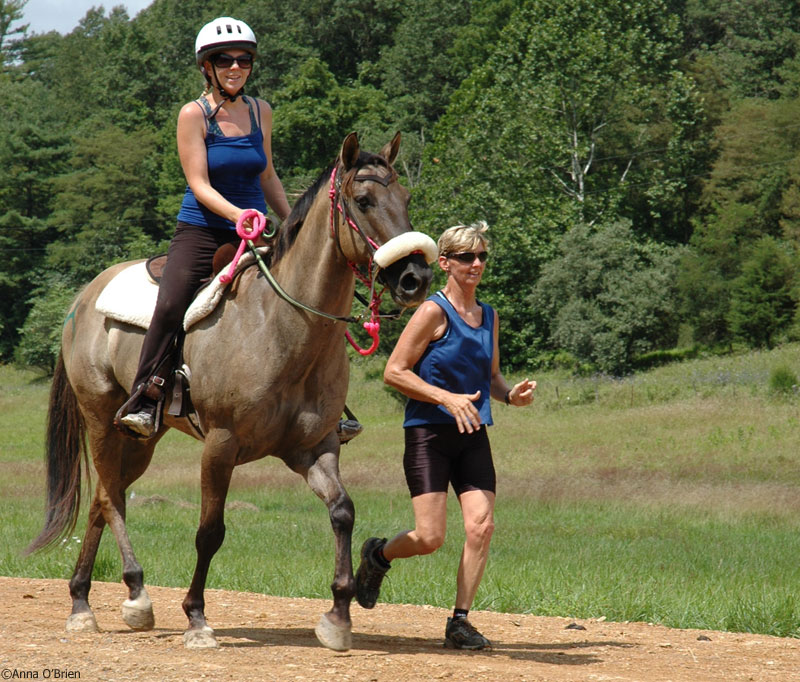 Are you a horse lover and a runner? Ever wonder if there was a way to combine the sport of endurance riding with cross-country running? Look no further! The equestrian sport called ride and tie might be right for you.
Officially started in 1971, this relatively new sport to the horse world requires a team of two people and one horse. Over a trail course that can vary in length from under ten miles to one hundred miles, each individual trades off riding the horse and running solo at strategic distances along the course.
While the horse and rider gallop ahead, the runner makes up distance on foot and catches up to the horse that has been tied up and is waiting, while the previous rider then becomes the runner. This leapfrog method continues through the entire length of the course until all three team members cross the finish line.
With a motto of "to finish is to win," ride and tie is a sport of endurance, physical strength, strategy, and teamwork. Similar in some ways to traditional endurance rides, there are vet checks during the event to make sure horses aren't overly fatigued, dehydrated, or lame. As for the runners/riders, most wear running clothes during the event rather than riding clothes.
Other than the excitement and challenge of the sport, perhaps one of the greatest perks is that, although running is involved, marathon training or track stardom is by no means a requirement. Teammates plan prior to the race the distances at which they will tie the horse. Obviously, the faster you are, the more competitive your team will be, but the majority of ride and tie participants are in it to complete, not compete. Even walking is acceptable.
While being a strong runner is not vital to this sport, being a strong rider is important. This is especially imperative at the start of the race, when everyone on horseback gallops off at the start gun ahead of the runners. Being able to control your horse in a mad dash at the start in unfamiliar terrain is often thought of as the hardest part of the entire race! Less experienced riders can opt to be the runner at the start of the race and then pick up riding once the field has thinned out a few miles down the trail.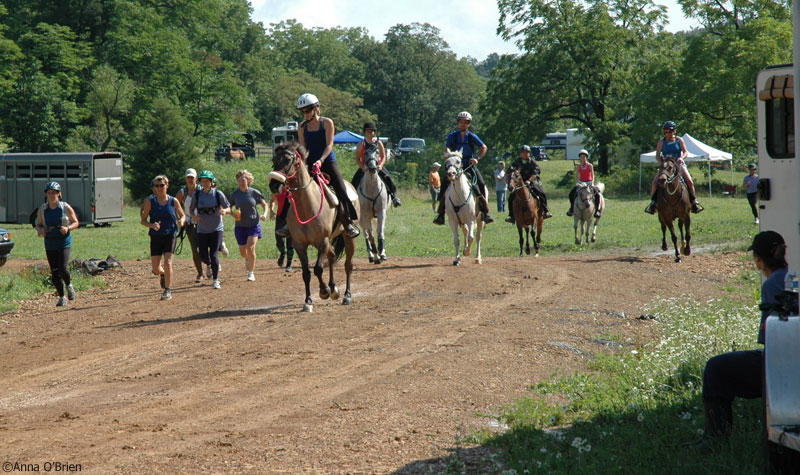 For beginners to ride and tie, it's best to try a short race (under ten miles) for starters. Some local ride and tie clubs hold practices that allow a group to go out on a trial run together, allowing teams to become accustomed to alternating running and riding and learn about other techniques such as finding good areas to tie your horse, how to determine how long to run before switching off, and how to find your particular horse when you're in the middle of the woods!
Conditioning your horse for a ride and tie is two-fold: physical conditioning for covering miles and miles of trail and mental conditioning. Ride and tie horses must get used to others racing by while they are tied to a tree waiting for their particular rider.
Finding a mentor in your area is the best way to get started in ride and tie. Such an individual can answer your questions, direct you to local races, help you train, and even help find you a partner (or horse!) if you need one. The Ride and Tie Association is a great resource for all your questions and ride and tie needs.
Liked this article? Here are more ways to enjoy competition on the trail:
Trail Riding Goes Competitive
Behind the Scenes at America's Favorite Trail Horse
---