This year, HorseChannel.com will be giving readers a behind-the-scenes look at the Maker's Mark Secretariat Center (MMSC) in Lexington, Ky. Following three horses throughout their time at the center, readers will find out how Thoroughbreds end up there, some of the retraining techniques they undergo while learning skill sets necessary for a second career and more. This article is the fifth installment in the series. Read the rest of the series here: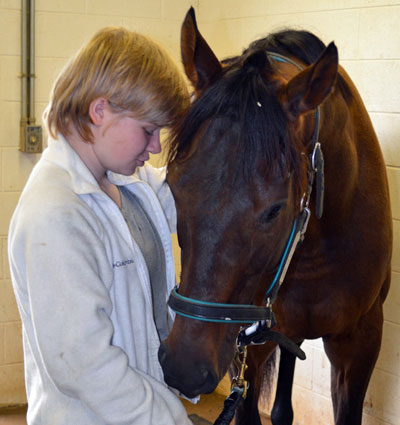 When Thoroughbreds are finished racing, they need somewhere to go and, if possible, something to do. Some owners can and do take them back and retire the ones that will not be bred. Some are bought directly from the track. Some are given away. Others end up in adoption centers such as ours. While adoption is the ultimate goal at the Maker's Mark Secretariat Center (MMSC), we recognize that not everyone can take home an OTTB for a myriad of reasons. However, everyone can help better the lives of these horses in some way no matter where you live.
At MMSC we believe in, welcome, and are grateful for volunteers of all ages. Everyone has talents that can be of use. Volunteers regularly assist the MMSC staff in the barn by mucking, cleaning, feeding, grooming, washing out buckets, handling laundry and assisting with therapies. Those who are handy with gardening and repairs help around campus with landscaping, weeding, painting fences, and cleaning exterior feed tubs and waterers. Office work sometimes includes cleaning, filing, copying, and working on mailers. People with special skills often offer event planning assistance, photography, or artwork. Volunteers are also extremely helpful in raising community awareness for the Center.
Anyone who loves Thoroughbreds and wants to give back to them is welcome at MMSC and considered part of our extended family. However, we recognize that people who want to help us do not always live near our facility in Lexington, Kentucky, and cannot physically come to MMSC to volunteer.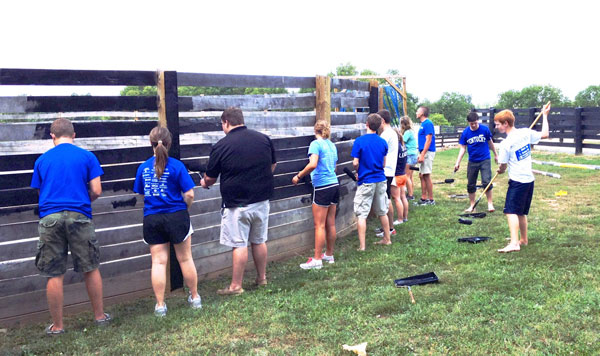 Much can be done from afar however. The truth is we always need money to keep our doors open. You could do a fundraiser in your community such as a bake sale, a lemonade stand, a run or walkathon or even a scavenger hunt with entry fees. One lover of OTTBs even had a blackjack table at her wedding reception and all winnings were sent to the MMSC! Whatever you choose and however you choose to do it, we will be happy to work with you, sending you brochures, flyers and props.
If these methods aren't your cup of tea, there are several ways that you can make a difference for OTTBs no matter where in the country you live. The first step that I recommend is to learn about the aftercare initiatives that The Jockey Club has in place. Researching what is currently being done to help horses after they are finished racing will not only make you more knowledgeable, but it will help you decide the best ways to lend your support.
If you wish to work hands-on with Thoroughbreds, find a Thoroughbred charity in your area. Think broadly. I am always amazed at how our volunteers define "area!" I have volunteers who drive over an hour once a week to work with us. Some come from out of state. I have one volunteer drives from Dayton, Ohio, on a weekly basis! I know how grateful I am to all of our volunteers. I'll bet your area Thoroughbred charities would feel exactly as I do.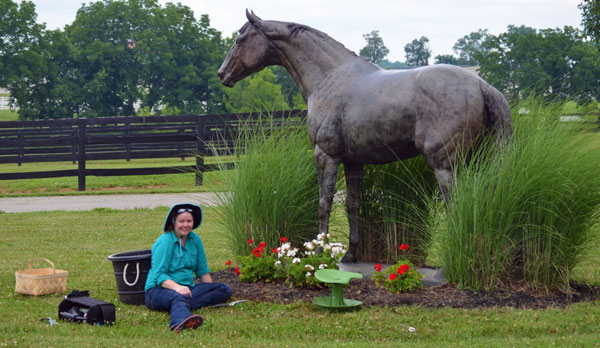 While adoption centers and rescue organizations offer new lives and careers to many OTTBs, the issue of aftercare for retired racehorses cannot be solved through our work alone. Change needs to happen on a large scale. Write letters to your congressmen and senators expressing your concern about the current state of Thoroughbred aftercare. Urge them to support legislative initiatives to help these animals. To educate yourself about what has already been proposed, go to the The National Thoroughbred Racing Association, which has wealth of information on initiatives and programs that can become involved with to advocate for Thoroughbreds.
To learn more about volunteering at the Maker's Mark Secretariat Center or making a donation, visit our website at www.secretariatcenter.org. Or contact us if you would like to organize an MMSC fundraiser in your area. Whatever you do, if you care about off track Thoroughbreds, I urge you to find a way to give back. Support a local adoption center! Advocate for change! As horse lovers, it is our responsibility to make sure that these beautiful animals receive the opportunity they deserve to lead happy, fulfilling lives once their racing careers are over.