Few competitive equestrians go through their careers without experiencing the heartbreak of being sidelined by an unexpected equine injury. You train hard, pay your show fees, prepare for travel, and then at the last minute, your horse walks in with a mystery lameness. At that point, it's in your horse's best interest to skip the show.
For the average rider, the last minute scratch is frustrating. When German rider Matthias Rath's horse comes up lame before a competition, he carries the frustrations of his entire country and fans of international dressage right along with his own.

Edward Gal rides Moorland's Totilas to Grand Prix Freestyle gold at the 2010 Alltech FEI World Equestrian Games.
Rath was scheduled to ride legendary stallion Totilas at the Alltech FEI World Equestrian Games in Normandy, which begin this week. But as of this morning, "Toto" has been scratched due to injury related to an existing splint injury, according to Horse & Hound.
Totilas, formerly "Moorland's Totilas" took the dressage world by storm several years ago, breaking every grand prix record on the books and making a clean sweep at the 2010 Alltech FEI World Equestrian Games in Lexington, taking gold in team, individual and freestyle competition. At that time he competed for the Netherlands with rider/trainer Edward Gal. Shortly after WEG, he was sold to Paul Schockemöhle of Germany and up-and-comer Rath was given the ride.
Watch Rath and Totilas compete earlier this year >>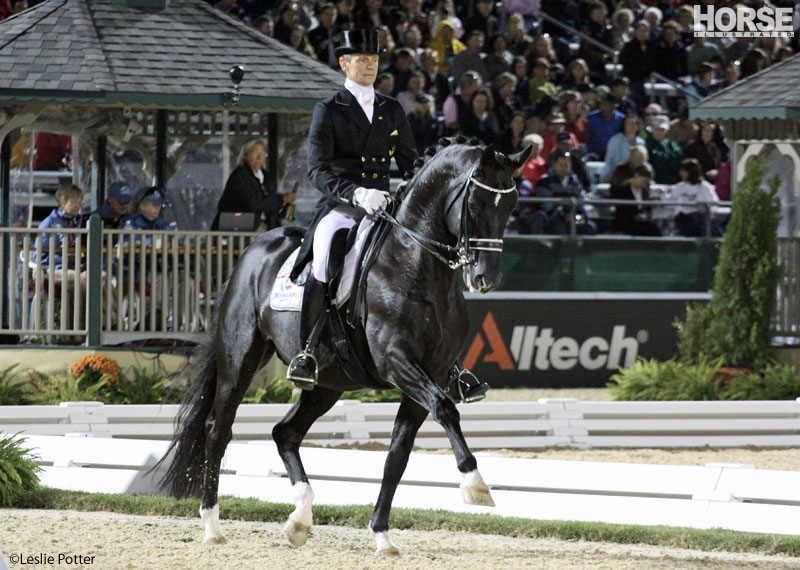 Germany and the Netherlands have long been the powerhouses of dressage, and with Germany acquiring the Dutch stallion, it looked like they would be unstoppable. But Rath's illness kept Totilas out of the London Olympics, opening the door not for the Dutch team, but for the new superstars of the sport. British rider Charlotte Dujardin rode Valegro a Dutch-bred gelding known to his friends as Blueberry, to a decisive victory. Not only did the pair win individual gold, but they also led the team from Great Britain to team gold, the country's first Olympic medals in dressage.
Watch Charlotte Dujardin and Valegro competing early in their grand prix career >>
Additionally, while Totilas and his connections dealt with the stallion's nagging lameness and unfortunately timed rider illness, Dujardin and Valegro swept in and eclipsed every one of the stallion's world records. Needless to say, followers of the sport were excited by the prospect of a clash of the titans between Toto and Blueberry at this year's WEG, but fate has intervened once again.
Rath and Totilas have been replaced on the German team by Fabienne Lutkemeier and Hanoverian gelding D'Agostino, according to Horse & Hound.
Without Totilas, will Charlotte Dujardin and Valegro continue their dressage domination? We'll find out soon as WEG dressage begins on August 25.
Keep up with all the 2014 WEG news at HorseChannel.com/Normandy2014.
---
Leslie Potter is the Senior Associate Web Editor for HorseChannel.com. Follow her on Twitter: @LeslieInLex