Dressage competition began this morning in the d'Ornano Stadium under cloudy skies and cold rain. But the event carried on with spectators braving the weather to watch the first performances of the Alltech FEI World Equestrian Games 2014.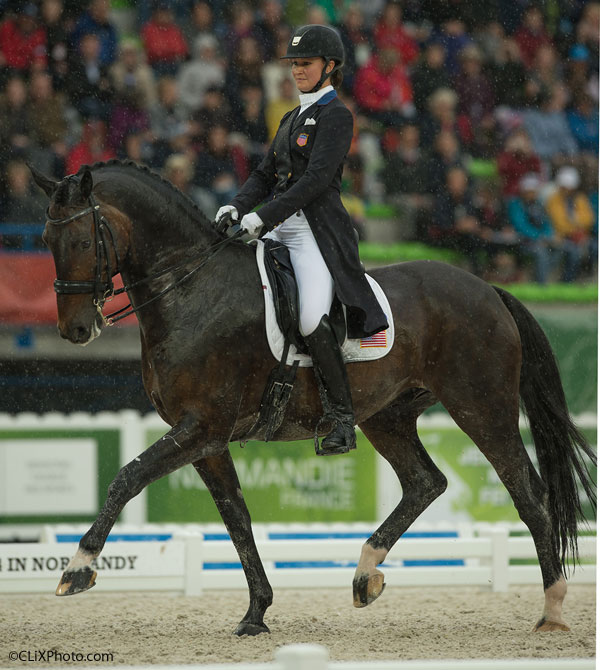 Adrienne Lyle and Wizard of the United States currently sit in seventh place after day one of dressage at the 2014 Alltech FEI World Equestrian Games. Photo: CLiXPhoto.com
The trailblazers for the American team were Tina Konyot and her Danish Warmblood stallion Calecto V. Konyot and Calecto are veterans of the games, having competed at the 2010 WEG and the 2012 London Olympics. The pair had a few errors that kept them out of the top rankings, but Konyot looked pleased with her ride and left with a respectable 69.586.
Adrienne Lyle and Wizard had their Olympic debut as individual competitors for the U.S. in 2012. They earned their spot on the team for this WEG, and proved that they deserved it with today's test. In spite of steady rain and an increasingly soggy arena, the pair performed admirably. With only a slight error in their one tempis and a strong test overall, Lyle and Wizard scored an even 72 percent, which was good enough for seventh place at the end of day one.
The top spot on the rankings went to German rider Kristina Sprehe and the black stallion Desperados FRH. Sprehe had a successful career in the junior and young rider rankings, and with her athletic Hanoverian partner, she appears poised to be a contender in Normandy. The pair earned a 78.814 putting them well ahead of their competition on the first day.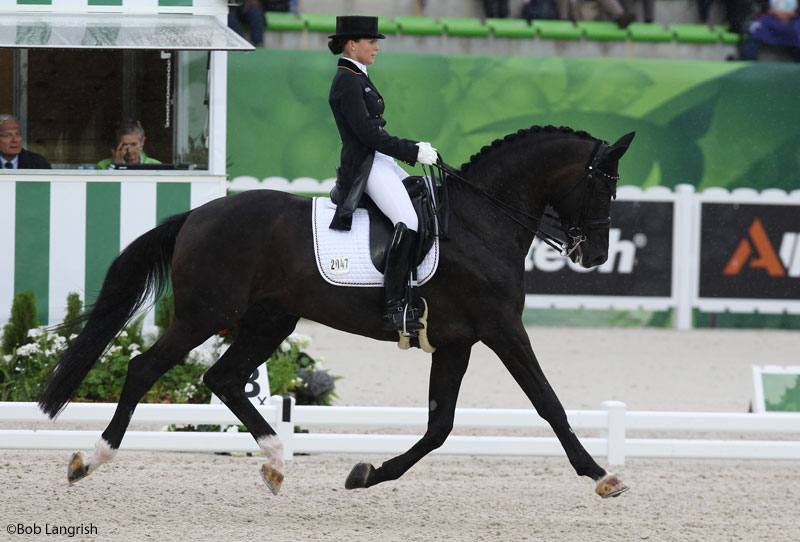 Kristina Sprehe and Desperados FRH have a comfortable lead after the first day of WEG dressage competition. Photo: Bob Langrish
Rounding out the top three is Hans Peter Minderhoud with Glock's Johnson TN of the Netherlands in second and Great Britain's Carl Hester with Nip Tuck in third. In the team rankings, Germany and the Netherlands currently sit in their usual spot at the top of the leaderboard with emerging dressage powerhouse Great Britain close behind in third place.
The U.S. team is currently in fifth place.
The Grand Prix competition picks up again tomorrow at 8:00 a.m. local time with some of the top ranked riders yet to go. Americans Laura Graves and Verdades and Steffen Peters and Legolas 92 will ride their first tests of these games. The seemingly undefeatable British pair of Valegro and Charlotte Dujardin will ride at 5:00 p.m. local time.
Keep up with all the World Equestrian Games news at HorseChannel.com/Normandy2014.
Get competition schedules, results and more at Normandy2014.com.
---
Leslie Potter is Sr. Associate Web Editor of HorseChannel.com. Follow her on Twitter: @LeslieInLex.