It's a good day to be a reining fan. Cool temperatures and persistent rain marked the opening of competition at the 2014 Alltech FEI World Equestrian Games on Monday, August 25. But while the dressage and para-dressage contingents muddled through their soggy opening days, the boisterous reining crowd stayed dry in the indoor Parc des expositions Caen for day one of team competition and individual qualifying.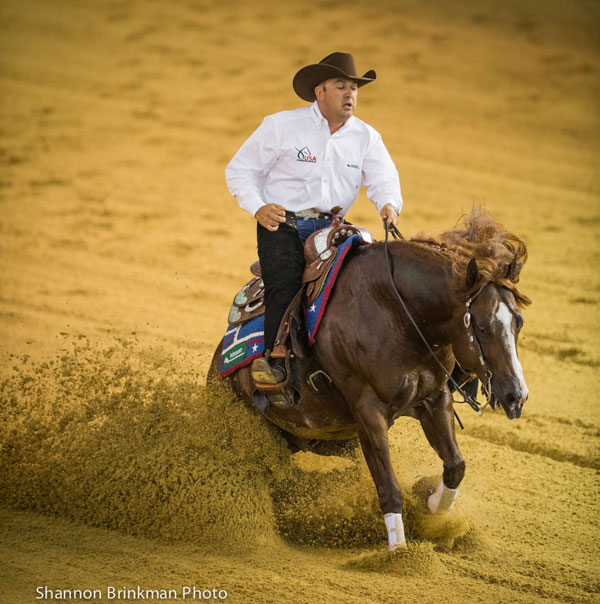 Andrea Fappani and Custom Cash Advance of the U.S. are in first place after day one of reining competition. Photo: Shannon Brinkman
Although this western sport is historically American and the U.S. has won team gold at every World Equestrian Games since it was first added in 2002, reining has taken off on the world stage. Competitors from Europe, Australia and North and South America are all on the hunt for medals at these games and are sure to keep the Americans on their toes.
Individual competitor Troy Heikes and Lil Gun Dunit were third in the order and set the scene for the Americans. The striking blue-eyed chestnut performed nearly flawless spins and stops, but lost points for swapping leads on the circles and left with a score of 214.0.
Andrea Fappani was the second American to go. The Italian-born competitor rode Custom Cash Advance, a long-maned 2006 American Quarter Horse stallion. The world's top ranked reiner didn't disappoint. He turned in a stellar ride to score a 224.0 for the Americans and secure a spot at the top of the leaderboard.
Belgium was the closest competitor to the U.S. in 2010, taking home team silver, and they're proving themselves to be a threat again this time around. Ann Poels, a veteran of the 2010 team, and the American Quarter Horse gelding Nic Ricochet ran a bold and precise pattern to put up an impressive 222.5 on the scoreboard, securing their second place position for day one.
Taking the third spot on the leaderboard was American Jordan Larson with the buckskin stallion HF Mobster. The pair had a clean pattern with exceptional sliding stops that earned high scores from the judges.
The U.S. is leading the team competition after day one with a total score of 445.0. Belgium is holding second place with a 439.0, and Germany is hot on their heels with a 436.5.
Team competition continues tomorrow beginning at 8:00 a.m. local time (2:00 a.m. Eastern Time) and team medals will be awarded tomorrow night. The top 15 riders from each of the first two days of competition will continue on to compete for individual medals beginning Thursday, Aug. 28.
Keep up with all the World Equestrian Games news at HorseChannel.com/Normandy2014.
Get competition schedules, results and more at Normandy2014.com.
---
Leslie Potter is Sr. Associate Web Editor for HorseChannel.com. Follow her on Twitter: @LeslieInLex.