If you like a good underdog story, this year's reining competition at the Alltech FEI World Equestrian Games 2014 in Normandy was not for you.
The sport of reining got its start in the U.S., and American riders have dominated international competition, winning every WEG team gold medal since the sport was first included in 2002. That streak continued with these 2014 games, where the U.S. team took the first gold to be awarded in Normandy.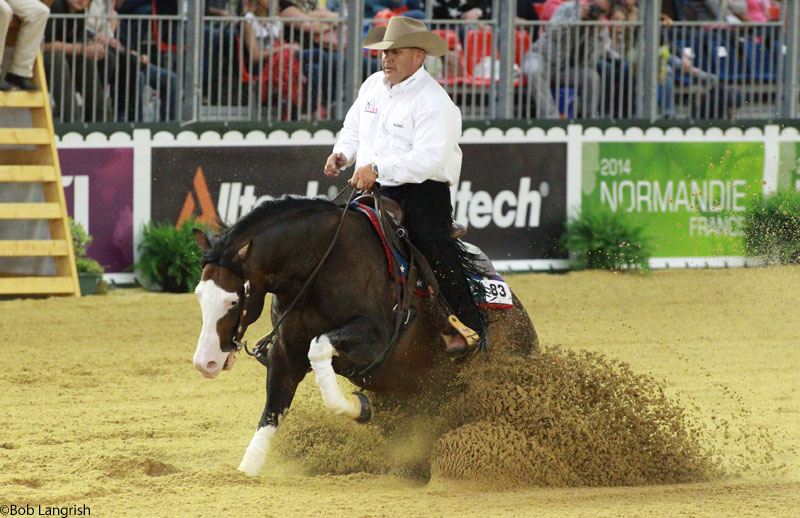 Shawn Flarida and Spooks Gotta Whiz posted the top score, leading the U.S. team to a decisive victory in the reining competition at the 2014 Alltech FEI World Equestrian Games in Normandy. Photo: Bob Langrish.
Heading into Tuesday's competition, the Americans had a four-point lead over 2010 silver medalists Belgium with their most seasoned competitors yet to ride.
Mandy McCutcheon was the first of the American riders to go on Tuesday. She rode the 10-year-old Palomino Quarter Horse Yellow Jersey, owned by her parents Colleen and Tim McQuay. This stallion exemplifies the ideal reining horse, and McCutcheon skillfully piloted him to a score of 224.0, tying her teammate Andrea Fappani for first place.
It appeared the Americans had their gold in the bag, and their final team rider, Shawn Flarida, was poised to extend the lead. Flarida is the first person to officially reach the status of five-million dollar rider, and today he showed how he does it. Flarida rode Spooks Gotta Whiz, a flashy stallion who won the 2010 NRHA Futurity with U.S. team member Jordan Larson. Flarida and "Little Spooks" have had a successful partnership, topping the team selection trials this spring, and they did not disappoint today. With a score of 229.5, they shot past the competition and boosted the U.S. team's score to untouchable status.
In a repeat of 2010, the Belgian team did their best to top the Americans, but finished 14.5 points behind, good enough for the silver. Austria trailed Belgium by just 4.5 points, earning team bronze.
American Tom McCutcheon, 2010 individual gold medalist and husband to Mandy, is competing as an individual this year in Normandy. His pattern with Dun Git a Nicadual scored a 221.0, putting him in a three-way tie for sixth place and qualifying him for the next round of individual competition.
Individual reining continues on Thursday where the riders with the top 15 scores will compete in the second qualifier. The individual finals take place on Saturday.
Keep up with all the World Equestrian Games news at HorseChannel.com/Normandy2014.
Get competition schedules, results and more at Normandy2014.com.
---
Leslie Potter is Sr. Associate Web Editor of HorseChannel.com. Follow her on Twitter: @LeslieInLex.