With the team dressage competition finished, the top 30 riders from the first round returned to compete for individual medals in the Grand Prix Special on Wednesday at the Alltech FEI World Equestrian Games.
Adrienne Lyle and Wizard were the first American pair to take the stage today. They started out smoothly, but a momentary misbehavior in the piaffe and errors in the tempis cost them valuable points. Although their score of 69.202 wasn't good enough to qualify them for Friday's freestyle, Lyle maintained a positive attitude about her WEG experience.
Oh Wizzy, you always have to get the last word, don't you? 😉 I still love the hell out of you, you naughty little boy!! ????????

— Adrienne Lyle (@adriennelyle1) August 27, 2014
The next American rider on the start list was Laura Graves with her 12-year-old gelding Verdades. The pair seemed to have gained an increased confidence for their second ride in the d'Ornano Stadium. They performed a clean test for a 77.157 and an eighth-place finish at the end of the day. Graves and Verdades will continue on to the Freestyle.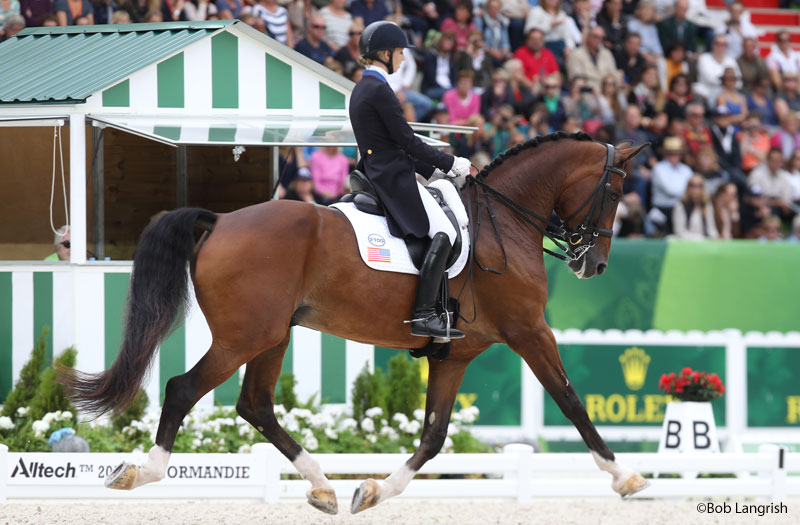 Laura Graves and Verdades compete in the Grand Prix Special at the 2014 Alltech FEI World Equestrian Games. Photo: Bob Langrish
Olympic and WEG veteran Steffen Peters followed immediately as the final U.S. rider. A mistake in the tempis near the end of the test proved to be costly, but Peters appeared to be happy with his horse's performance. Their final score of 75.742 put them in 10th place, giving them a spot in Friday's Freestyle.
Once again, it was Great Britain's Charlotte Dujardin with Valegro who captivated the spectators and the judges. Valegro, nicknamed Blueberry, performed at least as well as he did the previous day, turning in a beautiful performance. One missed tempi dinged their otherwise clean test, and their score of 86.120—a new world record in the Grand Prix Special—secured their first gold of the games.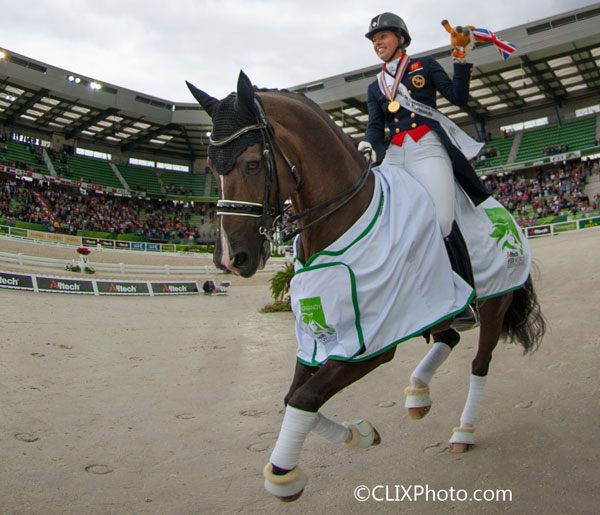 Charlotte Dujardin, Valegro and Norman the 2014 WEG mascot take a victory lap after winning the Grand Prix Special. Photo: CLiXPhoto.com.
Germany's Isabell Werth, who finished with the second highest score in the Grand Prix on Tuesday, withdrew her horse, Bella Rose, prior to the special. But her teammates stepped up to fill the podium in her absence. Helen Langehanenberg rode the Westphalian stallion Damon Hill NRW to an impressive 84.468 and the silver medal. Kristina Sprehe took home the bronze with Desperados FRH.
The top 15 riders, including Graves and Peters, will compete in the Grand Prix Musical Freestyle on Friday beginning at 1:35 p.m. local time (7:35 Eastern Time).
Keep up with all the World Equestrian Games news at HorseChannel.com/Normandy2014.
Get competition schedules, results and more at Normandy2014.com.
---
Leslie Potter is Sr. Associate Web Editor of HorseChannel.com. Follow her on Twitter: @LeslieInLex.