The second and third days of para-dressage competition at the 2014 Alltech FEI World Equestrian Games in Normandy brought occasional breaks in the rain that had loomed over the opening day. On Tuesday, riders from grades IV, II and 1a completed their first team tests.
Susan Treabess of California, riding in grade IV, was the first American to ride on Tuesday. Treabess, who also competed at the 2010 WEG in Kentucky, rides the lovely PRE stallion Kamiakin who is experiencing his first overseas competition at these games. He seemed to pick up on the electric atmosphere inside the venue at La Prairie Racecourse and made a few nervous errors in an otherwise nice test. Treabass and Kamiakin scored a 65.833 to finish in 10th place. The pair will compete in the individual competition on Thursday.
Sophie Wells and Valerius of Great Britain, on their way to winning Grade IV individual gold. Photo ©CO Normandie 2014/PSV
The leader after the first rides in grade IV was Sophie Wells of Great Britain with Valerius, a Dutch Warmblood gelding. As part of Great Britain's powerhouse para-dressage team, Wells is no stranger to the podium. She won team and individual gold at the 2010 WEG. She was also part of the gold medal team at the 2012 Paralympics and won two individual silvers at those games. Her score of 74.595 gave her a narrow lead heading into the individual test on Thursday.
Another 2010 WEG veteran, Rebecca Hart, represented the U.S. in Normandy in the grade II competition. Hart rode her own Danish Warmblood mare, Shroeters Romani. Their partnership is relatively new, but Hart's experience served her well here as she was able to work through her horse's nervousness to perform a solid test and score a 67.971. That was good enough for a tie for seventh place.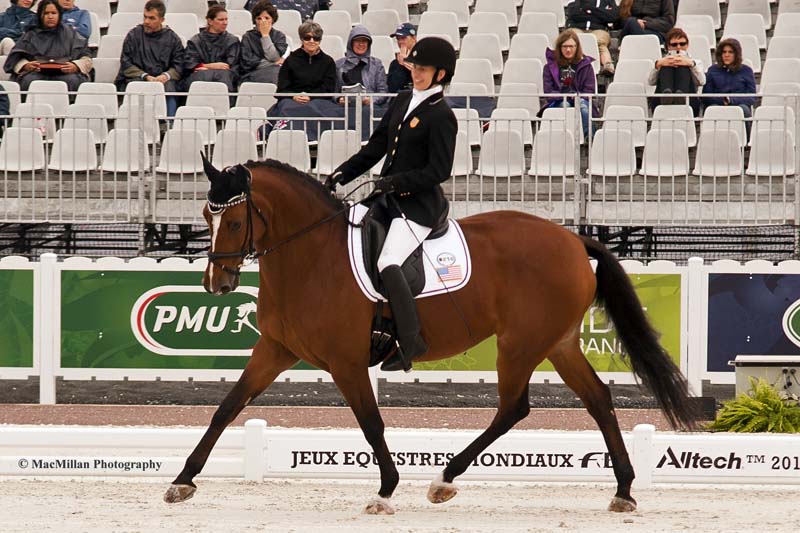 Rebecca Hart and Shroeters Romani in their firsst appearance at the 2014 Alltech FEI World Equestrian Games. Photo ©Kim MacMillan/MacMillan Photography
Great Britain was victorious once again in this division, with Natasha Baker and her own Cabral, a 2001 Polish Warmblood. Baker and Cabral are also decorated competitors, having earned double gold at the 2012 Paralympics.
The final U.S. competitor of the day was Roxanne Trunnell with the Dutch Warmblood mare, Nice Touch in grade 1a. Trunnell was just 13 years old when she first started riding Nice Touch, but this was their first international outing together. They scored a 68.087 from the judges to finish in eighth place after the first ride in a very large division.
In the top spot for grade Ia was Italian rider Sara Morganti with Royal Delight, a Rheinelander mare. The 2010 veteran earned a score 75.783.
Sarah Morganti and Royal Delight are at the top of the grade 1a leaderboard. Photo ©CO Normandie 2014/PSV
On Wednesday, Grade III individual competition closed out with Paralympic champion Hannelore Brenner and her 19-year-old Hanoverian Women of the World taking their familiar spot on top of the podium. The victory was bittersweet for Brenner, who has said this may be her mare's last championship before retirement.
Sanne Voets of the Netherlands with Vedet PB N.O.P. finished in second place individually with the bronze medal going to Susanne Jensby Sunesen and Thy's Que Faire of Denmark. American Annie Peavy with Ozzy Cooper finished in 16th place.
British rider Lee Pearson maintained his gold-medal position in Grade 1b after the close of competition with a 77.310 aboard the Dutch Warmblood gelding Zion. Austria's Pepe Puch also held steady, winning silver with Fine Feeling S, a 17-year-old Hanoverian mare. Nicole Den Dulk of the Netherlands earned bronze with the Dutch Warmblood gelding Wallace. American rider Syndney Collier with Willi Wesley finished ninth overall.
The second team test and individual championship tests will continue on Thursday with the team medals being awarded at the end of competition. Top riders from each grade will compete in the freestyle to music on Friday.
Keep up with all the World Equestrian Games news at HorseChannel.com/Normandy2014.
Get competition schedules, results and more at Normandy2014.com.
---
Leslie Potter is Sr. Associate Web Editor of HorseChannel.com. Follow her on Twitter: @LeslieInLex.