With the conclusion of the team reining competition on Tuesday, the top 15 horse-and-rider pairs had earned their ticket to the individual finals. On Thursday, August 28, everyone else got another chance to compete for one of five extra spots that would allow them to ride for individual medals on Saturday.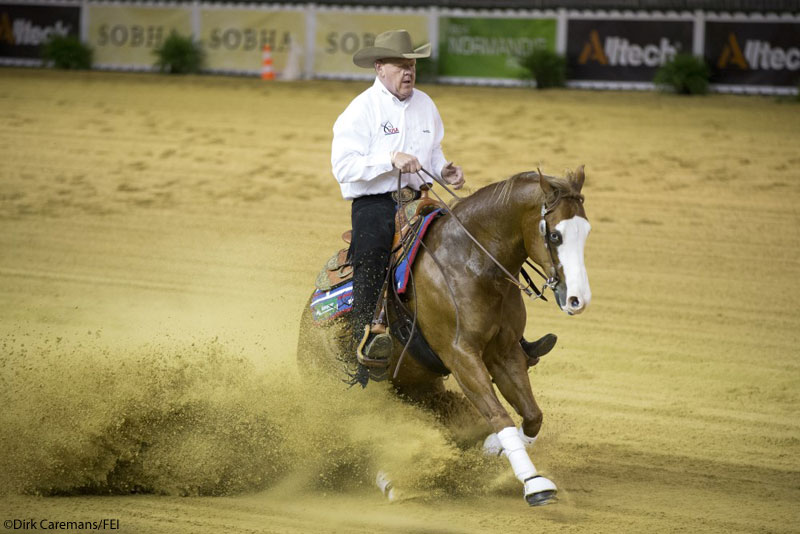 Troy Heikes and Gun Dunit posted the top score in the second individual qualifying round at the 2014 Alltech FEI World Equestrian Games. Photo: FEI
From the American squad, there was only one rider who didn't earn a trip to the finals in the first round. Troy Heikes had been the team's trailblazer, but his 214.0 wasn't enough to secure his spot. Heikes and Gun Dunit returned in spectacular form as the second-to-last pair of the day, scoring a 220.0, the best score in this round. With Heikes' qualification, the entire U.S. squad has qualified to compete in the individual finals.
Cody Sapergia of Canada came into the individual qualifier with the pretty palomino stallion Nu Chexomatic hoping to improve his stops over his performance in the first round. A few bobbles in the beginning of his pattern were outshined by big stops at the end, which helped him score a 219.0 and a second-place finish.
Non-pro rider Josh Collins and Spook a Little were the final pair from Great Britain to ride in the second qualifier. Stellar spins and stops lifted his score up to a 218.0 to fill the third spot on the leaderboard.
Stefano Ferri and Rooster Nic earned the fourth spot and a trip to the finals. Typically, only five riders would move on, but a tie for fifth place means that Paulo Koury Neto and Don't Whiz WRB of Brazil and France's own Romuald Poard and Peppys Ruf Sailor will complete the group of six that will compete in the individual finals. The finals start at 8:00 p.m. local time on Saturday (2:00 p.m. Eastern Time.)
Keep up with all the World Equestrian Games news at HorseChannel.com/Normandy2014.
Get competition schedules, results and more at Normandy2014.com.
---
Leslie Potter is Sr. Associate Web Editor of HorseChannel.com. Follow her on Twitter: @LeslieInLex.