The sport of eventing got under way on Thursday with the first day of dressage competition at the Alltech FEI World Equestrian Games 2014 in Normandy. The dressage phase is taking place at Haras du Pin, the French national stud.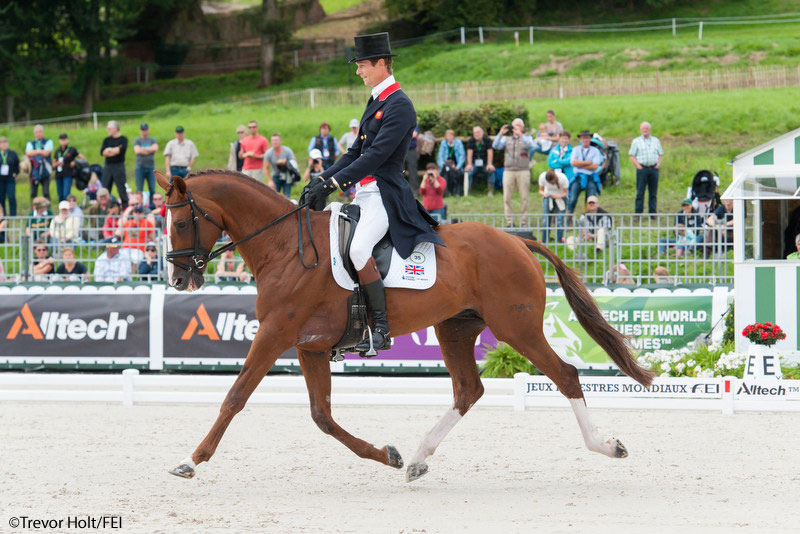 William Fox-Pitt and Chilli Morning of Great Britain are in the lead after day one of dressage. Photo: Trevor Holt/FEI.
The U.S. had the first rider of the day with Buck Davidson. Davidson is one of the most familiar faces in American eventing, having been in the sport for his entire life. His horse, Ballynoe Castle RM (better known as Reggie), is a seasoned competitor as well. The pair were part of the 2010 WEG team and finished in third place at this year's Rolex. That experience made them a good choice as trailblazers; they looked relaxed and comfortable as they completed the first test on the sloppy, rain-soaked dressage court.
In the straight dressage competition we've seen already this week, scores are given as a percentage and a higher score is better. For eventing, the dressage score is converted to a penalty score, and a lower score is better. Davidson's score of 47.3 penalties put him in 11th place out of 46 riders after the first day with the second group of competitors yet to ride.
The 2010 WEG and 2012 Olympic individual gold medalist, Michael Jung, is back to defend his title this year, and he showed today that he could very well do just that. He is riding a 9-year-old mare named Fischerrocana FST at this year's WEG, and they moved easily into the lead after their test. A score of 40.7 put them into second place at the end of the day.
The next American pari on the start list were September Horse Illustrated cover models Sinead Halpin and her longtime equine partner Manoir de Carneville, better known as Tate. Halpin is competing as an individual at this WEG. The elegant Selle Français always creates a pretty picture in the dressage, but an unfortunate pilot error lost them some precious points. A 50.8 score was still enough to put them in 15th place.
American Phillip Dutton launched the afternoon session aboard Trading Aces. This Irish Sport Horse gelding was in teammate Boyd Martin's string, but Dutton got the ride when injury forced Martin to scale back his competition schedule earlier this year. The new match has proven to be a good one, with Dutton and Trading Aces finishing in the top ten at this year's Rolex Kentucky Three-Day Event. Their ride today earned them a score of 43.8 and the sixth place position at the end of day one.
One of the most anticipated competitors in the eventing is William Fox-Pitt of Great Britain. Fox-Pitt is one of the most consistently successful riders at the international level and always seems to have a string of potential top horses for any given event. At this WEG, he's pairing up with Chilli Morning, The pair had a clean test that launched them to the top of the leaderboard with 37.5 penalties.
Rainy weather has rendered much of the competition grounds soggy and slippery, leading to concerns about the upcoming cross-country phase. But there is one more day of the dressage phase in between now and then. Among the riders on the schedule for tomorrow are Americans Kim Severson with Fernhill Fearless, Lynn Symansky with her off-track Thoroughbred Donner, and Boyd Martin with Shamwari 4. Andrew Nicholson, who is ranked second in the world behind Fox-Pitt, will also compete late tomorrow with Nereo.
Keep up with all the World Equestrian Games news at HorseChannel.com/Normandy2014.
Get competition schedules, results and more at Normandy2014.com.
---
Leslie Potter is Sr. Associate Web Editor of HorseChannel.com. Follow her on Twitter: @LeslieInLex.