Day one of three-day eventing dressage at the 2014 Alltech FEI World Equestrian Games in Normandy ended with an unsurprising result. William Fox-Pitt of Great Britain, no stranger to four-star victory, moved ahead of reigning WEG and Olympic champion Michael Jung of Germany. Two-time team gold medalist Ingrid Klimke took the third spot, completing a trifecta of favorites on the top of the leaderboard.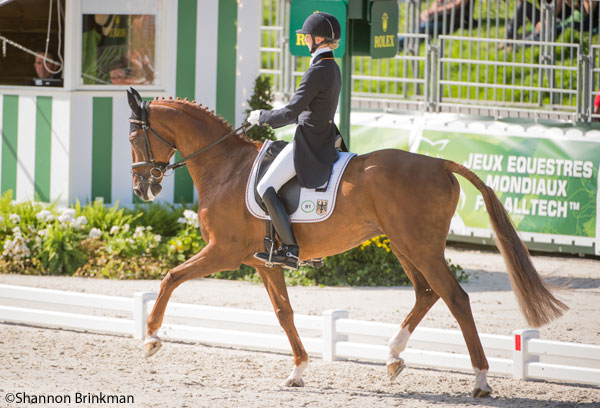 Sandra Auffarth and Opgun Louvo of Germany. Photo: Shannon Brinkman.
But on day two, another 43 riders were prepared to ride the best test of their life, and several strong contenders went in with a real shot at shaking up the standings.
Kim Severson, competing as an individual, was the first American eventer to ride today. Although she did not compete at the 2010 WEG, she is a veteran of the Games having competed in 2002 and 2006. Her mount for Normandy is Fernhill Fearless, a dark bay Irish Sport Horse. A somewhat tense but clean test brought them a respectable 50.8 penalties for 38th place out of a field of 90.
Lynn Symansky and her off-track Thoroughbred Donner were next for the American team. Donner found a lot to look at in the dressage arena at Haras du Pin, but Symansky rode him carefully to pilot him through a clean, if conservative, test. Her score of 53.0 put her in 47th position. Donner showed that he's got plenty of vigor for tomorrow's cross-country by throwing in a few spirited rears on his way out of the arena, fortunately well after the judges had turned in their scores.
Boyd Martin was the final American rider with the stunning Shamwari 4. Their test started out in spectacular form, with the judges putting up 8s and 9s for some of their early trot work. Their score dropped a bit due to tension in the canter work bringing them to 46.3 and a tie for 17th place.
It looked like yesterday's leader, William Fox-Pitt of Great Britain, would maintain his spot on the top of the leaderboard heading into cross-country. But the final rider of the day was Sandra Auffarth of Germany, and she turned the pressure on with a flawless test aboard Opgun Louvo. Auffarth is a relatively young rider for this level at age 27, but she and this 12-year-old gelding already have team gold and Olympic bronze on their collective resume. With their 35.0 penalty score today, they moved ahead of Fox-Pitt to take the top spot heading into cross-country.
Third heading into the dressage is New Zealand's Jock Paget with Clifton Promise. This New Zealand Sport Horse gelding is a flashy mover, and with a confident, error-free test, the pair earned 38 penalties, just behind Fox-Pitt, and had one of only three scores below 40.
Auffarth's top score led the German team to top standings in the team competition, with New Zealand, bronze medal winners at the 2010 games, in second The U.S. is currently hanging on to third place and medal contention. But there's one sentence that has been frequently repeated during the eventing in Normandy: This isn't a dressage show. Saturday's cross-country is expected to be especially influential due to the hilly terrain and potentially muddy conditions.
Cross-country begins at 10:00 a.m. local time (4:00 a.m. Eastern Time) with the American team of Buck Davidson and Ballynoe Castle RM as the first on course.
Keep up with all the World Equestrian Games news at HorseChannel.com/Normandy2014.
Get competition schedules, results and more at Normandy2014.com.