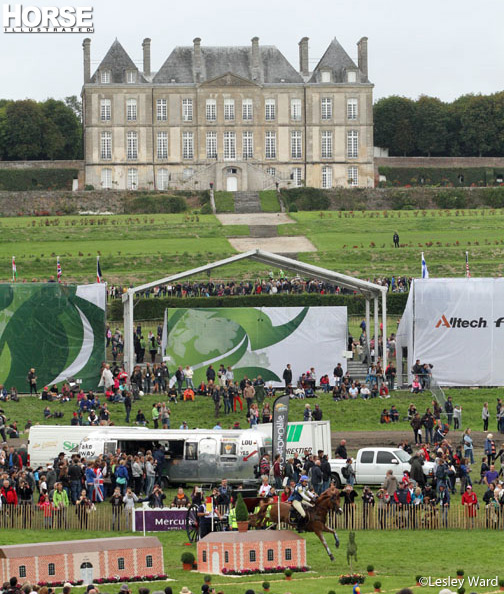 Haras du Pin, site of the cross-country phase of eventing at the 2014 Alltech FEI World Equestrian Games. Photo: Lesley Ward
Thanks to several days of rain, the cross-country course footing at Haras du Pin, the national stud farm near Caen, was boggy and waterlogged, which made the going tough. Many of the world's top eventers, including Mark Todd, Jock Paget and Americans Buck Davidson and Phillip Dutton did not finish the course. Many horses simply ran out of gas toward the end of the course, and the high number of refusals and run outs showed how truly tired these equine athletes were.
The course organizers had taken the ground conditions under consideration and had shortened the course by two loops and removed two fences.
British rider William Fox-Pitt, well used to riding in less-than-perfect conditions in rainy England, seemed to have little trouble making it around the 3.7 mile course with only 12.8 time penalties on the chestnut stallion Chilli Morning.
William Fox-Pitt and Chilli Morning. Photo: Lesley Ward
"Chilli was fantastic today," said William. "I've been very lucky to have ridden him for three years and we have a great partnership. I knew the course would be demanding, but he came home jumping really well."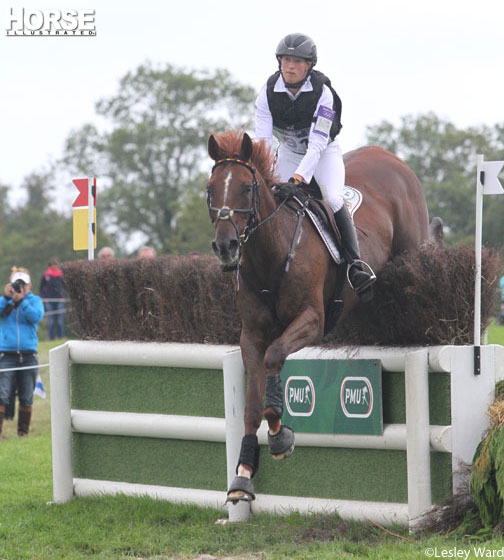 Sandra Auffarth and Opgun Louvo. Photo: Lesley Ward
Sandra Auffarth and Opgun Louvo of Germany, first after the dressage phase, galloped over the finish line with 16.8 time penalties which knocked them into second place.
"I liked all the fences on the course, and the questions for the riders and horses," said Sandra. "I didn't like the ground. I was happy with my horse. He did his best and I had a good round."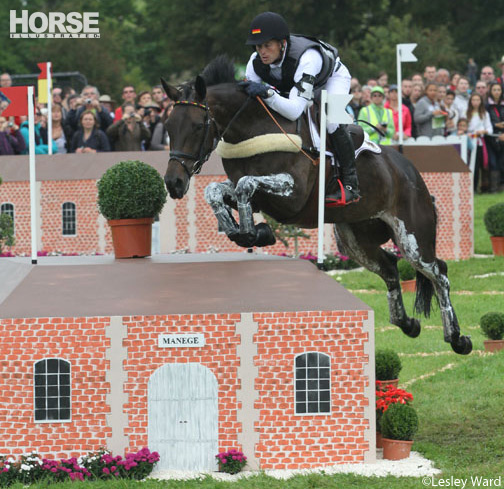 Michael Jung and Fischerrocana FST. Photo: Lesley Ward
Michael Jung of Germany had planned to ride his 2010 Games winner Sam FBW at this event, but when a hoof problem sidelined Sam, he saddled up the less experienced 9-year-old mare Fischerrocana FST and headed to France. The pair picked up 11.6 time penalties to finish third.
"She did a wonderful job," said Michael. "The going was a little bit soft and she was tired, so I gave her time between fences. I am so happy about this horse."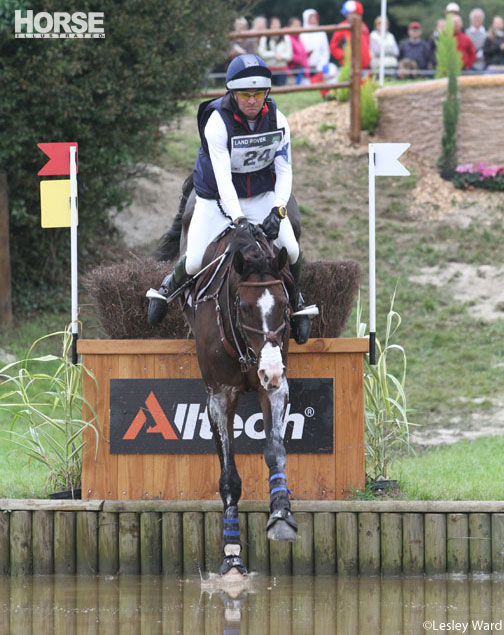 Phillip Dutton and Trading Aces. Photo: Lesley Ward
The American team ran into trouble early on. Buck Davidson and Ballynoe Castle RM retired after two refusals near the end of the course and Phillip Dutton decided to save Trading Aces for another day after a refusal at fence 25.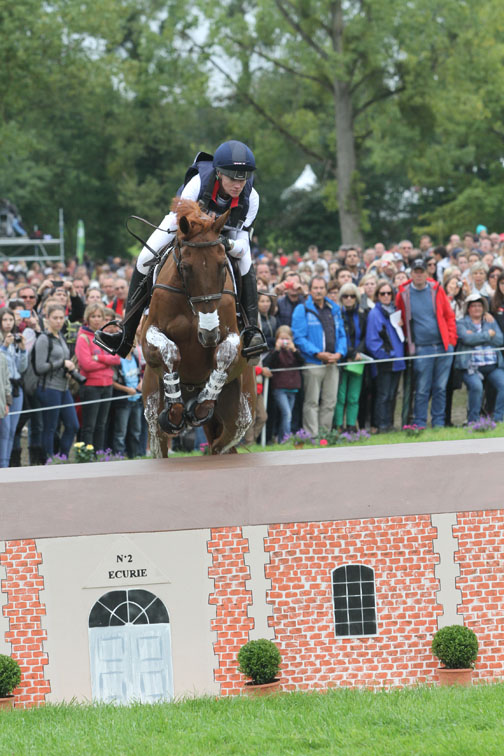 Sinead Halpin and Manoir de Carneville. Photo: Lesley Ward
Sinead Halpin and the French-bred horse Manoir de Carneville had a run out at the fifth fence, a corner, but soldiered on to complete the course with 35.6 time penalties to finish in 40th place.
Boyd Martin and Shamwari 4. Photo: Lesley Ward
The one team member to make it around the course was Boyd Martin and Shamwari 4. Finishing the course with 13.6 time penalties, the pair is in eighth place—close enough to finish in the medals if all goes well in the show jumping phase. Boyd said his goal was to find good ground on the course.
"My horse finished fresh," he added.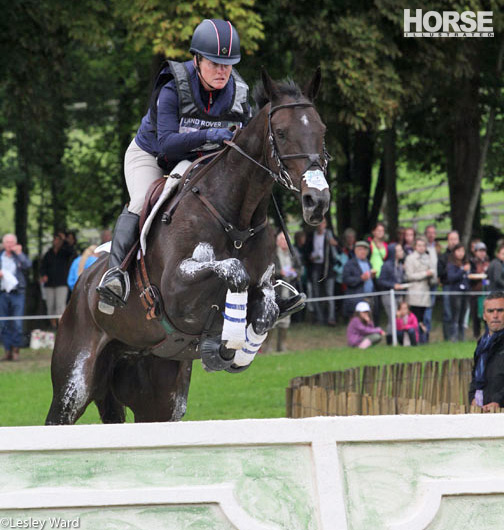 Kim Severson and Fernhill Fearless. Photo: Lesley Ward
Kim Severson, competing as an individual, had one stop on course, at the bounce at fence 30, and is currently in 30th place with her 14-year-old Irish Thoroughbred, Fernhill Fearless. Lynn Symansky, riding her off-the-track Thoroughbred Donner, is in 47th place having had two runouts, one at fence 16, the second water jump, and another one later on at a tricky corner at 27.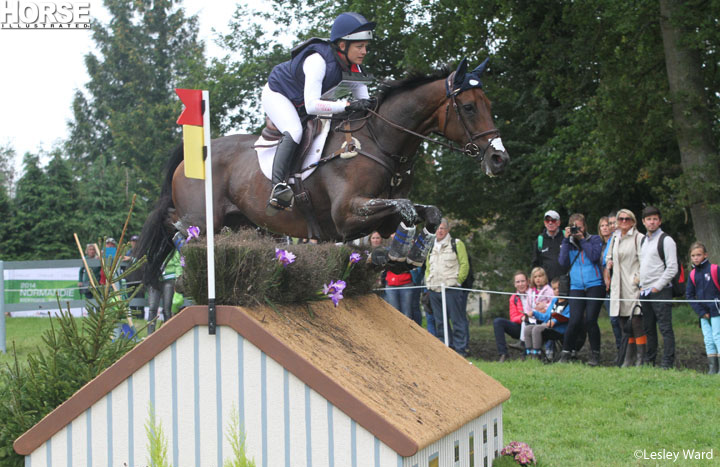 Lynn Symansky and Donner. Photo: Lesley Ward
The day ended on a sad note when it was announced the British team rider Harry Meade's horse, Wild Lone, had collapsed and died after crossing the finish line, several seconds after Harry had dismounted. The pair had an excellent round finishing with 26.4 time penalties which put them in 24th place. A post mortem will be carried out on the 13-year-old Irish sport horse.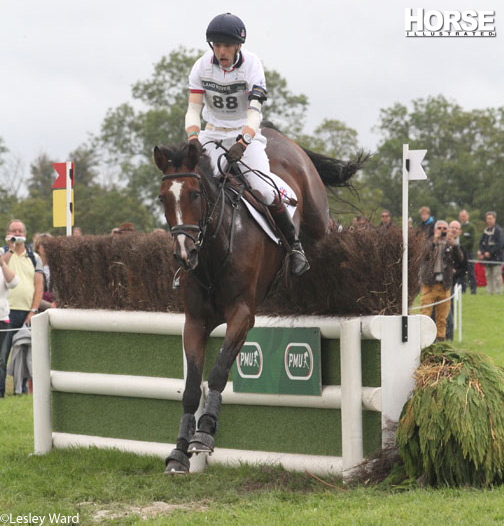 Harry Meade and Wild Lone. Photo: Lesley Ward
"He felt normal and perfect until the moment I got off him, and then he collapsed," said Harry, fighting back tears. "He was as fit as any horse I have had going into a four star, and he gave me a wonderful ride cross country. He had plenty of fuel in the tank left at the end."
Harry was quick to point out that he didn't think the deep footing had anything to do with Wild Lone's death.
"It was a good course, and I would be sad if anyone was to draw any incorrect conclusions and feel that the tough testing nature of the competition in any way contributed toward what happened, because from the feel that I had on the horse it wasn't connected."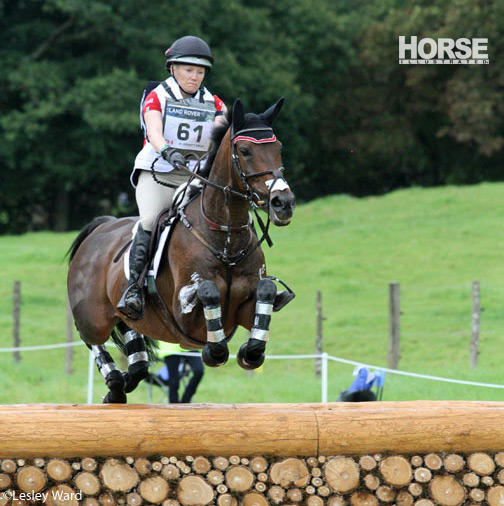 Hawley Bennett Awad and Gin & Juice. Photo: Lesley Ward
On Sunday, the eventing horses will be loaded into lorries and driven to the D'Ornano Stadium in Caen, an hour away, for the show jumping phase which begins 2.20 p.m.
Keep up with all the World Equestrian Games news at HorseChannel.com/Normandy2014.
Get competition schedules, results and more at Normandy2014.com.