Watch Shawn Flarida and Spooks Gotta Whiz complete their winning run at the WEG 2014 individual final.
Reining competition at the 2014 Alltech FEI World Equestrian Games in Normandy came to its conclusion on Saturday with the individual final.
For the individual finals, competitors rode pattern 10. This test opens with a rundown through the gate to a sliding stop in the center of the pen, followed immediately by a reinback and spins in both directions. Competitors have a chance to make a big first impression.
The top riders after the first rounds rode late in the evening. U.S rider Mandy McCutcheon was fourth from the end with Yellow Jersey. The pair earned big positive marks for their circles and final stops. McCutcheon was thrilled with her ride, jumping off and giving the palomino stallion a hug around the neck at the finish. Her score of 227.0 moved her into the top spot with three more riders to go.
Andrea Fappani and Custom Cash Advance were the penultimate run of the final. They started strong and didn't slow down for the duration of the test. Even with a penalty for taking a trot step after one of the final rollbacks, the pair posted a 229.0 to move ahead of McCutcheon.
If anyone could top that score, it would be the final horse-and-rider pair of the evening: Shawn Flarida and Spooks Gotta Whiz. Flarida is the reining world's first $5 million rider. Spooks Gotta Whiz is a double registered AQHA/APHA stallion with NRHA Futurity and Derby championships on his resume. But if they felt the pressure, they didn't show it. Earning some of the highest marks possible for their circles and positive marks for their stops, they skyrocketed to the top spot. Their score was an astounding 233.5 for a clear victory.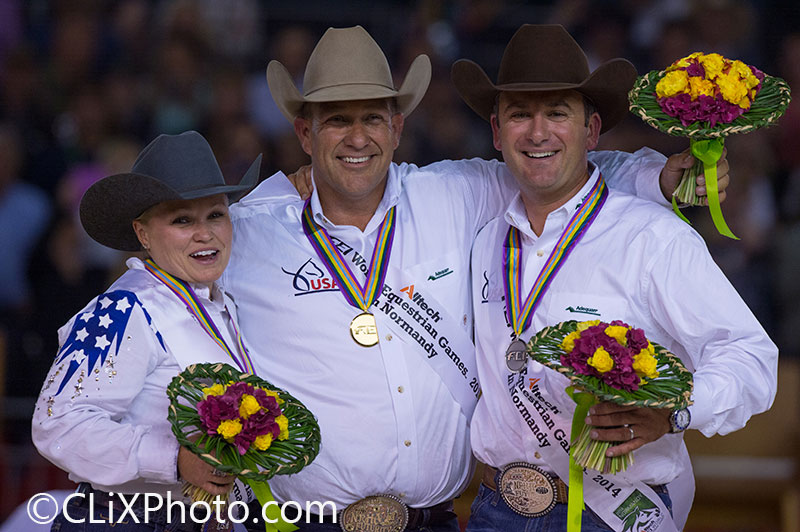 Mandy McCutcheon, Shawn Flarida and Andrea Fappani celebrate their individual reining medal wins at the 2014 Alltech FEI World Equestrian Games in Normandy. Photo: CLiXPhoto.com
Reining has concluded for this WEG. Competition continues tomorrow with the final phase of three-day eventing.
WEG Reining Medal Standings

Team
Individual
United States
Shawn Flarida (USA)
Belgium
Andrea Fappani (USA)
Austria
Mandy McCutcheon (USA)
Keep up with all the World Equestrian Games news at HorseChannel.com/Normandy2014.
Get competition schedules, results and more at Normandy2014.com.