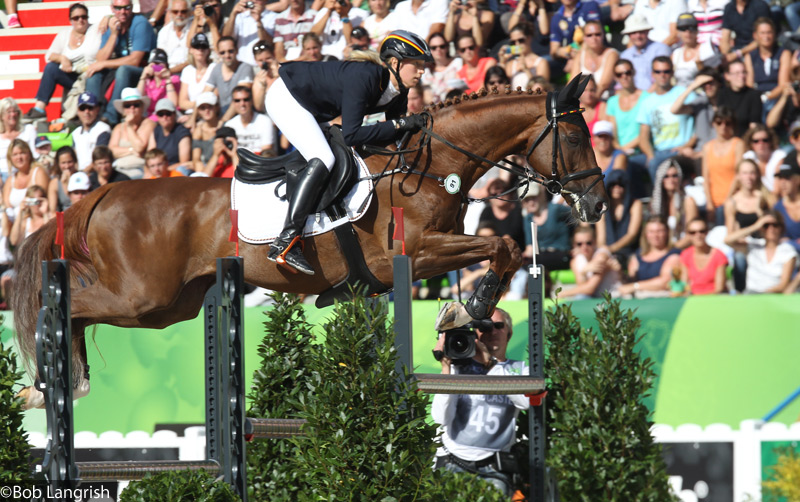 Sandra Auffarth and Opgun Louvo completing a double-clear round in the stadium jumping phase of three-day eventing at the Alltech FEI World Equestrian Games in Normandy. Photo: Bob Langrish
After jumping a clear round on Opgun Louvo, Sandra Auffarth of Germany stood at the side of the arena to watch the leaders, British rider William Fox Pitt and his horse Chilli Morning, canter toward the first fence. The crowd gasped loudly as Chilli uncharacteristically knocked down a pole on the second fence. The gold medal was Sandra's! William and Chilli went clear around the rest of the course, but that one pole was expensive because it dropped them down to third place.
William Fox-Pitt and Chilli Morning of Great Britain. Photo: Lesley Ward
Sandra's teammate Michael Jung jumped a fabulous clear round on his mare Fischerrocana FST to claim the silver. Germany also won the team gold, with Great Britain coming in second and The Netherlands winning the bronze.
Opgun Louvo is a 12-year-old Selle Francais gelding who was actually bred and raised in Normandy, so his win was a fitting one for these Games.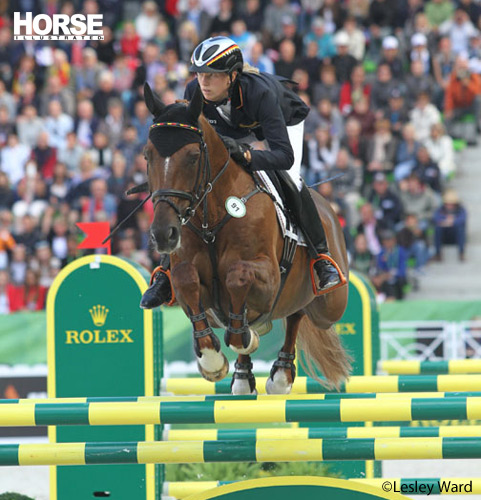 Sandra Auffarth and Opgun Louvo of Germany. Photo: Lesley Ward
"I got him when he was 5," said Sandra. "I bought him with the German Olympic committee. I knew that he was good, but I didn't think we would achieve the goal of being double world champions. It's amazing."
"I had fun with him, but I wasn't sure he'd be a world champion or Olympic horse. But then we did every level step by step, and when he was 7 he won at Le Lyon de Angiers. Then he showed me his quality."
Second place winner, Michael Jung, was competing at the Games with his second string, because his top horse Sam FW had been sidelined with a hoof problem, but the petite bay mare Fischerrocana FST stepped up to the plate and showed Michael that she was a star.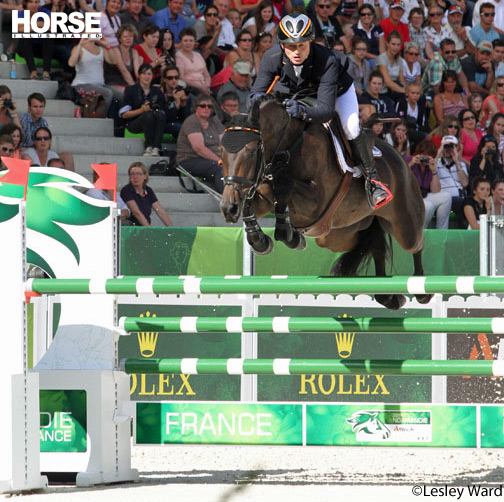 Michael Jung and Fischerrocana FST of Germany. Photo: Lesley Ward
"She's always been a clever horse," said Michael. "I've had her since she was 5. She doesn't have the best moves, but she's calm and easy to ride and she can jump big fences. Last year, I thought I was going to sell this horse, but now she is never for sale!"
It's rare to see a stallion at the top of the leader board at a major eventing championship, but Chilli Morning is usually in the ribbons.
"I've never ridden a stallion to any decent level, so we've really been learning together," admitted William. "Chilli is a real worker and trier. It's great for his future as a stallion."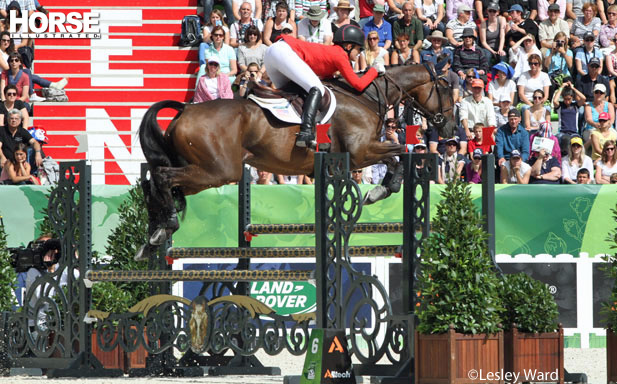 Lynn Symansky and her off-the-track Thoroughbred Donner tapped one pole to finish in 47th place. Photo: Lesley Ward
Lynne Symansky and her off-the track Thoroughbred, Donner, were the first Americans in the arena, and Donner looked like he had plenty of energy after his cross-country exertions the day before. The pair had one pole down and finished in 47th place.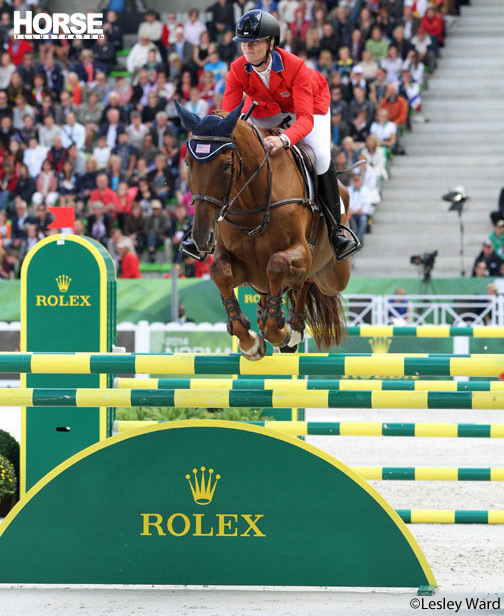 Sinead Halpin's mount, Manoir de Carneville, is a Selle Francais gelding bred in France. Photo: Lesley Ward
Sinead Halpin was next to go on her Selle Francais Manoir de Carneville. The pair's last four-star was at Rolex Kentucky Three-day Event where they placed fourth. Today they had two fences down and ended up in 38th place.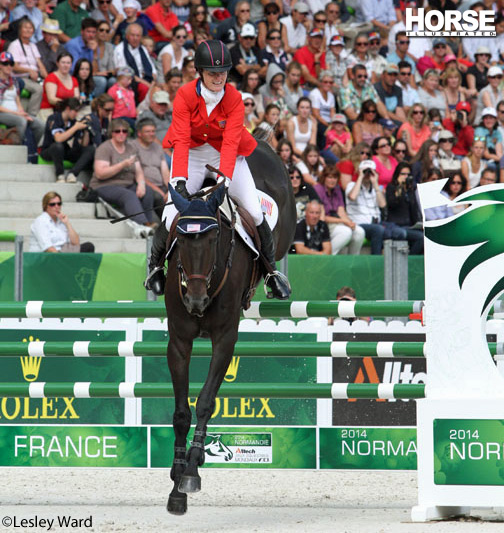 Kim Severson and Fernhill Fearless jumped a beautiful clear
round to finish in 24th place.
Photo: Lesley Ward
Kim Severson had a lovely, smooth clear round on her dark bay Irish Sport Horse Fernhill Fearless and finished the day in a respectable 23rd place.
Boyd Martin and Shamwari 4 were the highest-placed American pair, knocking down one pole for eighth place.
Boyd Martin and Shamwari 4 were the highest placing Americans with an 8th place finish. Photo: Lesley Ward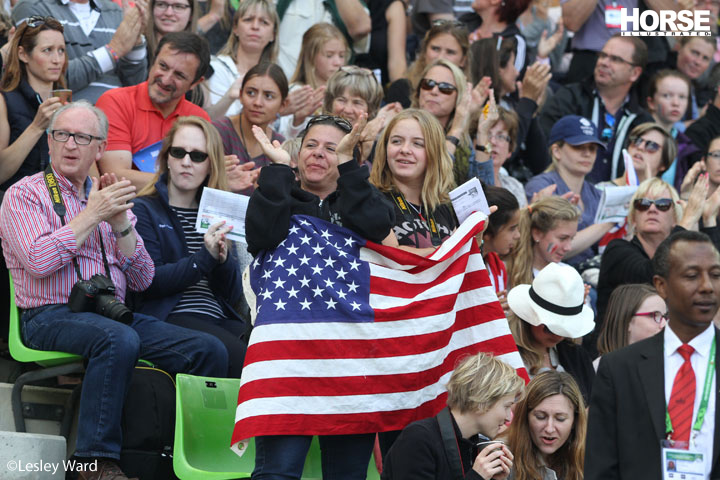 Fans from the United States cheer for Boyd, Kim and Lynn. Photo: Lesley Ward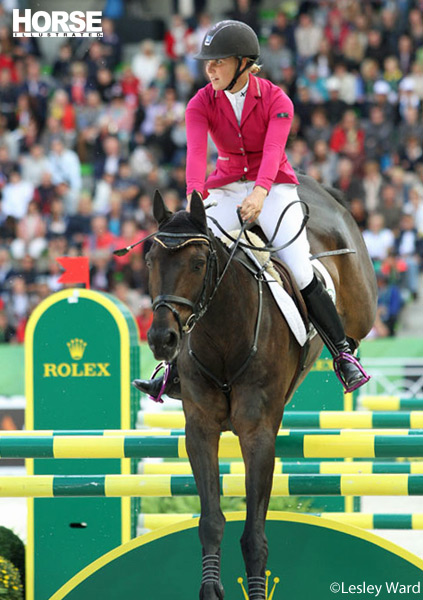 Finnish rider Sanna Siltakorpi wins the blinged-out award with her pink coat and stirrups! Photo: Lesley Ward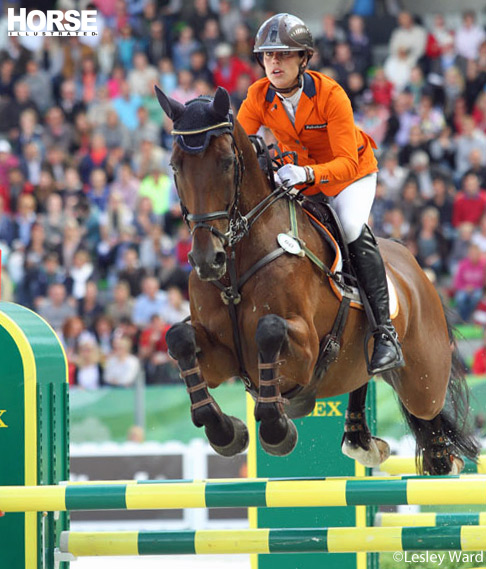 There's no mistaking the team from the Netherlands because of their bright orange blazers. Merel Blom and Rumour Has It claimed 26th place. Photo: Lesley Ward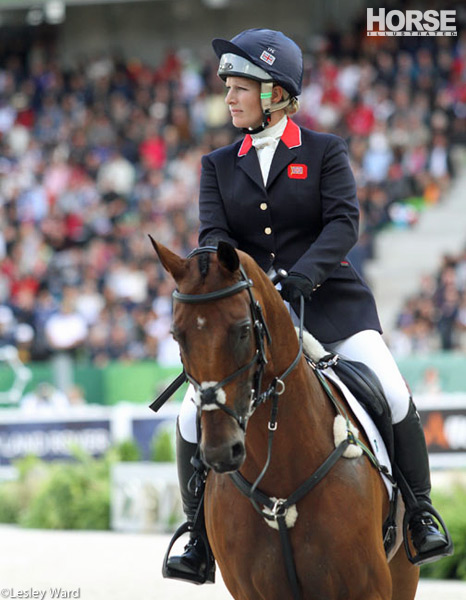 Zara Phillips, the Queen's granddaughter, and High Kingdom jumped a clear round to finish in 11th place. Merel Blom and Rumour Has It claimed 26th place. Photo: Lesley Ward
See photos from cross country day here.
Read about dressage day one and dressage day two of the eventing competition.
WEG Three-Day Eventing Medal Standings

Team
Individual
Germany
Sandra Auffarth (GER)
Great Britain
Michael Jung (GER)
Netherlands
William Fox-Pitt (GBR)
Keep up with all the World Equestrian Games news at HorseChannel.com/Normandy2014.
Get competition schedules, results and more at Normandy2014.com.
This article was updated on Sept. 9, 2014 to state that Germany's Michael Jung won individual silver.